The Adamo XPS is a daring slice of design and engineering. Quite frankly, it's batshit insane.
I mean that in the best possible way.
It really is impossibly thin. I felt like I was holding a single sheet of aluminum that was contoured into the curved shape of a laptop. I set it down, gingerly, because I didn't want to break it, since I didn't know at the moment that it was $1800. My finger slid across the latch to disengage the heat-sensitive capacitive latch.
G/O Media may get a commission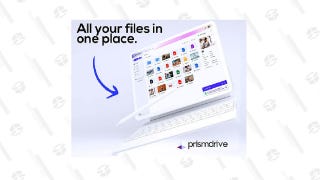 Save 97%
Prism Drive Secure Cloud Storage: Lifetime Subscription
There was no visible sign my stroke was the lucky one, so I waited a second before prying the top half upward. It wasn't entirely seamless—I had to hold the bottom half down as with a single finger as I pulled the display open and the keyboard slid forward, like a notebook out of a Pierce Brosnan-era James Bond era. The metal keys were cold. Which I kind of liked, actually.
When it's in full bloom, the entire computer is propped up, resting on the front edge of the keyboard and outer edge of the display, so from the side it looks like an L that's had its foot broken. It's one reason I think the Adamo XPS is insane—there's just nothing else like it, and that's what I love about it, all practical issues aside. Like one I suspected initially, and confirmed when I had to balance it near the window—it's going to be tricky to actually use in your lap. Do you let the overhang reset against your kneecaps? Or do you perform a balancing act, resting the slim edges on your legs, hoping you don't lean one way or the other? The design's not simply to show off your $1800 Ginsu blade by Dell, either—it's for heat dissipation.
The 1366x768 LED display is sunken, so there's a rim around it. That's because the bottom folds up into the top, with a puffy lip, holding the webcam and mic, hanging over it. I worry slightly about the camera lens getting scratched, since it's exposed whenever the Adamo XPS is closed.
I didn't get to actually use the computer much, but it's got essentially the same ultralight guts as the original Adamo, with the important distinction that it's running Windows 7, so it should be a smoother ride in theory. The 20Whr battery, however, is only rated to deliver 2 hours and 36 minutes of battery life, so it's going to be a very short ride. There's a 40Whr battery available that doubles the life, but it murders the whole point of the Adamo XPS. It has 2 USB ports, DisplayPort video out (with an optional HDMI dongle) and a dongle for ethernet.
Really, it's more a work of art and engineering than a functional computer, but honestly? That's just fine, though, because it's a pretty fantastic one.
DELL ANNOUNCES ADAMO XPS, A DAZZLING GIFT IDEA FOR STYLE-MINDED THIS HOLIDAY SEASON
· World's Thinnest Laptop is 0.4-inch thin

· Adamo XPS Reinforces Dell's Commitment to Craftsmanship and Design

· Advanced Head-Turning Design Offers Full Feature Set for On-The-Go Computing

ROUND ROCK, Texas, Nov 5, 2009 … Last spring Dell set the computing industry abuzz with the introduction of its Adamo brand, and along with it the world's thinnest laptop PC. Today, the world meets a new champion of thin: The Dell™ Adamo XPS™, measuring 9.99mm or just four-tenths of an inch. Both laptops set new standards for craftsmanship, design and engineering excellence.

Adamo XPS is a stunning laptop whose design provides a unique experience. With the swipe of a finger, the keyboard appears from under the display as the system is open. The feature set challenged engineers to build the latest technology into a compact space, including:

· 4GB* DDR3 800 memory;

· Intel Core 2 Duo (1.4Ghz) ultra-low voltage processor;

· Thin 128GB SSD for faster, cooler, quieter and more durable storage than traditional hard drives;

· A 13.4-inch high-definition display.

The attention to detail is apparent in the black, jewelry box-like packaging that is as striking as the laptop itself. A tug on a cloth loop reveals the Adamo XPS and assorted accessories that accompany the system. The Adamo XPS was recently recognized as the hottest Windows 7 product by leading technology analyst Rob Enderle with Digital Trends.

Adamo, derived from the Latin word meaning "to fall in love," is a flagship in a line of products created to disrupt the personal computing space with the combination of new design aesthetics, personalization choices and sought-after technologies.

The Adamo by Dell brand was launched last March with the first Adamo laptop, which combined high-performance technologies in a finely-machined aluminum case only .65-inch thick.

The pencil-thin Adamo XPS weighs just over 3 pounds** and measures 13.39 x 10.71 inches. Dell expects to begin taking orders and shipping the Adamo XPS with Microsoft® Windows® 7 pre-installed in time for the holidays. The Adamo XPS is priced starting at $1799. More information is available at www.adamobydell.com
[Dell]