University of Cambridge professor Aleksandr Kogan told colleagues in an email this weekend that he'd volunteer to testify before Congress about his role in Facebook's Cambridge Analytica scandal, according to CNN. House and Senate Democrats are prepared to accept Dr. Kogan's offer.

According to Facebook, Dr. Kogan provided Cambridge Analytica—a political data analytics firm hired by President Donald Trump's campaign and financed by billionaire Robert Mercer—access to information about 50 million Facebook users, all the while telling Facebook the data was being gathered for academic purposes. The firm reportedly used that data to create "psychographic" profiles on Americans, which it is said to have used to try to influence the American electorate in favor of the Trump campaign.
Friday night, Facebook announced it had suspended the firm from Facebook, saying Cambridge Analytica had illegitimately obtained its data and failed to delete it when ordered to do so in 2015.
Rep. Adam Schiff, the ranking member of the House Permanent Select Committee on Intelligence, has already invited Cambridge Analytica whistleblower Christopher Wylie to provide testimony. "Revelations that Cambridge Analytica secretly acquired the personal, private information of more than 50 million Facebook users without their permission or that of Facebook, must be thoroughly investigated," he said.
A Democratic committee aide told Gizmodo this afternoon that Schiff also plans to reach out to Dr. Kogan in coming days.
G/O Media may get a commission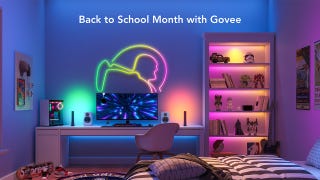 Back to School
Back to School Month with Govee Sale
A Senate aide said that Sen. Mark Warner, vice chairman of the Senate Select Committee on Intelligence, plans to invite Dr. Kogan to testify as well.
"Reports that an American professor with links to Russia was at the center of this illicit transfer of information raises further questions, which the Committee must investigate," Schiff said. He added that his committee had not had the opportunity to speak with "numerous" Cambridge Analytica employees, despite requests, and said they must now be brought in for interviews.
In Dr. Kogan's email (obtained by CNN) he told his colleagues: "I've also seriously been asked if the FBI has reached out, if the two congressional committees in the United States have reached out, and if Parliament or any authorities in the UK have reached out. No one has—I suspect they realize I'm actually not a spy. Though if anyone does, I'd be more than happy to testify and speak candidly about the project."
A biography of Dr. Kogan—who temporary changed his last name to Spectre at some point, according various reports—appears to have disappeared from the University of Cambridge Department of Psychology website in the last week. His profile on the Cambridge Neuroscience page remains online, however.
The University of Cambridge, which, despite its name, is not affiliate with Cambridge Analytica in any way, has asked Facebook to supply it with "all relevant evidence" related to Dr. Kogan gifting the political firm its data.
"It is not uncommon for Cambridge academics to have business interests, but they must satisfy the University that these are held in a personal capacity and that there are no conflicts of interest," a University spokesperson said.
They added that Dr. Kogan had previously given assurances that no University data or resources had been used for his commercial enterprise, Global Science Research (GSR), the company that collaborated with Cambridge Analytica, where Dr. Kogan is director.
Sen. Ron Wyden, also a member of the Senate Intelligence Committe, sent Facebook CEO Mark Zuckerberg a letter on Monday with a series of questions about the misuse of its data. The Oregon senator asked Facebook for example whether it has made any attempt to notify the 50 million users impacted, and to specify whether other third parties have used Facebook's data in violation of its policies over the last decade.
Facebook, which contends it has no way of knowing whether the data was used to help the Trump Campaign, would not say whether it intends to respond to Sen. Wyden's questions. VP and deputy general counsel Paul Grewal told Gizmodo: "We are in the process of conducting a comprehensive internal and external review as we work to determine the accuracy of the claims that the Facebook data in question still exists. That is where our focus lies as we remain committed to vigorously enforcing our policies to protect people's information."
Got a tip about Facebook? Contact the reporter at dell@gizmodo.com.