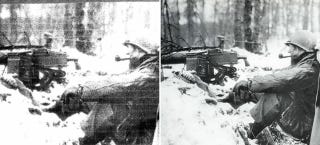 Right around Independence Day, an amazing story went around: historians discover a soldier's camera at the site of the Battle of the Bulge. They develop the 70-year-old film and find grainy but gripping images taken by a soldier just before he was killed. It's an engrossing tale—but it's false: the photos came from a book published in 2005.
The story had all the hallmarks of a dramatic and heroic war tale. Infantry rifleman Louis J. Archambeau's regiment found themselves in the thick of the Battle of the Bulge, the story goes, and they sought refuge in a foxhole. Archambeau died there—he was declared Missing In Action on December 26th, 1944, his body not found until February. His camera, the story goes, was untouched for 70 years, until it was discovered by metal-detector-wielding historians in the foxhole where Archambeau left it.
Louis J. Archambeau did, in fact, serve during WWII, as confirmed by his listing in the World War II Registry. He was killed in action, and is buried in a U.S. military cemetery in Luxembourg.
Archambeau's great-nephew even has a picture of Louis's grave:
But while it seems true that military historian Mark Anderson actually discovered a camera in the woods outside Luxembourg, internet sleuths recognized some of the supposedly never-before-seen photos. At least two of them appear (in much higher quality) at the U.S. Wartime Archives, and were also published in Images of War: Battle of the Bulge by Andrew Rawson.
So where did the true story go off the rails and turn into a hoax? Nobody's really sure. Louis's great-nephew maintains that Mark Anderson did indeed discover an abandoned camera, and that it did indeed contain undeveloped film. But Anderson wasn't present in the darkroom when the film was developed, nor did he see negatives or prints. Somewhere along the way, fuzzy versions of once-clear, previously-published photos got included in the trove, and then the whole thing went viral.
Louis J. Archambeau died in battle and was awarded the Purple Heart. A WWII-era camera was discovered in a field in Luxembourg. There are wide gaps in this story—gaps the internet filled in with hoax.
Factually is Gizmodo's new blog of fun facts, interesting photos, and weird trivia. Join us on Twitter and Facebook.