Disney added to its line of electronic products embossed with its magical logo with a product it calls Mix Max. It plays Disneyfied movies and music via pre-loaded SD cards that, of course, are sold by Disney. The player has a 2.2-inch screen, so tiny it's only viewable only by eagle-eyed wee ones and Tinkerbell herself, and also brings along 512MB of internal memory for the ride.
Expect the kids to be nagging you soon for this $100 player, available in three nicely-etched styles including Tinkerbell (shown here), Cheetah Girls and Forever Princess. Amid this flurry of introductions, the company will also update its Mix Stix music player ($50), raising its memory to 512MB and is also introducing a little sibling for it, the Mix Micro (with a micro price of $20) music player with 128MB of memory. Ah, Disney: Sell a kid a product, you eat for a day; teach a kid to nag, you'll eat for a lifetime.
Full press release after the jump.

Disney Expands Electronics Line, Launches Mix Max Personal Media Player; New Disney Mix Max Plays Full-Length Movies and Digital Music on Tiny Memory Cards; Disney Mix Stick Now a Top 10 Brand in Flash MP3 Players at Retail
G/O Media may get a commission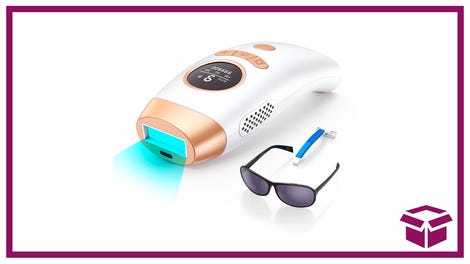 58% Off + Coupon
IPL Hair Removal Device
BURBANK, Calif.—(BUSINESS WIRE)—Sept. 19, 2006—Disney today announced an expansion of its popular consumer electronics line for kids with the introduction of the new Disney Mix Max personal digital media player. The Disney Mix Max plays movies on Disney Max Clips — tiny plug & play memory cards containing full-length movies from Buena Vista Home Entertainment. Available in several colorful styles that kids and 'tweens will love, it also plays digital music, TV shows and digital photos. Priced at less than $100 and available in October, the Disney Mix Max makes an excellent holiday gift and offers kids the ultimate digital entertainment package — with no computer or downloading necessary.
Disney first entered the digital media player market in the fall of 2005 with the launch of the Disney Mix Stick, and it sold out before the end of the holiday season. The product continues to remain very popular and currently ranks among the top 10 best-selling flash-based MP3 players at U.S. retail, according to The NPD Group. Digital video players are also a hot technology item this year, but most products on the market are priced beyond a kids' reach.
"With the Disney Mix Stick, we proved that kids were ready for digital music," said Chris Heatherly, vice president, Global Electronics, Disney Consumer Products. "The plug-and-play experience also proved to be a winning feature for parents who welcomed the idea of not having to download music for their kids. We saw an opportunity to do for video what the Mix Stick did for audio — make it accessible, easy, and designed for kids with a unique sense of personal style."
Given the tremendous success of the Disney Mix Stick digital music player, Disney will also expand its Mix line of products this month to include the new Disney Mix Micro player as well as 10 new music titles on Disney Mix Clips, including the chart-topper High School Musical soundtrack and music from 'tween powerhouse Hollywood Records. The Disney Mix Stick Player has also been enhanced and now boasts new features, including upgraded storage of 512 MB, on-demand "MixIt!" playlists, and new designs appealing to all ages.
Disney Mix Max Player — Digital Entertainment On The Go:
The Disney Mix Max lets kids plug-and-play full-length movies instantly by inserting Disney Max Clips from Buena Vista Home Entertainment, including the wildly popular Disney Channel original hit, High School Musical. The Mix Max also plays Disney Mix Clip music cards featuring full-length hit albums from Walt Disney Records and Hollywood Records.
Priced at $99.99 (SRP) and available nationwide in October, the Disney Mix Max comes in several chic, eye-catching styles, including two dazzling High School Musical models, floral-themed Tinker Bell styles in white or purple, Forever Princess and Princess Flowers designs themed in pink, a Cheetah Girls model with a fun, leopard pattern look and a funky, 'Tween Bling style. For those who prefer a more modern look, the Disney Mix Max is available in contemporary Ice Blue or Silver Chrome unisex models. The Mix Max comes with stereo ear buds and a wrist strap.
Like the Disney Mix Stick digital audio player, the Disney Mix Max is designed specifically for kids and offers easy-to-use navigation for video and audio playback. It features a 2.2-inch color LCD display and 512 MB of internal memory, which holds up to 240 songs or more than five hours of video (memory is easily expandable with up to 2 GB add-on SD cards). The Disney Mix Max plays video at a smooth 30 frames per second — the standard rate for TV shows. It plays video (WMV), audio (MP3/WMA) and picture (JPEG) files and features a built-in, rechargeable battery. The device also supports Windows Media DRM 10 so that content can be downloaded from popular music services such as Yahoo Music! A typical charge provides up to two hours of video playback — plenty of time to watch a full-length movie while traveling, and up to 8 hours while listening to music. The package includes a 3.5 mm. stereo headphone jack, USB 2.0 port for connectivity (Mac & PC compatible) and a Windows Media software CD. The Mix Max also features Disney's new "MixIt!" technology that makes playlists as easy as the press of a button.
Add-on accessories are available separately such as the Disney Jam Stand Max stereo speakers/re-charger, stereo ear clip headphones and carrying cases to hold a Mix Max player. Retailers include Target, Best Buy, Toys 'R' Us, Limited Too and DisneyShopping.com.
Disney Max Video Clips — Full-Length Movies For Easy Viewing:
Disney Max Clips are tiny memory cards that are approximately the size of a postage stamp and contain full-length feature films from Buena Vista Home Entertainment, including some of the most popular movies for 'tweens. They can be inserted into the Disney Mix Max for up to two hours of viewing.
"Disney Max Clips represent an exciting new content platform for kids and 'tweens," said Gordon Ho, executive vice president, marketing and business development, Buena Vista Home Entertainment, a unit of Disney. "This new format speaks directly to them because it's trend-forward and offers some of the hottest titles among this demographic. This is a great way to give kids easy access to great entertainment."
Fall/holiday Disney Max Clip titles include the following (SRP $19.99):
— High School Musical
— Confessions of a Teenage Drama Queen
— Cheetah Girls
— Lizzie McGuire
— Cadet Kelly
— Ella Enchanted
Plans call for additional Max Clip titles to be released in 2007.
Disney Mix Stick Player — Added Features & New Designs:
Easily portable and creatively designed for kids and 'tweens, the Disney Mix Stick digital music players plays MP3 and WMA audio formats. Kids can download from popular music services, digitize their own CD collection, or bypass the PC altogether by simply inserting plug-and-play Disney Mix Clips, featuring full-CD length hit music from Walt Disney Records and Hollywood Records. Disney Mix Stick players will now feature 512MB of internal memory (expandable up to 2GB via the SD/MMC slot) and the new "MixIt!" feature, built in to the player for on-demand, easy-to-use, and personalized playlists. Available at retailers nationwide for $49.99 SRP, new designs include White Tink, Princess Flowers, 'Tween Bling, Blue Chrome, High School Musical, Pirates of the Caribbean and A Nightmare Before Christmas.
The All New Disney Mix Micro Player:
This stylish mini-version of the original Disney Mix Stick makes digital music more affordable than ever before. At just $19.99 SRP, this 2.5" x 1.5" player features an SD/MMC card slot, supports WMA/MP3 audio files and plays music right away with Disney Mix Clips. It uses one AAA battery (sold separately) and includes stereo ear buds and a lanyard. Available designs include Blue Chrome and Disney Princess.
Disney's "MixIt!" — The Easiest Way to Playlists:
Disney's all-new "MixIt!" technology makes personalized playlists as simple as the click of a button. Based on patented technology from MusicIP, "MixIt!" uses a powerful algorithm to profile the sound of a listener's music. While listening to a song on the Disney Mix Stick or Mix Max, a user can simply click the "MixIt!" button to instantly create a playlist of similar sounding songs. Because "MixIt!" is based on the sound of a listener's music rather than its genre, it can create unique and often surprising playlists on-the-fly that pull from across the user's entire music collection. "MixIt!" also lets users scan through their music library just as they might scan through radio stations to quickly find a song they like.
New on Disney Mix Clips:
Disney Mix Clips contain real digital music ready to plug-and-play, with the Disney Mix Stick, Mix Micro and Mix Max. These tiny memory cards are approximately the size of a postage stamp and feature complete albums with full-length songs featuring today's hottest hits and classic favorites. Based on the overwhelming success of its initial Mix Clip titles, Walt Disney records will be expanding its selection of Mix Clips from four titles to 12. Joining them, Hollywood Records, the label of 'tween stars such as Hilary Duff and Jesse McCartney, is releasing some of its top-selling titles on Mix Clips for the first time. Mix Clips also work with other WMA players with an MMC-compatible card slot.
Ten new titles have been added, for a total of 14 Mix Clip titles. New titles include the following (SRP $14.99):
— High School Musical Soundtrack
— The Cheetah Girls Soundtrack
— Hilary Duff's Most Wanted
— Jesse McCartney's A Beautiful Soul
— Disney Mania 4
— Disney's Greatest Hits, Vol. 1
— Remix Mania
— Raven 2
— Radio Disney Jams 7
— Girlz Rock
About Disney Consumer Products
Disney Consumer Products (DCP) is the business segment of The Walt Disney Company (NYSE:DIS) that extends the Disney brand to merchandise ranging from apparel, toys, home decor and books to interactive games, food and beverages, stationery, electronics and animation art. This is accomplished through the work of DCP's various lines of business: Disney Toys, Disney Softlines, Disney Home, Disney Food, Health & Beauty, Disney Stationery, Disney Publishing, Buena Vista Games, Baby Einstein, the Muppets Holding Company and Disney Shopping, Inc.'s catalog and disneyshopping.com. The Disney Store, which debuted in 1987, also falls under DCP, through stores currently owned and operated by unaffiliated third parties under licensing agreements in North America and Japan, and wholly owned stores in Europe. For more information about DCP, please visit our web site at www.disneyconsumerproducts.com.
About Buena Vista Home Entertainment
Buena Vista Home Entertainment, Inc., a recognized leader in the home entertainment industry, is the marketing, sales and distribution company for Walt Disney, Touchstone, Hollywood Pictures, Miramax and Buena Vista videocassette and DVD product. Buena Vista Home Entertainment, Inc. is a subsidiary of The Walt Disney Studios.