Sports and technology are usually thought of as estranged dance partners just a half measure out of sync, but there's an elegant waltz between the two that's been going on for years behind the scenes. And maybe nowhere more so than in the lead-up to March Madness.
Basketball is teeming with state-of-the-art technology, but much of it is so exclusive and proprietary that the general public rarely hears about it. But if you take a closer look, you'll find that the mechanisms behind basketball are littered with a colorful display of impressive contraptions, software, and even clothing.
---
The Computer Behind The Madness
If you thought filling in your NCAA bracket based off the four games of college basketball you've seen this year was hard, imagine being one of the people who has to put those brackets together in the first place. Especially back when they didn't have fancy computers to help them sort it all out.
G/O Media may get a commission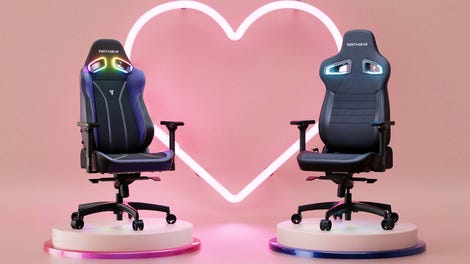 Up to $150 off
Vertagear Gaming Chairs
Before the NCAA hired its own software developer in 2001, the entire selection process was done with pen and paper. You might be thinking: How hard can it be to select the 68 best teams in college basketball? Just go down the list and pick numbers 1-68, right? Wrong. There's a lot more to consider than just rankings (and which rankings to abide by).
With over 30 conferences in NCAA Division I basketball, the selection and seeding process is dominated by a matrix of complex rules as every team makes its case for their spot in the tournament. The rules range from conference winners gaining automatic bids to teams from the same conference unable to face off in the first couple of rounds. Therefore, an integrated software system was specifically designed for the election process to help committee members speed through the madness.
Now it just takes seconds to organize and seed their own brackets, whereas they used to do it entirely in their heads.
Image: SportsNation.
---
Golden Arcs
In 2003, scientists completed extensive research on the numerical analysis of a basketball shot and its optimal release conditions. What they discovered is that there is a perfect arc and depth for a basketball to create an ideal trajectory, thus, increasing its likelihood of going in. That same year, a group of fathers trying to improve their kids' basketball shots got together and put this research into practice. They happened to be a former physics professor, a software developer, and a rocket scientist.
Their invention, Noah, is a training application with realtime feedback that develops the optimal 45 degree shooting angle by reinforcing those conditions through muscle memory and repetition. I was lucky enough to get a first-hand demonstration from Noah CEO John Carter, and after seeing 10 years of research and scatter plot analytics, I watched how just a few degrees of your release can dramatically affect the success of your shot. In the graph below, the BRAD zone (Back Rim And Down) shows successful shots, while green denotes a swish.
Of the 68 teams in the NCAA tournament this year, 19 of them use Noah as part of their training regimen. And it's not just any 19 teams; of the four #1 seeds, Florida is the only team not to have adopted the technology, and half of the remaining Final Four have integrated Noah into their practices for some time.
Image: Noah Basketball.
---
Don't Just Improve Your Game, Make It Smart
In today's age, there's a "smart" version of everything. So why not plug that technology straight into your basketball? InfoMotion Sports Technologies's 94Fifty smart sensor ball does just that. The ball tracks movement and data with an embedded sensor, and can even suggest training drills and create customized practices to build the skills you want.
It tabulates an impressive amount of info—dribbling force, backspin, shot arc, shot speed and consistency—then transmits what it's gleaned via Bluetooth to your smart device to give you a visual map of your data. It also charges wirelessly so that you never have to worry about finding a wall outlet in the gym. And since it's motion-activated, you never turn it on or off either. Simply start dribbling. The ball also boasts a social aspect to its app, so you can share and compare all of your statistics with your friends.
94Fifty is a great way to integrate technology into the game, especially at the amateur level, and has made its way into the collegiate training grounds of one of the NCAA tournament's Final Four teams, the University of Wisconsin.
Image: InfoMotion Sports Technologies.
---
Programming the Perfect Basketball Team
Video playback has existed for decades so that coaches and players alike can go back and find areas of their game to improve. However, our ability to have computer programs recognize players, their different skill levels, and the optimal positioning for both defensive and offensive plays? That's brand new.
SportVU, an intensive aerial stat-tracking program, has been in use around the professional sphere for a few years. but NBA teams have been incredibly secretive about how they catalog and calculate their team's data. The program boasts impressive capabilities, from tracking movement as minor as a pivot to retroactively calculating precisely where players ought to have been for each play. Duke University just announced that it will integrate the technology into its Cameron Indoor Stadium next year, making it the first NCAA team to do so. Maybe it'll be what gets them past the first round next year.
---
It's More Than What You Wear
A team's uniform seems like a pretty simple and inconsequential part of basketball, but there have been new advancements that make these jerseys not only pricey but nearly sweat-proof, too. Ten NCAA teams have partnered with Adidas debut perforated prints especially for March Madness. The ClimaCool system that has been integrated into the uniform helps keep the players and court dry. The vast majority of the field—52 of the 68 teams—has worn Nike, which also features sweat-resistent tech.
While ClimaCool has been used in the NBA before, the precedent for college basketball to inherit the technology from the pros has been set. Whether that means uniforms or an advanced aerial tracking system like SportVU, it's great to see collegiate sports gain the same recognition and technology.
Image: Adidas.
Top image credit: Shutterstock/Kaonos