And there's a surprising new rumor about the Justice League movie's villain. Keanu Reeves reveals trippy scenes from Bill and Ted 3's script. The X-Men live-action TV show might star Days of Future Past's Quicksilver. And Daredevil casts a bunch of key roles. Spoilers now!
Top image: Batman v. Superman
Justice League/Suicide Squad
Here are some rumors that have as much of a chance of being fake as real (more, probably):
First up is that the Justice League movie will have Braniac as its villain. Second is the line-up for the Suicide Squad, which is supposedly a fairly classic lineup of Blockbuster, Multiplex, Jaculi, Mindboggler, Harkness, Vixen, and Deadshot. I have no clue where Latino Review is getting this, but supposedly Deadshot, Harkness and Vixen are the movie's main characters. Take all of this for what it's worth. [Latino Review]
---
Star Wars
We've all been assuming that Adam Driver's playing the villain in Episode VII, and now it might be confirmed. Speaking with MTV, Driver's Midnight Express co-star Joel Edgerton said:
Adam Driver and I worked together on this Jeff Nichols movie last year. Literally, he got cast, and then I heard he was going to playing new whatever version of the villain in the new 'Star Wars' movie. The next day I had to do a scene with him after I read this. I said 'I'm scared to do this scene with you now because you might [Force choke me].'
G/O Media may get a commission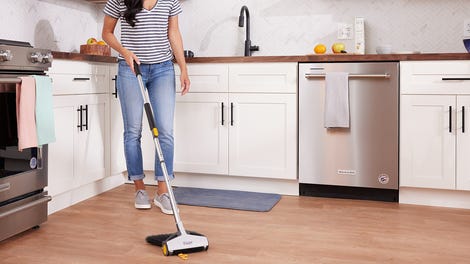 BOGO 50% Off
Flippr - BOGO 50% Off
Of course, the benign reading of that is that Edgerton read the same speculation about Driver's role as the rest of us. See the video at the link. [MTV]
---
Bill & Ted 3
Keanu Reeves says that director Dean Parisot (Galaxy Quest) is still on board the production, having just re-read the script. Reeves also let slip a ton of information about the plot of that script:
It's kind of like… I call it "gravity," you have to get this mass together to make it happen. In terms of the writers' voices being too peculiar, in this case no. I think they've really crafted something that's funny. [Bill and Ted have] been weighed down by the burden of having to save the world by the song, and they just can't write it. They're losing their wives and their children, they're losing their families.

... Yeah, they're just like, "Dude, we have to write the song!" The future comes back and says if you don't write the song by this certain time the universe is going to unravel and history and everything is going to change and dinosaurs are gonna walk the Earth. Jesus is playing baseball! All sorts of weird things start unraveling and wormholes are twisting. We have to kind of bring order back, and it's connected into bringing our families together by writing a song.
---
Passengers
In the same interview, Keanu Reeves also talked about his "waking up from cryogenic stasis in the middle of a space journey" film, explaining its current delay:
[I]t's leading lady and financing and all that show business sh*t. We need someone who's a financier who believes in the movie at the budget and we haven't been able. We've come close to that and we've had some hard luck with actresses not being able to do the film.
---
London Has Fallen
The Olympus Has Fallen sequel has cast Jackie Earle Haley. The film will reunite the original cast for a plot that reveals a plan to kill world leaders at the British Prime Minister's funeral. [The Wrap]
---
Interstellar
As if we had any doubt that the movie would look good, Inherent Vice director Paul Thomas Anderson's piped up with his endorsement:
He's made a beautiful film, if anybody gets out to see 'Interstellar' when it comes out. ... But don't fuck around, go see it in IMAX. Brave the line. Do it, bite the bullet.
---
The Hobbit: The Battle of the Five Armies
Here's the character poster for Tauriel. [Coming Soon]
---
X-Men
Now that a potential live-action X-Men television show is rumored, the biggest question is which characters might be in it. A report from Film Divider claims that the current plan is for the show to be tied into the movie franchise, and that Quicksilver, Multiple Man, and a female character have all been kicked around as possible lead characters. While Evan Peters, who played Quicksilver in Days of Future Past, has a background that lends itself to bouncing between being a regular on a TV show and doing films, using him would turn the show into a period piece. [Film Divider]
---
Agent Carter
Some footage from the series was screened at New York Comic Con. In it, Agent Carter (Haley Atwell), Howard Stark (Dominic Cooper), and Edwin Jarvis (James D'Arcy) arrive at a pier. Then "Carter and Stark get out as the latter talks about an important document that's gone missing that has a formula to create a highly-powerful explosive." Stark says only a few fences deal with such things, and gets in a boat to go looking for them. Stark tells Jarvis to drive Agent Carter home, and he mentions having a wife and going to bed early. Carter refuses to go home and says instead, "This is where I go to work," followed by shots of Atwell fighting. [Super Hero Hype]
Kyle Bornheimer will recur as Agent Ray Krzeminski, who will "clash" with Peggy. [Entertainment Weekly]
---
The Walking Dead
Robert Kirkman gave a little update on the spinoff:
I wrote the pilot with Nave Ericson, the showrunner. But the central [idea of] what we're doing with that show started with me going, 'I'm a different person now. What would I do in 'The Walking Dead' space [today]?' I started doing 'Walking Dead' as a spunky 24-year-old. I was faster and better in every way! Now I'm old and tired. I have kids now...I'm in a different place, and so I very much from the outset thought, 'I'm going to compete with that idiot from the past and see what I can do.'

There hasn't ever been any leftover ideas from 'The Walking Dead' that I could use in something like this, but it is an opportunity for me to start over from scratch and see 'Can I – working with Dave – construct a new world and a new pocket of this universe that is just as entertaining but completely different. And I think we've pulled it off. We're casting now, and we've got a date for when we're filming. Things are moving pretty quickly, and I hope around summer next year we can start talking with people more about it.
Showrunner Scott Gimple said of the relationship of the show and the books, "Generally, it's on the same linear path. We're going to catch up sometime. Maybe we'll get ahead a little bit, maybe we'll fall behind a little bit, but it's generally in the same place." He also talked about the show's Father Gabriel versus the one in the books:
[He's] Very much from the comic book, not at all from the comic book. I don't think people can set their watches to it and be like, "Oh yeah, it's totally going to be the same story." It's not. But the fact that he's Father Gabriel Stokes does mean that there's gonna absolutely be an association and general relation to the character that was in the books.

And his past? We know about his past and his feelings of guilt for past actions.

He was guilty in the comic for doing something bad. It could be that somebody did something really bad to him. We've done stuff that extreme before in the past. Robert is very much game to play around with stuff he's done before. But will it have a connection to that story? Definitely.
---
Arrow
From Stephen Amell's panel at New York Comic Con comes the news that the growing number of superheroes in this universe play a role in where Oliver ends up at the end of season 3. Amell also revealed that episode nine will have a "literal" cliffhanger, that the flashback with Tommy will be in Hong Kong, and that Malcolm and Oliver will come face to face early in the season. [SpoilerTV]
Don't give up hope, Oliver/Felicity fans. It looks like the "goodbye" from the premiere is far from the end of it. Says Marc Guggenheim:
This is not the last time we'll hear the words 'I love you' in connection with Oliver and Felicity. The repercussions of that scene and that storyline in episode one, that's going to follow them over the course of season 3. It's not over. We didn't just hit pause or reset on their relationship. This is just a development in an ongoing relationship for them.
This picture from Katie Cassidy looks like she's being fitted for a mask. Or a mold of her head for some horrible reason. [via SpoilerTV]
Here's a video interview with Michael Jai White talking about the Suicide Squad:
---
The Originals
Here's a preview of a flashback from EP Michael Narducci:
When we first met the Original family, Kol Mikaelson is undaggered and he's walking around, and he's dressed in garb that looks like it's from the early 20th century. He's ostensibly been daggered since that time, [so] what was the story of that and what did that look like? We want to tell a bigger story that gives us an element or an idea of where everybody was throughout their time. Klaus daggered his siblings for a reason and what was that reason?
---
American Horror Story
We'll see Angela Bassett's Desiree and Michael Chiklis' Dell in episode 2, where we'll see that he does not get along with his family Jimmy and Ethel, and another member of the show may pay the price for that. [Entertainment Weekly]
---
Eva Longoria-produced show with NBC
In the vein of American Horror Story, NBC's picked up an anthology from Andrea Newman, Eva Longoria's UnbelieEVAble Entertainment, and Universal TV. It'll be a supernatural thriller based on Hispanic folklore and myth, and each season (set in the present day southwest) will explore a different legend. The first season will be based on La Llorona, the "weeping woman," and "follows a troubled Detective investigating a young mother accused of trying to drown her child in a small town hiding a supernatural secret." [Deadline]
---
Daredevil
Joining the cast are Ayelet Zurer, Bob Gunton, Toby Moore, and Vondie Curtis Hall. Zurer will play Vanessa Marianna, "an art dealer whose chance meeting with Wilson Fisk dramatically changes their lives." Hall will play Ben Urich, "an investigative journalist at the New York Bulletin who'll soon find himself drawn into a war for the soul of Hell's Kitchen." Moore will play Wesley, "right-hand man and confidante to Wilson Fisk." And Gunton will play Leland Owlsley, an "enigmatic and key figure in Wilson Fisk's crusade to remake Hells Kitchen." [Marvel]
---
Sleepy Hollow
From SpoilerTV's preview of "Go Where I Send Thee," here are some things to look out for in the episode:
- Driving lessons ! After the debacle in the premiere where Ichabod couldn't drive, Abbie has decided to teach him. It will be hilarious.

- Someone from Abbie's past, again ! Abbie has a connection with the missing girl's family.

- A dark, terrific, surprising and shocking vision. I really wish this vision will not happen because it's so dramatic. Remember when we watched Katrina being bonded to Abraham and got her head cut off, this time, it's way, way, way worst.

- Missing people ! The episode is about a missing girl, but there will be two absents from the main cast.

- A special magic musical artifact ! What that instrument can do to people is amazing and terrifying.
More at the link. [SpoilerTV]
---
Once Upon a Time
Episode 4.09 will be called "Fall." [SpoilerTV]
Here are some set photos from episodes 4.08 and 4.09. More at the links. [Once Upon Spoiler, YVR Shoots via SpoilerTV]
---
Powers
Here's a photo of Eddie Izzard as Wolfe. [Comic Book Resources]
---
Gotham
Here's the description of 1.06, "Spirit of the Goat":
"GOTHAM" - (8:00-9:00 PM ET/PT) CC-AD-HDTV 720p-Dolby Digital 5.1

A FAMILIAR VILLIAN RETURNS TO GOTHAM CITY ON AN ALL-NEW "GOTHAM" MONDAY, OCTOBER 27, ON FOX

When a killer begins targeting the first born of Gotham's elite, Bullock is forced to confront traumatic memories from a nearly identical case he worked in the past. Later, Gordon is confronted by past decisions in the all-new "Spirit of the Goat" episode of GOTHAM airing Monday, Oct. 27 (8:00-9:00 PM ET/PT) on FOX. (GTH-106) (TV-14 D, L, V)

Cast: Ben McKenzie as Detective James Gordon, Donal Logue as Harvey Bullock, Jada Pinkett Smith as Fish Mooney, Sean Pertwee as Alfred, Robin Lord Taylor as Oswald Cobblepot/The Penguin, Erin Richards as Barbara Kean, David Mazouz as Bruce Wayne, Camren Bicondova as Selina Kyle/the future Catwoman, Zabryna Guevara as Captain Sarah Essen, Cory Michael Smith as Edward Nygma/the future Riddler, Victoria Cartagena as Renee Montoya, Andrew Stewart Jones as Crispus Allen, John Doman as Carmine Falcone

Guest Cast: Carol Kane as Gertrud Cobblepot, Dan Hedaya as Detective Dix, Kim Director as Lacey White, Mackenzie Leigh as Liza, Susan Misner as Dr. Marks and Christopher Baker as The Goat/Raymond Earl
---
Supernatural
Here's the synopsis for episode 10.04, "Paper Moon":
WEREWOLF KATE RETURNS — A recent string of werewolf attacks points to a surprising culprit – Kate (guest star Britni Sheridan), the werewolf Sam (Jared Padalecki) and Dean (Jensen Ackles) let live. Jeannot Szwarc directed the episode written by Adam Glass (#1004). Original airdate 10/28/2014.
---
The Flash
Here's the synopsis for the second episode:
Barry escorts Iris to a university gathering honoring scientist Simon Stagg (guest star William Sadler). When six gunmen storm the event, Barry changes into The Flash and tries to stop them. While he does save a man's life, he passes out before he can capture the robbers, which frustrates him. As Dr. Wells, Caitlin and Cisco scramble to find out what's wrong with Barry, Joe comes down hard on Barry for taking the law into his own hands and risking his life. Barry realizes that it wasn't six gunmen but a metahuman named Danton Black (guest star Michael Christopher Smith), who can make multiples of himself. Meanwhile, Iris becomes even more intrigued by the 'red streak.
And here's a clip. [Coming Soon]
Here's a clip from episode 1.04, "Gone Rogue":
WENTWORTH MILLER GUEST STARS AS DC COMICS' VILLAIN CAPTAIN COLD; FELICITY FROM "ARROW" CROSSES OVER INTO CENTRAL CITY

The Flash (Grant Gustin) stops a robbery but the culprits get away after shooting a guard, and The Flash chooses to save the man instead of following the criminals. Joe (Jesse L. Martin) shows Barry a book of suspects and Barry identifies Leonard Snart (guest star Wentworth Miller, "Prison Break") as the leader of the group. While investigating the case, Barry gets a surprise visit from an old friend – Felicity Smoak (Emily Bett Rickards, "Arrow"), who heard about his new abilities and came to check them out for herself. She joins him at S.T.A.R. Labs to help stop Snart after it's revealed that Snart his gotten his hands on a stolen "cold gun," which could kill The Flash. Dr. Wells (Tom Cavanagh) is furious when he finds out that Cisco (Carlos Valdes) built the cold gun without telling anyone and now it's missing. Meanwhile, Iris (Candice Patton) is getting the silent treatment from Joe because of her relationship with Eddie (Rick Cosnett). Finally, The Flash and Captain Cold have an epic confrontation. Glen Winter directed the episode written by Goff Johns & Kai Yu Wu (#104). Original airdate 10/28/2014.
---
Constantine
Below's the description of episode 2, "The Darkness Beneath":
AN ANCIENT SPIRIT TORMENTS A PENNSYLVANIA MINING TOWN — JAMES LEGROS GUEST STARS — Deep in the mountains of Western Pennsylvania, John (Matt Ryan) is a small mining community's only defense against an ancient Welsh spirit. In the course of protecting these isolated innocents, John finds a vital new ally in a mysterious young woman named Zed (Angélica Celaya). Harold Perrineau and Charles Halford also star.
Here are the first shots of Angelica Celaya as Zed. [SpoilerTV]
---
Haven
Here are the descriptions of episode 5.09-5.11:
Episode 5.09 - Morbidity

When Audrey and dozens of Haven citizens are affected by a mysterious illness, the symptoms threaten to expose Haven's secrets to a dangerous newcomer.

Episode 5.10 - Mortality

Haven's heroes are torn over how to deal with an inquisitive CDC scientist, who could expose the secret of the troubles to the world, but may be hiding her own dark agenda.

Episode 5.11

Duke's roiling troubles and a new threat to Audrey force them each to seek the help of potentially dangerous allies
Additional reporting by Charlie Jane Anders and Abhimanyu Das