What's on the tube this week? The return of Doctor Who, Hurley has his moment in the sun, and we bid adieu to Human Target. Jump in your TARDIS, this is What To Watch!
MONDAY 4/12/10
Chuck is taking the next two weeks off, and other than some anime on Syfy (new Monster at 11 & 11:30 and a Macross Plus 4 rerun at midnight), it's an unusually blah day for TV. Even the airwaves get a case of the Mondays sometimes.
There's also a new National Geographic special: "Africa's Lost Eden" (10 PM, NGC):
It was known as "the place where Noah left his Ark:" 4,000 square kilometers of lush floodplains in central Mozambique, packed with wild animals. But 15 years of civil war took a heavy toll-many species were almost completely wiped out for meat. As documented in a new National Geographic Channel film, conservationists today are battling to restore the park to its former glory, and save it from present-day threats that could destroy it forever. This world premiere screening will be followed by a discussion moderated by journalist and Hardball host Chris Matthews. Panelists will include James Byrne, producer, Judy Oglethorpe, World Wildlife Fund, Fernando Sumbana, Jr., Mozambique's Minister of Tourism, and Gregory C. Carr, who has pledged $40 million to rebuild the park so it can serve as a source of tourist income for the local population.
G/O Media may get a commission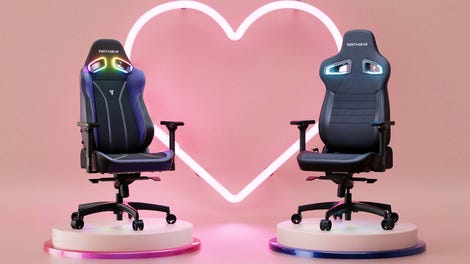 Up to $150 off
Vertagear Gaming Chairs
Late Night: Nathan Fillion is on Jimmy Kimmel (Midnight, ABC).
TUESDAY 4/13/10
Lost is back, with "Everybody Loves Hugo" at 9 PM on NBC. Is Hurley the new Jacob or a jollier Richard? We only have a couple hours of footage left!
There's also new Survivors (9 PM, BBCA) tonight. At Mr. Smithson's coal mine, Kevin, Tom, and Greg are forced to do some hard labor.
V is on (10 PM, ABC) with "John May." Ryan, Erica and Jack search for the truth about the eponymous rebel leader John May, and Tyler has some words with his mother.
Late Night: Big Daddy himself, Nicolas Cage, is on Jay Leno (11:30 PM, NBC).
WEDNESDAY 4/14/10
It's the season finale of Human Target (8 PM, FOX) - in "Christopher Chance," Chance and his gang recap how they got into the whole death-defying business in the first place.
New Ugly Americans is on Comedy Central at 10:30 PM. In the episode "Treegasm," Mark gets caught between two creatures who desire public coitus. All in a day's work!
Late Night: It's Hit-Girl's turn! Chloe Moretz is on Jay Leno (11:30 PM, NBC).
THURSDAY 4/15/10
At 8 PM, we have FlashForward - in "Let No Man Put Asunder," Aaron goes to Jericho to get his daughter out of that box, Janis keeps acting moley, and Olivia and Lloyd find themselves growing closer. Surprise, surprise, Mark Benford.
Vampire Diaries (8 PM, CW) is on with "Under Control." Jeremy and Elena's uncle drops by unexpectedly, and Tyler and Matt get caught up in a ruckus at a party.
Fringe (9 PM, Fox) returns with "White Tulip" - Peter investigates casualties on a commuter train — and grows increasingly suspicious of his father. Wonder why?
On Supernatural (9 PM, CW, "Point of No Return"), the angels shock Sam and Dean with their terrifying new scheme for vanquishing Lucifer.
FRIDAY 4/16/10
There's a new Batman: The Brave and the Bold tonight (7:30 PM, Cartoon Network) with "Gorillas in Our Midst." Gorilla Grodd replaces Gotham City's citizens with gorillas. Sweet Gorilla Deity, do I love Gorilla Grodd stories.
Smallville is on with "Upgrade" (8 PM, CW). Zod pretends to be The Blur and Clark gets exposed to red kryptonite. I hope that's the kind of Kryptonite that transforms him into a gorilla.
There's Stargate Universe at 9 PM (Syfy) with "Faith" - Dr. Rush analyzes Destiny's records to determine the mystery of a new star system.
On Clone Wars (9 PM, Cartoon Network), it's "The Zillo Beast Strikes Back" - the Zillo Beast runs amok in Coruscant, much to everyone's chagrin.
Also, look out for Brundlefly - it's The Fly on Encore at 8 PM!
On Syfy, there's also a new Merlin at 10 PM and an Enterprise marathon from 10 AM-5 PM.
SATURDAY 4/17/10
Doctor Who returns on BBC America! At 8 PM, there's the one-hour recap episode "Who is The Doctor," and the premiere - "The Eleventh Hour - at 9 PM. The Doctor and Amy Pond have 20 minutes to save existence from intergalactic cops called the Atraxi. And sticking with the supersmart animals theme, there's a dog that seems to know too much.
SUNDAY 4/18/10
New Breaking Bad at 10 PM on AMC. In "Mas," Gus tries to bring Walt back to the fold.
Thanks to David Daw for the awesome research!