The kinda dinky-looking 2017 Dodge Charger Pursuit is about to get a futuristic upgrade—if you think the dystopian vision of Detroit from 1986 cyberpunk thriller RoboCop is what our future will look like, that is.
Fiat Chrysler just announced a new feature for its police cruiser called the "Officer Protection Package." The free upgrade is "designed to prevent an officer from being ambushed from the rear while parked," Jeff Komer, the company's VP of sales in the United States, said in a press release. By taking advantage of the car's self-parking sensors, the Charger Pursuit will soon be able to detect if someone is approaching the police car from behind. When it does, the cruiser's doors will automatically lock, the siren will go bloop, the rear lights will flash, and the rear camera will show the officer what's happening behind the car. It almost feels like our police cars will soon be shouting, "your move, creep," like the eponymous robotic cop.
The new feature does come at a time when police ambushes are happening at an alarming rate. The National Law Enforcement Officers Memorial Fund reported in November that ambush killings of officers is at a 10-year high. This grim news came not long after a San Antonio officer was shot and killed after a man pulled up behind the cruiser, approached the window, and shot the officer while he was writing a traffic ticket. That same day in St. Louis, another man pulled up next to a police sergeant and shot the unsuspecting officer in the face.
G/O Media may get a commission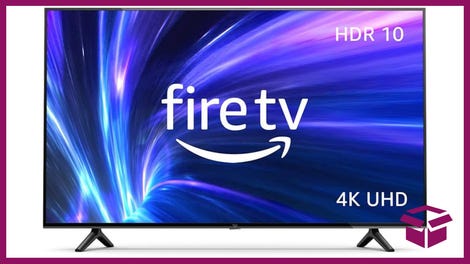 42% Off
Amazon Fire TV 50" 4K Smart TV
As odd as it sounds, it's clear that some simple tweaks to existing technology could save the lives of policemen and women. The new Fiat upgrade just plugs into the Charger Pursuit OBDII port and offers law enforcement a new line of defense against bad guys. And at the end of the day, cops need all the help they can get in the line of duty.
[Fiat Chrysler via Engadget]