Three more actors are rumored to be the new star of Doctor Who. Simon Pegg proves there's at least one actor who doesn't want to be in Star Wars: Episode VII. Check out the first official synopsis for Johnny Depp and Wally Pfister's Transcendence. Plus The Walking Dead, Once Upon a Time, Person of Interest, and more! Spoilers on the way!
Top image from The Walking Dead.
Star Wars: Episode VII
Although he presumably has an "in" with the director, Simon Pegg says he has no interest in joining the Star Wars cast, making him one of a very short list of actors (off the top of my head, there's also Jason Statham) to actually disqualify themselves from contention:
''I don't want to be in Star Wars, I think it would spoil it. When I saw Star Wars when I was a kid, I saw a bunch of people I'd never seen before with some lofty, very respectable older actors in senior roles. I would hope J.J. [Abrams] doesn't stunt-cast the film. It would be great to get some new peeps in it, it would be amazing.''
[The Age]
---
The Avengers: Age of Ultron
A casting call for extras has provided what appears to be the first detailed plot synopsis. These things are almost always immediately denied – whether there's any truth to them or not – so I wouldn't exactly take this as confirmation of anything, but still… this description gives away one hell of a potentially crucial plot point:
Marvel Studios and The Walt Disney Studios are now in pre-production on the upcoming sci-fi themed superhero feature film "The Avengers: Age of Ultron", and casting directors are auditioning actors for starring, co-starring, and supporting roles. The film's photo doubles and stand-ins for the starring actors, as well as general extras and featured background actors will be cast closer to the start of filming. The locations where outdoor principal photography will take place are in and around London, England. Indoor sound stage filming will take place at Shepperton Studios. Shooting begins in February, 2014.

In "The Avengers: Age of Ultron" Loki is gone and the new villain will be the evil robot Ultron, who has the ability to keep upgrading his own strength, making him extremely fearsome. Tony Stark/Iron Man becomes the unwitting creator of Ultron. The brother-and-sister team of Quicksilver and the Scarlet Witch become the seventh and eighth members of The Avengers. Quicksilver has extreme speed, while Scarlet Witch can cast spells and has telekinesis ability. Black Widow and Hawkeye will be key figures in the film.
G/O Media may get a commission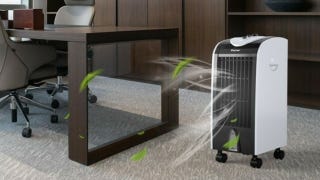 Save $10
Evaporative Portable Air Conditioner Cooler with Filter Knob
To be totally clear, it's a little unclear from the site what is actually gleaned from a putative casting sheet and what is just simple speculation; most of what's in the synopsis could be fairly readily extrapolated from comments Joss Whedon has made in recent interviews. In particular, he already mentioned to us at Comic-Con that Hank Pym would not necessarily be required for an Ultron story to work, and Tony Stark really would be the obvious substitute as the machine's inventor. So, make of this what you will, but probably best to keep the grains of salt on standby. [Feature Film Casting]
---
Star Trek 3
Simon Pegg is optimistic the third film could be shot in 2015 so that it would be released in 2016, the franchise's 50th anniversary year:
"I would hope so. It would mean we could get it out for the 50th anniversary, which would be extraordinary… obviously, it's all in the hands of the sci-fi gods so with a bit of luck…"
---
Transcendence
Here's the official, still rather cryptic synopsis for the Johnny Depp-starring thriller, which marks the directorial debut of Christopher Nolan's longtime cinematographer Wally Pfister:
Will Caster, forefather of A.I., has his consciousness uploaded onto the internet. Once there, is it really Will who is interacting with humanity in order to make things better, or a darker sinister clone bent on the termination of the world as we know it?
Rebecca Hall, Paul Bettany, and Morgan Freeman are also set to appear in the film. [Screen Crush]
The movie is currently filming in Belen, New Mexico. [Albuquerque Journal]
---
Yukikaze
Tom Cruise is apparently fully committed to the "high-concept science-fiction epic" portion of his career, as one of his many such starring vehicles — an adaptation of Chohei Kambayashi's novel — has found a screenwriter in Wrath of the Titans's Dan Mazeau. The story reportedly features "a hyper-dimensional passageway appearing over Antarctica, allowing fighters from an alien force to attempt a terrestrial invasion — resulting in a united humanity fending off the attack and going on the offensive to eliminate the enemy bases." [Variety]
---
Transformers 4
Here's a video from Detroit showing some of sets meant to depict the China-based locations.
---
Doctor Who
The three latest names to be rumored for the part of the 12th Doctor are Skins actor Daniel Kaluuya, BAFTA-winning actor Daniel Rigby (who beat out both Matt Smith and Benedict Cumberbatch for the award), and former Law & Order: UK Ben Daniels, who, at least according to this rumor, was actually offered the role but had to at least temporarily decline because of personal issues. As always, it's best to take any such reports with a grain of salt, but there's at least no particular reason to think these three actors couldn't be among the dozens, maybe hundreds of actors who could plausibly win the role. [Bleeding Cool]
---
True Blood
Here's a promo for next Sunday's episode, "Dead Meat." [SpoilerTV]
---
The Walking Dead
Star Norman Reedus explains how Daryl maintains his supply of arrows:
"I try to recycle the arrows as much as possible… They go on runs and we raid places and this is Georgia so that is one of the weapons that people hunt with. So it's not unheard of to find more arrows. When you show this large of a time frame, there's a lot of things that are sort of understood. You never see us go to the bathroom, but we do that."
There's also a video interview at the link. [EW]
---
Once Upon a Time
Erstwhile Terriers star Michael Raymond-James discusses what's ahead for his character Neal in season three:
"Literally, in the overall timeline, it's just a few days ago. I say at one point 'not bad for Day 3 as a dad,' and I screw up as dads are prone to do. So it's really been a very short amount of time. But for Neal, that was the thing that he's been looking for, through all of it, was that sense of family… [Magic is] a means to an end, and the ends justify the means, I think, for me. Not in terms of killing or anything like that. I don't like magic, but if it helps me to get to my son and the woman that I love, then I'm not going to withdraw on moral obligations."
Captain Hook actor Colin O'Donoghue also talks about the show:
It's a magical place. It's also very different in a way that only Adam and Eddy can do. A spin on it. It's very different. People will be interested to see how dark it is. The Lost Boys and stuff like that are there, and they're very different from the Lost Boys we've known from before. From Hook's point of view, it's not a place that he wants to go back to. He doesn't want to be back there. It's not a nice place."
There's a bunch more at the link. [KSiteTV]
---
Person of Interest
Here are some interviews with the show's stars and creative team. [TV Equals]
---
Under the Dome
CBS has renewed the show for a second season, and Stephen King is set to write the season premiere in 2014. [TV Guide]
---
Grimm
Here are some video interviews with stars David Giuntoli, Sasha Roiz, and Russell Hornsby, as well as the main creative team. [TV Equals]
---
The Originals
Creator Julie Plec reveals how the show will deal with Hayley's lycanthropic pregnancy:
"Well, I will tell you this: We did have dialogue in the original episode, and I think we are putting it into the episode that will be our first episode in October. We're talking about Hayley's pregnancy and how do you know, and she says, 'Look up.' And it's a full moon, and she says, 'I'm not turning.' You know, that's werewolf culture. When women are pregnant that's the one time the curse releases itself so the werewolf bloodlines can continue to procreate."
[MTV]
---
Falling Skies
Here's a promo for the third-season finale, "Brazil." [SpoilerTV]
---
Additional reporting by Amanda Yesilbas and Charlie Jane Anders.