A dog can accurately detect the early presence of lung cancer by sniffing patients' breath, doctors in Germany say. While researchers have known for some time that dogs can sniff out the telltale signs of other forms of cancer, this is the first study that proves dogs can reliably smell this particular kind.
This is a breakthrough for lung cancer researchers who have been trying to figure out if there are specific volatile organic compounds associated with the presence of the disease. The dog study suggests that there are.
Researchers at Schillerhoehe Hospital in Germany worked with specially trained dogs who were asked to smell the breath of 220 volunteers. The group included healthy patients, as well as people with lung cancer and chronic obstructive pulmonary disease. The dogs correctly identified 71 positive lung cancer samples out of a possible 100, the researchers write in the European Respiratory Journal. They also correctly identified 372 non-cancerous samples out of a possible 400.
What's interesting about this is that the dogs were able to detect cancer even in the presence of other factors, like tobacco smoke and COPD. Current lab tests for lung cancer can't do this. This suggests that there is indeed a VOC associated directly with lung cancer, which can be detected - at least by a dog - even in the presence of other compounds.
VOCs are emitted from the surface of cells as they undergo tumor-induced gene and protein changes. Identifying the VOCs that certain cells make can go a long way toward early diagnosis, when a scan might not be able to detect anything.
G/O Media may get a commission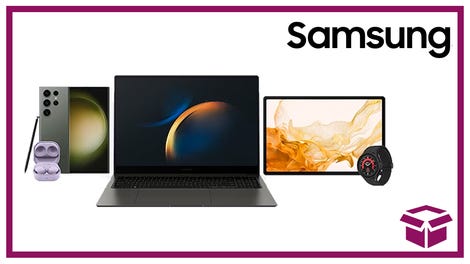 24 hour deals
Discover Samsung - Daily Deal
Other researchers have been working on lab chips that can make the same diagnosis, without using dogs. Israeli researchers reported last year that their gold nanoparticle e-nose could differentiate among lung, breast, prostate and colon cancer - by differentiating among the VOCs.
But as we've seen before, sometimes dogs are simply the best sniffing technology out there. The Defense Department figured this out after spending billions of dollars on research. This new study suggests that doctors may be learning the same thing.
[ScienceDaily, Image via European Lung Foundation.]

This post originally appeared on Popular Science.