How far does Marvel go to keep the secrets for a film like Avengers: Infinity War? Most of the actors never get to read the entire script. Obviously, they see the scenes they're in, but otherwise, directors Anthony and Joe Russo—along with the writers, Christopher Markus and Stephen McFeely—tell the actors the general story and character motivations, and that's it.
It sounds like a horrible situation for an actor but, when a group of journalists asked veteran actor Don Cheadle, who plays James "Rhodey" Rhodes (pilot of the War Machine armor), about it on set last June, he was actually happy not knowing.
"It's very interesting on set, obviously, when you don't know the entirety of everything and things are changing [in] real time," he said. "It keeps you on your toes, that's for sure. But it's ultimately exciting and it's as fun for us sometimes discovering it as it is for the audience. 'Cause we're like,'Oh we had no idea how that was gonna turn.'"
When Cheadle said this, it was his first day working on the movie, filming a scene where he and several other Avengers land in Wakanda. So he still had those few notes he had been given fresh in his head.
"The story is really intricate," he said. "It has a little bit of a different feel than the last movies have. There's a little more gravitas, and it kind of has to be that way. ... I think you have to try to bring in some more serious elements. And I think Rhodey being injured was a part of it, kind of starting the 'Oh, wait, people can really get hurt. Things can really go south for these characters.'"
G/O Media may get a commission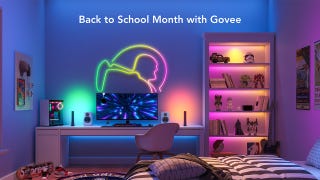 Back to School
Back to School Month with Govee Sale
After being accidentally but near-fatally injured by the Vision in Captain America: Civil War, War Machine and the android have buried the hatchet, according to Cheadle, and Rhodey has long gotten used to the high-tech leg braces his friend Tony Stark built for him. However, whether Rhodey will survive the battle with Thanos is something not even Cheadle knew, of course.
"When we start leaving the planet and talking about things coming from outer space, [I'm] like, 'Dude, I don't even know, what is that?'" Cheadle said of his character. "I know how to fight guys and in tanks and weapons and that. [This is] beyond my pay grade."
Read more from our visit to the Avengers: Infinity War set below. The film opens April 27.