Republicans have come up with a lot of excuses for Supreme Court nominee Brett Kavanaugh's alleged attempted rape of a 15-year-old girl when he was 17. Some say it never actually happened. Others say he shouldn't be held accountable for something he did as a teenager. But still others seem to think that it's all just a big joke. The latter seems to describe Donald Trump Jr., son of the current President of the United States.

Donald Trump Jr. posted a fake letter on Instagram to his 1.3 million followers yesterday titled, "Judge Kavanaugh's sexual assault letter found by Dems." The letter, written in crayon, is in the style of something you might see an elementary school kid send to his crush, with "will you be my girlfriend" and boxes marked "yes" and "no."
Needless to say, the letter is not real and has been posted elsewhere on social media over the past couple of days.
Donald Trump Jr.'s fake letter about the incident includes a misspelling of "Feinstein," laughing emojis, and the hashtag MAGA, which stands for Make America Great Again:
Oh boy... the Dems and their usual nonsense games really have him on the ropes now. Finestein had the letter in July and saved it for the eve of his vote... honorable as always. I believe this is a copy for full transparency. 🤣🇺🇸🤣🇺🇸🤣 #politics #maga
G/O Media may get a commission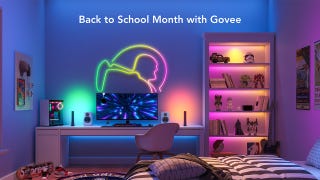 Back to School
Back to School Month with Govee Sale
Kavanaugh has been credibly accused of holding down a girl and trying to rape her in the early 1980s. The girl was 15 at the time and her name was revealed yesterday in the Washington Post as Dr. Christine Blasey Ford, now a professor in California. Just this morning her lawyer told CNN that she'd be willing to testify in front of the U.S. Senate.
According to the Washington Post:
While his friend watched, she said, Kavanaugh pinned her to a bed on her back and groped her over her clothes, grinding his body against hers and clumsily attempting to pull off her one-piece bathing suit and the clothing she wore over it. When she tried to scream, she said, he put his hand over her mouth.

"I thought he might inadvertently kill me," said Ford, now a 51-year-old research psychologist in northern California. "He was trying to attack me and remove my clothing."
The president himself has been accused of sexual assault on multiple occasions, including the rape of his ex-wife Ivana and a 13-year-old girl in 1994.
Comments on the Instagram post are as divided as the country is right now and includes messages of support like "HaHaHa!!! The Dems cried wolf one to [sic] many times with pushing fake things, that is why they will lose again and again." and other messages of disgust, like "You are the worst person I could imagine and you look like you smell like garbage."

It could not be confirmed by press time that Donald Trump Jr. smells like garbage.