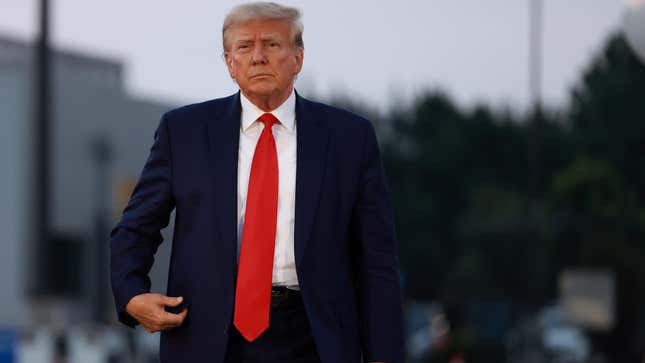 It's been a busy night in Trumpland. On the same evening that the former President was booked into jail in Georgia—thus spawning an unforgettable mugshot—Trump also returned to Twitter (which is now called X, thanks to Elon Musk). In fact, the first new tweet from Trump is his mugshot. After leaving Georgia, Trump used the photo and the news of his surrender to Fulton County authorities as an opportunity to promote his 2024 presidential campaign, unfurling a simple but very Trumpian tweet, which reads:
Mr. Tweet Fumbles Super Bowl Tweet
It's hard not to see this as a momentous event for Trump, who used to love tweeting but was unceremoniously shitcanned from the platform in January of 2021, not long after the January 6th riot. Trump's tweets were repeatedly blamed for revving up the crowd that ultimately stormed the Capitol. Now, after a two year exodus from the site, Trump appears to have chosen this particular moment to re-launch his posting career.
He probably could've returned to the site much sooner. In March of 2022, Elon Musk said that he would be open to bringing Trump back on the platform. However, Trump weirdly waited until this particular moment to return to the site. Last April, Trump even claimed he had no interest in returning to Twitter, calling the site "boring" and full of bots; at the time, the former President further said he much preferred to stay on his Twitter copy-cat site, Truth Social.
Now, however, things have changed. As Trump fights off a swarm of legal battles while simultaneously gearing up for another presidential run, it must seem mighty hard to avoid the allure of a loudspeaker like Twitter. As a pulpit by which Trump can continually get his side of the story out, the platform is pretty much unmatched on the web.
Trump's minions have certainly wasted no time in capitalizing on Trump's mugshot, using it to gin up support for the beleaguered former President. Indeed, Trump's resumption on the platform was basically treated like a giant party by certain quarters of Twitter, with "HE'S BACK" trending on the site. MAGA supporters celebrated the event with a flood of memes and victorious yawps. Among other excited voices that spoke up Thursday night, Trump acolyte, election-denier, and Arizona gubernatorial candidate Kari Lake tweeted that the former President's mugshot was a "rallying cry" for his supporters:
Don Jr., meanwhile, also tweeted out the photo, claiming that his father would soon be "coming for" the "Deep State," whatever that's supposed to mean.
Conservative voices have basically treated Trump's legal troubles as a launching pad for the former President's 2024 campaign. This has been an ongoing concern expressed by liberal commentators: that Trump's team would use his court proceedings as a way to galvanize his campaign and draw more energetic support from his slighted base. It would appear that those predictions are, so far, coming true.