The cold nights are getting longer, and nothing warms you up like a good cracking read. And luckily, December brings new epic fantasy series, space opera, space romance, and tons of other amazing books. Here are all the science fiction and fantasy books that will make December epic!
Top image: Something More Than Night cover art by Will Staehle
Something More Than Night by Ian Tregillis (Tor Books)
Tregillis wowed people with his Milkweed Trilogy, beginning with Bitter Seeds. Now he's back with a Dashiell Hammett-style murder mystery set in Thomas Aquinas' version of Heaven. Just re-read that last sentence a couple times. And now that we're all savagely jealous that Tregillis beat us to this amazing concept, prepare yourself to read a novel about the murder of the Angel Gabriel, featuring "fallen angels, the heavenly choir, nightclub stigmatics, a priest with a dirty secret, a femme fatale, and the Voice of God."
G/O Media may get a commission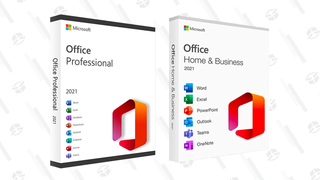 89% off
Microsoft Office Professional 2021 Lifetime License
The Grendel Affair: A SPI Files Novel by Lisa Shearin (Ace)
A brand new series, which sounds like a supernatural Men in Black, sort of. A young woman moves toNew York to become a journalist, only to get a job at a seedy tabloid — and then she's recruited to join a secret organization, the SPI, which protects people against the monsters among us. Makenna Fraser becomes a "seer," meaning she can see through any supernatural creature's disguises, and her partner Ian takes out the monsters she spots. But then they're faced with a serial killer that's actually a descendant of the famous monster Grendel.
The Iron Wolves: Book 1 of The Rage of Kings by Andy Remic (Angry Robot)
The author of the Clockwork Vampire Chronicles and the Combat-K novels turns his hand to epic fantasy, and it sounds as though this has everything: evil armies of monstrosities, tarnished heroes, mud-orcs (!), a dire prophecy, and a desperate quest. Remic's heroes, the Iron Wolves, won a desperate struggle years ago and became the great heroes of the realm — but they're not heroes any more, as everybody realizes too late. Sounds super fun.
Things Withered by Susie Moloney (ChiZine Publications)
We're loving all of the books of dark, weird fiction coming out of ChiZine lately — and here's one by an award-winning horror author, whose books include A Dry Spell and The Thirteen. These stories of "suburban darkness" include a real-estate agent who's willing to do anything to get ahead, a homewrecker who pays a high price for sleeping with a married man, and a haunted truck.
The Greatship by Robert Reed (Argo-Navis)
Robert Reed's stories in The Magazine of Fantasy and Science Fiction and elsewhere are a constant source of amazement and excitement. This volume collects all of Reed's stories about the Great Ship, a mysterious super-ship from the dawn of the universe, which also featured in his novels Marrow and The Well of Stars. If you crave vast ancient vessels and a major sense of wonder, then this could be just the ticket.
These Broken Stars by Amie Kaufman & Meagan Spooner (Disney-Hyperion)
Another spacefaring disaster-romance, in the vein of Beth Revis' Across the Universe. A catastrophe strikes a luxury spaceliner, the Icarus, which crashes onto a nearby planet — and the only two survivors appear to be Lilac, the daughter of "the richest man in the universe," and Tarver, a war hero who comes from nothing and has no money. Can these two work together? There's a mysterious planet, and a desperate struggle to survive — and yeah, a star-crossed romance.
Raygun Chronicles by Bryan Thomas Schmidt (Editor) (Every Day Publishing)
You supported this space-opera anthology on Kickstarter — now you get to read it. And the title gives us hope that this will be a swashbuckling, fun collection that doesn't take the genre too seriously, or lean too hard on the immortal posthumans who have become the genre's hallmark. Contributors include Seanan McGuire, Mike Resnick, Allen M. Steele, Kristine Kathryn Rusch, Sarah A. Hoyt and the late A.C. Crispin.
Night Watch: Book One by Sergei Lukyanenko (Harper Paperbacks)
You've seen the Timur Bekmambetov films — or if you haven't, what are you waiting for? — but now you can read the novels that inspired them. Be aware, though: this book is about as close to Bekmambetov's movie version as the graphic novel of Wanted is to that film. In the book version, the world is full of supernatural beings, including vampires but also wizards and shape-shifters, and there's a dark prophecy that a supreme "Other" will rise up. A young untested magician finds a young woman who could shift the balance of the world, to the Light Side or the Dark.
Year's Best SF 18 (Year's Best Sf Series) by David G. Hartwell (Tor Books)
This series is always a must-read — a crash course in everything worth reading in short fiction for the past year. This year, there are stories by award-winning authors like Ken Liu, Kathleen Ann Goonan, Gene Wolfe, Michael Swanwick and Elizabeth Bear. Read the whole table of contents here.
Ascension: A Tangled Axon Novel by Jacqueline Koyanagi (Masque Books)
Another brand new space opera, this one featuring a heavy emphasis on characters who are under-represented in your typical space fantasies. Alana Quick is the best "sky surgeon" (meaning engineer) around, as denoted by her long dreadlocks. Then she decides to stow away on a cargo vessel that's looking for her long-lost sister Nova, but it turns out the people looking for Nova are willing to destroy entire planets to get at her. Alana starts falling for the beautiful blonde-haired egomaniac who commands the Tangled Axon, but soon they're in too much danger to worry about romance.
The Collected Stories of Carol Emshwiller: Vol. 2 by Carol Emshwiller (NonStop Press)
Carol Emshwiller's short fiction is just amazing — every one of her stories is a mind-blowing experience, featuring creatures who are more sympathetic than most humans and humans who are complex and sometimes disturbing. (Read our review of her book The Mount here.) If you haven't ever delved into her strange, beguiling worlds, then this is a perfect chance — this book contains 56 of her stories, including some that aficionados may not have seen before. This is definitely a must-read, along with the first volume.
Dangerous Women by George R.R. Martin & Gardner Dozois (Editors) (Tor Books)
This is an 800-page collection of short stories unified by the theme of women who make trouble — and a big selling point is that it includes previously unpublished stories set in some of your favorite worlds. Jim Butcher contributes a story from the world of Dresden Files. Diana Gabaldon writes a new Outlander story. And George R.R. Martin writes a massive, sweeping novella set in the world of A Song of Ice and Fire, which we wrote about here.
Starter House: A Novel by Sonja Condit (William Morrow Paperbacks)
This debut novel is a haunted-house tale, in which the daughter of a wandering psychic is trying hard to settle down with her husband and unborn baby — so she can raise her child in the stability and security that she never had. But it turns out you can stop traveling around with your psychic mom, but that doesn't mean the world of the paranormal will leave you alone. The house has a mysterious malevolent presence, secrets of the past, and a weird boy who appears to Lacey when she's alone.
The Suicide Exhibition: The Never War by Justin Richards (Del Rey)
You might have read Justin Richards' Doctor Who stories, and now you can read his World War II-era story of aliens who have visited Earth before, and left objects of power behind. The Nazis are seeking the Spear of Destiny, the Ark of the Covenant and the Holy Grail — all artifacts left by the alien Vril on their previous visits. Can the good guys get hold of these alien items first? Will they learn the truth about the aliens, to their cost? Basically, it's Indiana Jones with a huge dash of The X-Files, with a lot of spy thriller thrown in.