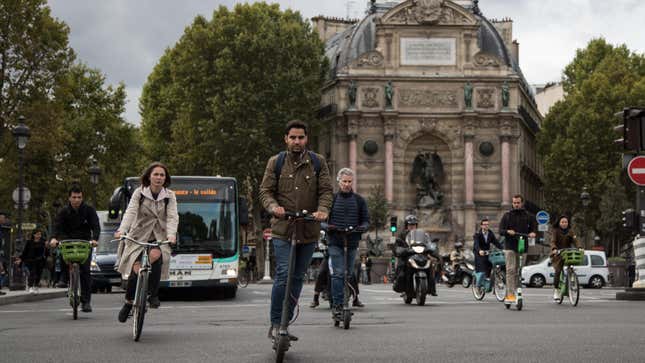 E-scooters are set to make a final French exit from the City of Lights. Residents of Paris, France have overwhelmingly voted to ban the electric micro mobility rentals in a Sunday referendum.

Turn-out was low: Just 103,084 people (about 7.5% of registered voters) showed up to weigh in. But among that subset, electric scooters proved profoundly unpopular. More than 89% of people cast their ballots against the continuation of self-service e-scooter rentals, according to results posted to the city's website.
The vote doesn't impact privately owned, personal scooters nor e-bikes, but does hurt the three self-service scooter rental companies operating in the French city: Lime, Dott, and Tier whose e-scooters have proliferated around Paris in recent years. There, as in many metropolitan areas around the world, the battery-powered micro mobility devices have stirred controversy and introduced some novel city-planning and regulatory conundrums since their arrival.
In 2022, 34 people died in France while riding e-scooters or similar devices, according to the country's national road safety department. The agency also noted that over that same time period, 570 others had been seriously injured in e-scooter or micro mobility accidents. These injuries and deaths have risen precipitously from about zero in 2018, to the present-day stats, per the safety department, despite regulatory efforts to boost scooter safety.
In 2019, a law passed requiring e-scooter riders wear high visibility clothing, mandated that they ride with the flow of traffic, and introduced hefty fines for speed limit violations, according to the BBC. Still though, the human toll has continued to rise.
In addition to the safety issues, opponents of the devices also commonly point out that their dockless nature leads to scooter-clogged sidewalks, public spaces, and roadway hazards. Often, e-scooters have ended up polluting parks or even the bottom of waterways (like Paris's Seine), where they're dumped. Paris previously instituted fines for riding and improperly parking e-scooters on sidewalks, but again that seemed to do little to address the issue, per the BBC.
Often proponents of e-scooters argue they are a more environmentally friendly means of transport than cars and other gas-powered vehicles. They've also been touted as a way to improve transit connectivity and transportation accessibility. However, these arguments may not hold as much water in Paris, which is generally walkable and already has extensive, high quality public transit that people use.
A recent city-sponsored study showed that, without e-scooters, people would most often default to traveling via another type of low-carbon transportation like biking, walking, or hopping on the metro, according to the New York Times.
Though this weekend's vote is technically non-binding, per another New York Times report, Paris Mayor Anne Hidalgo said she intends to abide by public opinion. "This evening, the Parisians who spoke overwhelmingly spoke out against self-service scooters," Hidalgo said in the city's press statement. "Their very clear message now becomes our roadmap. With my team, we will follow through on their decision as I promised." The mayor has been a recent leader in the push against the rental scooters, and has previously described them as a "nuisance," according to NYT.
Scooter operators' contracts expire at the end of August in Paris, and they won't be renewed. Beginning September 1, "there will be no more self-service scooters in Paris," Hidalgo said.
Though many European cities have embraced e-scooters as yet another means of transit, the tides of opinion and policy have seemingly begun to shift. Earlier this year, Barcelona temporarily banned bringing e-scooters onto public transportation following an incident where one of the vehicles burst into flames on a local train in 2022. Paris' new ballot measure could set a precedent elsewhere among major European tourist destinations.
In one notorious 2022 incident in Rome, Italy, a pair of American tourists managed to deal €25,000 in damage to the city's Spanish steps, a historical and cultural site in the Rome's old center.