The Ear Force X4 was a rare and wonderful product, the only Xbox 360 wireless surround sound headset to integrate voice chat smoothly into the mix. Now the sequel, the Earforce X41, is even better.
The Price
$180 (technically $200, but Amazon sells 'em cheaper)
The History
Read our X4 review if you've never heard of these products before. This article will make a lot more sense.
The Improvements
• 2.4GHz RF instead of IR audio transmission
• USB powered instead of wall jack
• Dolby 7.1 Surround Sound instead of Dolby 5.1
G/O Media may get a commission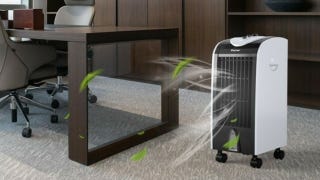 Save $10
Evaporative Portable Air Conditioner Cooler with Filter Knob
I was skeptical that the Ear Force X41 would be any better than the Ear Force X4. But after using the headset for a week, I'm remiss to return to the X4s I bought last year.
Quite simply, the audio is more consistently clear with the new RF transmission, now that line-of-site and ambient light has become a non-factor. And I think that overall audio quality, while the speaker components themselves remain unchanged, has seen a bump because of this cleaner signal. (For those concerned, I was able to use the headset without interfering with my Xbox's Wi-Fi adapter or my home network—the primary potential hiccup with using RF instead of IR. Results may vary, I'm sure.)
As for the jump from Dolby 5.1 to 7.1 support, you probably won't ever notice. Playing Modern Warfare 2, missiles fly by your head with impressive panning, but the sound localization is no better than it was in the X4s...though to be fair, that's not necessarily a knock, even if the audio lacks the shining moments you'll enjoy in the best surround sound headphones offered by companies like Sony.

Oh, and the headset still requires AAAs as opposed to bundling a rechargeable lithium ion. I will say, however, that the batteries I tested with have broken the 10-hour barrier by a decent margin, and they're still operational.
As a wireless, surround sound headset for the Xbox 360, the X41 is at the top of its class (at least partially because it's still the only product in its class). If you're willing to go wired, you can save about $100+ on a cheaper version of the Ear Force, or you can take a look at the even more expensive but lauded Astro A40s.
In fact, if you guys are interested, let me know in the comments. I may try to call in a pair of those Astros in to hear for myself. [Turtle Beach]

Comfortable


Superb chat quality


RF offers smooth audio transmission


Highly specialized but useful product


Overall audio quality is OK, not stellar


AAA batteries? C'mon!