This week at TreeHugger: Check out the first fully professional solar-powered recording studio in the UK. We reveal a survey that says nearly one in three people would ride a scooter rather than get gouged at the pump. And, presenting SunCone, a prototype solar collector that uses an inflatable, cone-shaped apparatus to concentrate sunlight.
Studio A, part of the Premise Studios in London, has plugged rock 'n roll in to the sun. It is the first fully professional solar powered recording studio in the UK, built using recycled materials; all of the electronics, right down to the air conditioning, are adapted to work with a low energy demand so the sun can provide enough juice to keep everything rolling. Studio Director Nathan Hale said, "The idea of a solar powered studio has certainly raised a few eyebrows, but it works brilliantly. We've been doing dry runs with bands like Bloc Party and the audio quality is phenomenal. These days more and more music artists are thinking about their 'carbon footprint', so it was only a matter of time before a fully fledged eco-studio became a reality."
G/O Media may get a commission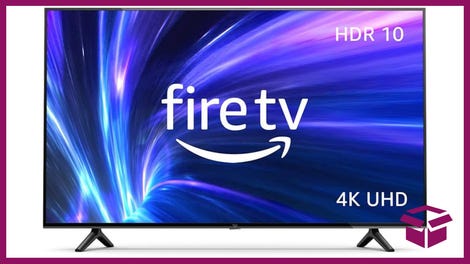 42% Off
Amazon Fire TV 50" 4K Smart TV
A survey conducted by the Piaggio Group (the guys who make Vespas) concluded that almost one in three Americans would consider using a motor scooter for their everyday transportation needs. Conducted during the first week in May 2006, the survey respondents indicated that they'd be willing to transfer 35% of their weekly mileage to a scooter. "Scooters" were defined in the survey as two-wheel vehicles that can reach 40-100mph, whose average cost is $2,000 or above. The survey found other strong factors motivating consumer's willingness to consider utilizing a scooter, including environmental concerns and overall cost savings.
The Suncone solar collector prototype is an inflatable, cone-shaped system that focuses sunlight on a target rod for conversion to electric power. The system, if successfully completed, will be less expensive and labor-intensive than standard parabolic dish or trough design and require less precise placement, according to the developer. The Suncone, which maintains it's shape through air pressure, can achieve a temperature of 2000° C and has a collection efficiency of 90% at 600 ° C, making it one of the hottest solar gadgets we've ever seen.
TreeHugger's EcoModo column appears every Tuesday on Gizmodo.