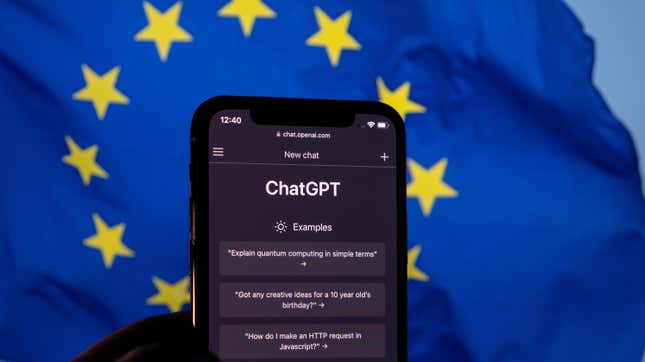 The EU's European Data Protection Board, or EDPB, is launching a task force to monitor ChatGPT, a move that indicates that the bloc's privacy regulators are getting serious about looking into the LLM's potential privacy violations.
The FTC Just Prescribed a Can of Whoop Ass on Health Data
The EDPB announced its new initiative in a brief, two-sentence statement in a press release on Thursday, the same day the Spanish Data Protection Agency, known as the AEPD in Spanish, stated it was launching a preliminary investigation into OpenAI over possible privacy violations by ChatGPT. The Spanish regulator joined Italy, which became the first country in the world to ban ChatGPT, albeit temporarily, in scrutinizing the chatbot.
The EDPB is charged with ensuring the General Data Protection Regulation, Europe's landmark privacy law, is applied consistently throughout the EU and includes the data protection authorities of each member state. The Spanish regulator had asked the board to review the ChatGPT issue last week due to the chatbot's "large potential impact on the public's privacy rights."
"The EDPB members discussed the recent enforcement action undertaken by the Italian data protection authority against Open AI about the Chat GPT service," the board said in its press release. "The EDPB decided to launch a dedicated task force to foster cooperation and to exchange information on possible enforcement actions conducted by data protection authorities."
The EDPB's announcement capped off an intense week for OpenAI in Europe. On Thursday, Spain revealed its preliminary investigation into the company—without providing specific details. Just a day earlier, the Italian Data Protection Authority released a series of measures the OpenAI had to implement if it wanted to restore access to ChatGPT in the Southern European country. The measures included allowing users and non-users to object to having their data processed by ChatGPT and allowing them to correct the incorrect information ChatGPT says about them.
"Only in that case will the Italian SA lift its order that placed a temporary limitation on the processing of Italian users' data, there being no longer the urgency underpinning the order, so that ChatGPT will be available once again from Italy," the Italian regulator said on Wednesday.
An OpenAI spokesperson told Reuters that it would work with Italian regulators so that its chatbot would be allowed to operate in the country again.
"We are happy that the Italian Garante is reconsidering their decision and we look forward to working with them to make ChatGPT available to our customers in Italy again soon," the spokesperson said.
OpenAI did not respond to Gizmodo's request for comment.
Italy gave OpenAI until April 30 to implement the measures it was asking for. The country banned the service on March 31.
"The Agency supports the development and implementation of innovative technologies like artificial intelligence which fully respect current laws," the Spanish Data Protection Agency said in a statement. "Technological development that is compatible with the rights and freedoms of the public is only possible from that starting point."