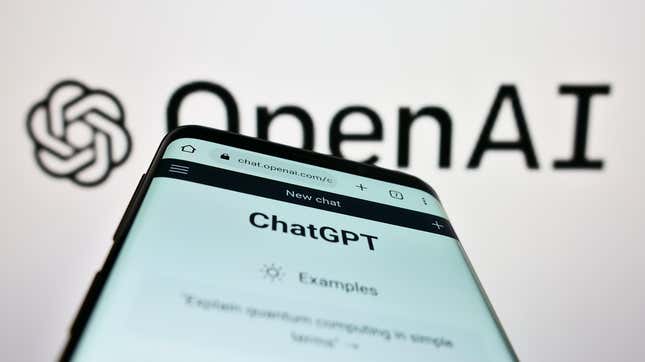 Italy, the first country in the world to ban ChatGPT, said OpenAI could restore access to the chatbot if it adopts a series of measures to protect data privacy, including allowing users to correct or delete the incorrect things ChatGPT says about them.
The FTC Just Prescribed a Can of Whoop Ass on Health Data
In a news announcement on Wednesday, the Italian Data Protection Authority, known as the Garante, stressed that OpenAI needed to be more transparent about its data collection processes and inform users about their data rights with regards to the generative AI. These rights include allowing users and non-users of ChatGPT to object to having their data processed by OpenAI and letting them correct false or inaccurate information about them generated by ChatGPT, similar to rights related to other technologies guaranteed by Europe's General Data Protection Regulation, or GDPR, laws.
Other measures required by the Garante include a public notice on OpenAI's website "describing the arrangements and logic of the data processing required for the operation of ChatGPT along with the rights afforded to data subjects." The regulator will also require OpenAI to immediately implement an age gating system for ChatGPT and submit a plan to implement an age verification system by May 31.
The Italian regulator said OpenAI had until April 30 to implement the measures it's asking for.
"Only in that case will the Italian SA lift its order that placed a temporary limitation on the processing of Italian users' data, there being no longer the urgency underpinning the order, so that ChatGPT will be available once again from Italy," the regulator said in the announcement.
Gizmodo reached out to OpenAI for comment but did not immediately receive a response. An OpenAI spokesperson told Reuters that it would work with Italian regulators to be able to offer ChatGPT in the country again.
"We are happy that the Italian Garante is reconsidering their decision and we look forward to working with them to make ChatGPT available to our customers in Italy again soon," the spokesperson said.
Italy banned ChatGPT on March 31, claiming that the company had violated provisions of the GDPR, the European Union's landmark data privacy law. At the time, it pointed out that information generated by ChatGPT doesn't always correspond to facts presented in the real data. Incorrect processing of personal data is illegal under GDPR.
ChatGPT's tendency to make up facts has long been acknowledged by OpenAI. This behavior recently has been put under the limelight after ChatGPT made up a sexual harassment scandal involving law professor Jonathan Turley, the Washington Post reported. However, the circumstances ChatGPT cited were false, and Turley had never been accused of sexual harassment.
"ChatGPT will occasionally make up facts or 'hallucinate' outputs," OpenAI says in its FAQ section.
Want to know more about AI, chatbots, and the future of machine learning? Check out our full coverage of artificial intelligence, or browse our guides to The Best Free AI Art Generators and Everything We Know About OpenAI's ChatGPT.