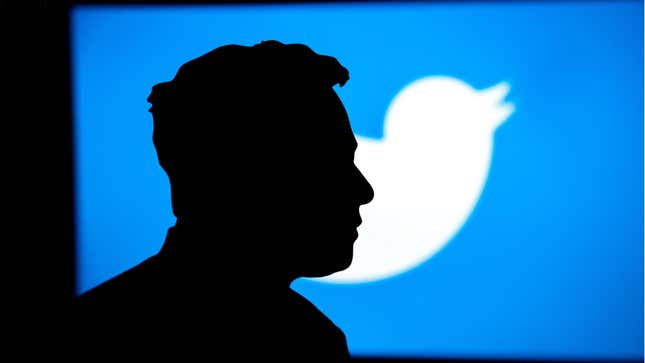 We know Elon Musk is terminally online, but this seems like a lot, even for him. A sender using the billionaire's name has requested that Google remove hundreds of links for alleged copyright violations, as first noted in a TorrentFreak blogpost.

The Elon Musk Twitter Saga, Part 1 of Who Knows?
The removal requests ask the search engine to take down links to t-shirts and merch under the justification that the products in question violate copyright law because they incorporate memes and other content that the actual, verified Musk has posted on his Twitter account or elsewhere.
Almost all of the "Elon Musk" takedown requests begin with the same description: "The following websites have stolen my copyright and they have no right to sell them, please remove the following links from search results." From there, the complaints include a primary source link intended to demonstrate ownership—usually one of the Tesla CEO's tweets, and usually a tweet of a meme image—and then provide a long list of sites selling merch that incorporates that particular meme. Gizmodo counted at least 15 separate complaints using this exact format, and most of those includes dozens of offending links.
In one example, the sender targets shirts emblazoned with the multi-panel "it's dangerous to believe anything blindly," meme that Musk tweeted out in December 2022. In another, the sender zeroes in on a meme-post of Musk laying "BOTS" to rest. But the complaints are likely baseless.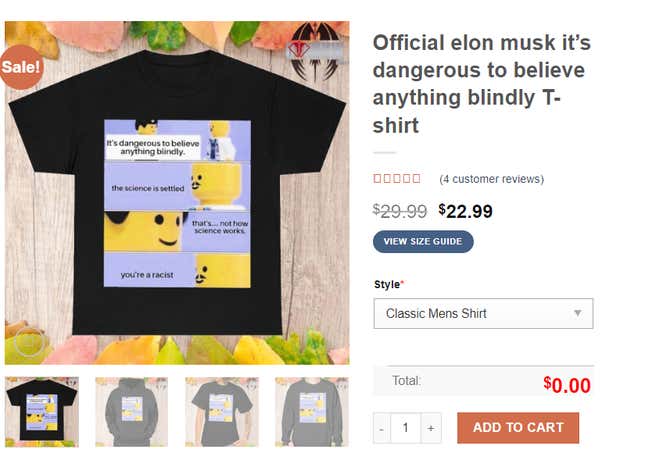 Even though Musk tweeted out his own version of the Lego Doctor meme, that doesn't mean he owns the rights to that particular version of the internet joke or any other.
When it comes to memes, intellectual property rights are something of a gray area, according to the National Law Review. Generally, the right to profit off of a meme is granted to the original creator of the format, or "the owners of the media used in the underlying meme," according to the legal journal.
The Lego Doctor meme format is first thought to have emerged in April 2020, in a post on the Instagram account Legolize_official, according to Know Your Meme. So, it could belong to that Instagram user, or potentially even The Lego Group. But it almost certainly doesn't belong to Musk, though he may have altered the text. And it extra almost certainly doesn't belong to whoever is submitting all these copyright claims to Google.
In another copyright complaint the mysterious "Musk" sender asserts that the Twitter CEO owns the copyright to "#staywoke" shirts because he once posted a video documenting his discovery of said shirts in a Twitter storage closet. Here, the copyright claim could be more legit, as these shirts were an actual physical product made by Twitter employees and Musk now owns the company. However the video tweeted out by Musk is probably not sufficient evidence of the billionaire's IP rights. And again, there is no evidence to suggest Musk is the one making these complaints to begin with.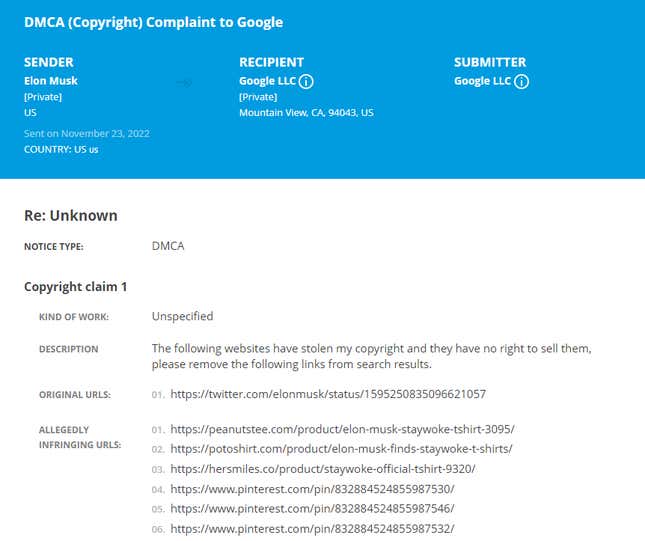 Though we know that the second richest man in the world cares deeply about his memes and online presence, this barrage of copyright claims is likely not his doing. The complaints are obviously hastily assembled, some include primary source links that have nothing to do with the subsequent supposed violations, and, as funny as it would be, Musk probably doesn't spend all that much time compiling lists of meme t-shirts. After all, he is far too busy tweeting and uh CEO-ing.
Plus, submitting a copyright complaint to Google is easy, and doesn't require any identity verification beyond providing a name, email address, and digital signature—all things that one could simply lie about.
But the removal requests are an interesting internet phenomenon, nonetheless. Perhaps the "Elon Musk" copyright meme warrior is a rabid fan, trying their best to defend the real billionaire's honor. Or, as TorrentFreak suggested in the initial blogpost, perhaps the person looking to remove all of these t-shirt sale links from Google is a competing meme shirt maker. Maybe, by aggressively hounding the search engine to de-list other companies' products, "Elon Musk" is hoping to corner the market on dweeb-wear.
The one sender described above seems to be the most prolific copyright complainant using Musk's name, but they are not the only one. Others are more apparently fake because, well, they're filed in Turkish—which Musk is not known to speak.
Lumen, the database that compiles these copyright complaints, is well aware of the issue of fake submissions. "We are paying a lot of attention internally to the broader phenomenon of possibly fraudulent DMCAs and other takedowns," said Adam Holland, Lumen's project manager and a Harvard University internet researcher, in an email to Gizmodo.
But, just to be on the safe side, Gizmodo tweeted @elonmusk to ask if he had filed these complaints himself. He did not immediately respond.