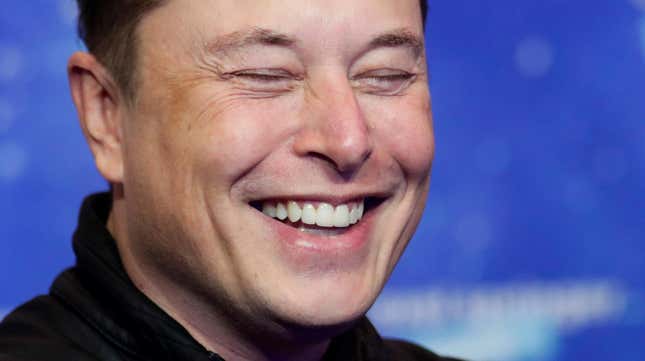 Twitter CEO Elon Musk sank to a new low on Monday night when he laughed at employee Haraldur Thorleifsson, who tweeted at him to ask whether he had been affected by the company's recent layoffs. Throughout the course of their conversation on Twitter, Thorleifsson confirmed the worst: His days at Twitter were over.
NPR Is Going Dark on Twitter | Future Tech
Thorleifsson, founder of Ueno, a digital agency acquired by Twitter in 2021, found himself caught in a Musk-produced chaos a little more than a week ago, when he suddenly lost access to his work computer. The Ueno founder stated that he asked Twitter's human resources department whether he still had a job but was told they didn't know. After emailing Musk himself to no avail, Thorleifsson decided to do the next best thing. He tweeted at the Twitter CEO.
"Dear @elonmusk 👋 9 days ago the access to my work computer was cut, along with about 200 other Twitter employees," Thorleifsson said on Monday afternoon. "However your head of HR is not able to confirm if I am an employee or not. You've not answered my emails. Maybe if enough people retweet you'll answer me here?"
Thorleifsson's tweet received tens of thousands of retweets and likes and succeeded in capturing Musk's attention, which experience has shown us can lead to either good or bad things. The Platformer newsletter reported that the Twitter CEO was "furious" after an engineer broke links and images on Twitter on Monday morning, so it's safe to assume that the chief twit was not having a good day.
Musk started by asking Thorleifsson, who is based in Iceland, what kind of work he had been doing. Thorleifsson stated that he couldn't discuss that publicly on Twitter without prior approval from Musk's lawyers, which Musk waved off, giving him permission in a tweet. The employee went on to list a number of things he was responsible for at the company, including heading the effort to save $500,000 on a SaaS contract, leading critiques to level up design across the company, serving as the hiring manager for all design roles, and prioritizing design projects to accommodate Twitter's smaller team.
A notorious micromanager, Musk proceeded to ask for more details and then responded to Thorleifsson with two "🤣 🤣" emojis.
In a follow up tweet, Musk bombarded Thorleifsson with questions and demanded pictures of the employee's work.
"Level up from what design to what? Pics or it didn't happen," the chief twit said. "We haven't hired design roles in 4 months. What changes did you make to help with the youths?"
Thorleifsson told Musk that he couldn't provide pics or docs because Twitter had locked his computer, adding that he could provide documentation if Musk restored his access to the device. After talking to Musk for about an hour, Thorleifsson tweeted that Twitter human resources had "miraculously" replied to confirm that he no longer worked at the company.
Musk, meanwhile, apparently unsatisfied with laughing at a former employee, decided to trash talk Thorleifsson hours after their exchange. The Twitter CEO cast doubt on Thorleifsson's disability—he suffers from a type of muscular dystrophy called dystrophinopathy—and said he couldn't have been fired since he didn't work.
On his website, Thorleifsson explains that he uses a wheelchair and is slowly losing strength in his upper body and arms.
"The reality is that this guy (who is independently wealthy) did no actual work, claimed as his excuse that he had a disability that prevented him from typing, yet was simultaneously tweeting up a storm. Can't say I have a lot of respect for that," Musk tweeted. "But was he fired? No, you can't be fired if you weren't working in the first place!
Thorleifsson responded to Musk's cruel comments about his performance on Tuesday morning. After pointing out that Musk was revealing confidential health information, he explained the effects muscle dystrophy has on his body. Thorleifsson shared that he started using a wheelchair when he was 25 years old and today needs help to get in and out of bed and use the toilet.
Addressing Musk's comments about his hands, Thorleifsson said he had told HR that he was unable to do manual work for extended periods of time, but can write for one or two hours at a time.
"This wasn't a problem in Twitter 1.0 since I was a senior director and my job was mostly to help teams move forward, give them strategic and tactical guidance," Thorleifsson stated. "I'm typing this on my phone btw. It's easier for because I only need to use one finger."
When it comes to being laid off, Thorleifsson said he was OK with that and stated that these things happen. Companies in general let people know when they've been laid off, he noted, "but that's seemingly the optional part at Twitter now." His next step is finding out whether Twitter would pay him what he's owed per his contract.
According to TechCrunch, Thorleifsson and other founders of companies Twitter had acquired in the past had previously been on a "do not fire" list because it would be too expensive to pay out their exit packages. Former product manager and Squad founder Esther Crawford, who made headlines in November for sleeping at Twitter's offices to meet Musk's deadlines, was also reportedly on the list. She was laid off last week along with Breaker founder Leah Culver and Revue founder Martijn de Kuijper.
Gizmodo reached out to Thorleifsson for comment on the situation on Tuesday morning but did not receive a response by the time of publication.
Update 3/7/2023, 8:43 a.m. ET: This post has been updated to include Thorleifsson's response to Musk about his muscular dystrophy.