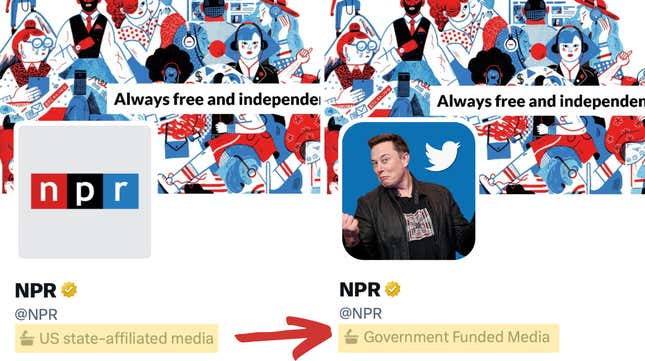 Twitter CEO Elon Musk has decided that NPR is not the same as media outlets like China's Xinhua News, which is a well-known state propaganda machine, after all, even though he classified them both as "state-affiliated media" on the social media network this past Wednesday. After receiving pushback from NPR, Musk debuted a new label for it this weekend: "Government Funded Media." 
NPR Is Going Dark on Twitter | Future Tech
Musk changed NPR's label quietly on Saturday, two days after telling NPR reporter Bobby Allyn that Twitter was still evaluating whether it made sense to stick a "state-affiliated media" label on NPR's profile. According to its own rules, Twitter defines state-affiliated media as outlets where the state controls editorial content through funding or political pressure. Allyn tweeted on Saturday that Musk had told him Twitter would be applying the new "Government Funded Media" label to a "larger number of institutions."
PBS, the BBC, and Voice of America also had the new label on their profiles on Sunday. 
It's not clear what NPR thinks of the new label, which is still inaccurate since NPR only receives about 1% of its funding from the U.S. government. NPR stopped tweeting on April 5 in protest of its "state-affiliated media" label, calling it a "false disclaimer." NPR spokesperson Isabel Lara on Thursday said the outlet would not tweet again until the "state-affiliated media" label was removed.
Gizmodo reached out to NPR for comment on Sunday morning but did not immediately receive a response. The outlet has remained silent on Twitter.
Notably, Twitter has not explained what its new "Government Funded Media" label actually means. As of Sunday morning, clicking on the hyperlinked label "Government Funded Media" label takes you to a page on Twitter's Help Center, which only provides information on government accounts, or accounts that act as the official voice of a country, and state-affiliated media. 
Allyn, the NPR reporter, pointed out the apparent hypocrisy of the label in a tweet, stating that Tesla and Musk's other companies, which have received billions in government subsidies over the years, did not have a label indicating they were government-funded businesses. 
The BBC, on the other hand, protested its new label and said it was speaking to Twitter to try to resolve the matter as soon as possible, Deadline reported.
"We are speaking to Twitter to resolve this issue as soon as possible. The BBC is, and always has been, independent," a BBC spokesperson told Deadline. "We are funded by the British public through the licence fee." 
The "licence fee" the spokesperson refers to is the £159 (about $197) flat fee all UK households pay to watch or record shows on regular TV or online via streaming platforms. The BBC collects those fees, the rate of which is set by the UK government, and uses it to pay for its shows and services, such as its website and radio station. In 2022, the BBC collected £3.80 billion ($4.7 billion) in licensing fees, or 71% of its funding. People who don't pay the fees can be taken to court. 
At the end of the day, it's clear that Musk is at a loss over how to label media outlets that receive funding from the public or the government, which means it's highly likely we'll see more inaccurate labels over the next few days and weeks.