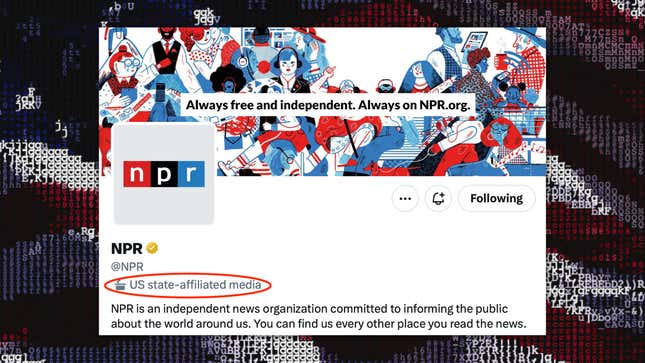 Twitter CEO Elon Musk is having second thoughts over sticking NPR with a "state-affiliated media" label this past Wednesday, a decision which opened a debate about press freedom and led NPR to stop tweeting in protest.
NPR Is Going Dark on Twitter | Future Tech
Musk told NPR on Thursday that Twitter was still evaluating whether the "state-affiliated media" label belonged on NPR's account, the outlet stated in a report. Affixing NPR with this label puts it on the same level as outlets like China's Xinhua News and People's Daily as well as Russia's RT, or Russia Today, which regularly twist facts and espouse government propaganda. Twitter's own labeling guidelines define "state-affiliated media" as outlets where the state exercises control over editorial content through funding or political pressure.
In an exchange with NPR via email, Musk asked the outlet's business reporter Bobby Allyn to provide a breakdown of NPR's annual funding. Allyn had previously told Musk that government support represents about 1% of NPR's finances.
"Well, then we should fix it," Musk told Allyn, referencing NPR's Twitter label.
According to NPR, nearly 40% of its funding comes from corporate sponsorships and 31% comes from programming fees paid by local public radio stations. Other funding sources include grants, contributions, the NPR foundation, and endowment funds, among others. NPR also reports the news without any government influence.
Musk explained to NPR that deciding to label NPR as "state-affiliated media" was an effort to treat all Twitter users fairly, a line he has frequently used to justify his actions.
"The operating principle at new Twitter is simply fair and equal treatment, so if we label non-US accounts as govt, then we should do the same for US, but it sounds like that might not be accurate here," the Twitter CEO said in the email.
Musk's statements reflect an about-face to his comments on Wednesday, where he tweeted that the NPR "state-affiliated media" label "seems accurate."
The random decision to stick NPR with the label is yet another chapter in Musk's battle with the press. He has grown increasingly hostile to the media over time and has said that people who believe the media aren't smart. Back in December, he suspended the accounts of several reporters who tweeted about his fight with the @ElonJet account. Musk suspended the account, which posted public information about his private plane, and claimed it was a physical safety violation. This past weekend, the Twitter CEO took away the New York Times' verified blue checkmark after one of his followers pointed out that they would not pay for Twitter Blue.
NPR CEO John Lansing said he was "disturbed" by Musk's decision to label the outlet state-affiliated media.
"It is unacceptable for Twitter to label us this way," Lansing said in a statement.