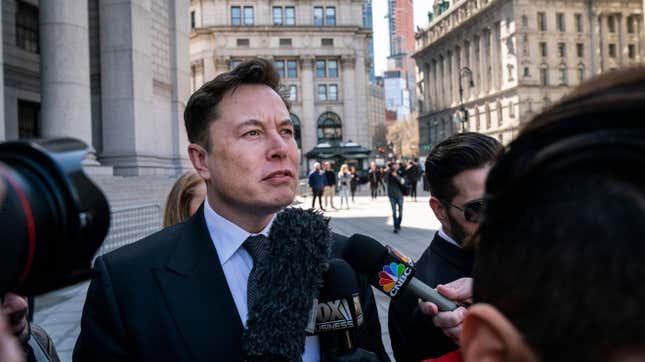 "I really would consider autonomous driving to be basically a solved problem," Tesla CEO Elon Musk said during the Q&A portion of a 2016 interview at a Vox Recode conference. "A Model S and Model X at this point can drive autonomously with greater safety than a person, right now," he added. Or...did he?

Tesla Investors Not Happy With Mr. Tweet's Tweets
Defense lawyers in a civil case surrounding Tesla driver Walter Huang's fatal 2017 car crash have claimed that Musk's apparent 2016 statements on Autopilot, and others, could have been deepfaked. And, because the statements may or may not be authentic, the company has argued that Musk shouldn't be forced to face questions about them.
Huang died behind the wheel of a Tesla Model X. His surviving family subsequently sued the company a little over a year later, claiming that its driver assistance software failed and was partially to blame. Meanwhile, Tesla alleges that Huang was playing a video game on his phone at the time of the collision and ignored multiple warnings from his vehicle's software.
In the ongoing case, the plaintiffs want to interview Musk about his past statements hyping up Tesla's poorly named Autopilot feature, including the "greater safety than a person" 2016 bit. Yet the defense has tried to argue that shouldn't be allowed. Unfortunately for the Tesla team, the California judge doesn't seem so convinced. Santa Clara Superior Court Judge Evette Pennypacker issued a tentative order on Wednesday compelling Musk to be interviewed under oath. The hearing on whether or not Musk will face such a deposition is scheduled for Thursday, accord to reports from Reuters and Bloomberg.
But back to that 2016 recording, and Tesla's argument.
The YouTube video containing the above quotes was posted more than 6 years ago, before the term "deepfake" first appeared on the internet, and before the practice of making convincing, fake videos of notable figures had become widespread. There's a full audience of people watching Musk make those statements, and multiple journalists on stage and in the crowd bearing witness. There are articles available online from 2016 referencing the same quotes written by some of those aforementioned journalists. But, Tesla's defense is asking you to ignore all that, suspend disbelief, expand your mind, and accept that anything is possible.
"While at first glance it might seem unusual that Tesla could not admit or deny the authenticity of video and audio recordings purportedly containing statements by Mr. Musk, the reality is he, like many public figures, is the subject of many "deepfake" videos and audio recordings that purport to show him saying and doing things he never actually said or did," the attorneys wrote in an April 20 court filing viewed by Gizmodo and embedded below.
Along with that document, Tesla's lawyers also filed a handful of others responding to a long list of ("alleged") Musk statements brought up by the plaintiffs. In a defense argument repeated multiple times in reference to different video and audio, the attorneys write:
Tesla does not maintain a repository of Elon Musk's public statements or media interviews. Mr. Musk confirmed he did not independently record the discussion or maintain a copy of the original video, nor did he take notes, and therefore cannot recall the details sufficiently to admit or deny their accuracy. Consequently, while Tesla does not expect the file has been altered or manipulated, it cannot authenticate a non-Tesla document that it cannot independently validate, and is not obligated to otherwise admit the accuracy of a statement untethered to its source as presented in this request.
Given just a little bit of consideration, it's a pretty alarming argument with big implications for how and if public figures can ever be held accountable for anything they say. If any recording can be dismissed as a deepfake, then there cannot be any assumption of responsibility or expectation of consequences. Based on the Wednesday ruling, Pennypacker seems to agree. The judge called Tesla's arguments "deeply troubling," per Reuters.
"Their position is that because Mr. Musk is famous and might be more of a target for deep fakes, his public statements are immune," Pennypacker wrote. If accepted, such a stance would let celebrities "avoid taking ownership of what they did actually say and do."
Deepfakes are a growing concern. With the recent explosion of easily accessible generative AI tools, basically anyone can easily put together falsified images, audio, and video on the internet. But still, actual things do happen in actual reality, and sometimes people (Musk included) say things that aren't true.
The trial in the lawsuit against Tesla is set to begin July 31. Previously in the proceedings, a Tesla engineer testified that a 2016 video that appears to show a Tesla vehicle driving and parking itself was staged.
The case is just one part of the legal and regulatory scrutiny that Tesla's driver assistance features have faced in recent years. In 2022, California passed a law banning Musk's company from advertising its cars as "Full Self-Driving." In February, Tesla put its beta roll-out of FSD on pause after the National Highway Traffic Safety Administration deemed it unsafe. At least one other lawsuit against Tesla related to the company's Autopilot feature is pending.
In a Friday ruling, though, Tesla won a similar case. A California jury found that the electric automaker wasn't liable for a crash involving Autopilot. The jury also determined the Autopilot system hadn't failed. The outcome of Huang's case remains to be seen. But for now, Musk will likely at least have to face questions over his own words.
Read Tesla's deepfake defense below: