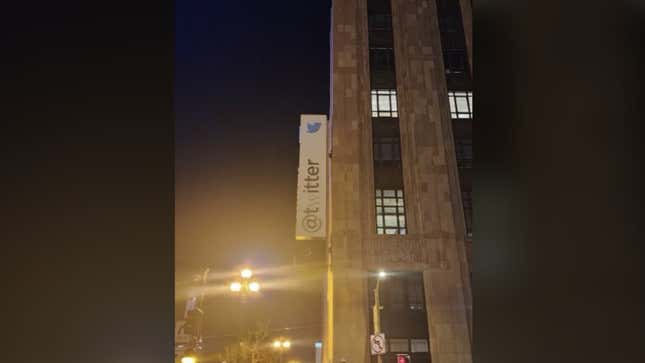 Twitter CEO Elon Musk has confirmed that he was the one responsible for covering up the "w" in Twitter's name with a white tarp a few days ago—and he's done it again. This is how new "Titter" was born.
The Elon Musk Twitter Saga, Part 1 of Who Knows?
Longtime Musk watchers are well-aware that the tech billionaire, one of the richest people on Earth, has the humor of a small child. Given that one of his favorite jokes revolves around the word "tits," it came as no surprise when pictures of the Twitter headquarters sign in San Francisco popped up online with the "w" covered with a white tarp. Musk didn't claim responsibility for the sign at the time, but his influence was palpable.
While the new "Titter" sign debuted to praise from Musk fans, Twitter's landlord was not amused. As told by Musk, Twitter's landlord said the company was legally required to keep the name "Twitter" on its sign. The billionaire's solution: Paint the "w" a background color. "Problem solved!" Musk declared on Sunday night.
And then, of course, came the punchline.
"They tried to muffle our titter 🤭" the head of the social media platform tweeted (titted?).
I mean, I guess. I don't find it that funny, but to each their own. According to the Merriam-Webster dictionary, "titter" means "to laugh in a nervous, affected, or partly suppressed manner." However, considering Musk's track record with making dumb jokes, Gizmodo believes it is highly unlikely that the Twitter CEO wants us to take the word at face value.
Other jokes Musk has made on Twitter on this subject include creating a new university called the "Texas Institute of Technology & Science," whose acronym would be, of course, "TITS."
"It will have epic merch," Musk said on Oct. 29, 2021 in reference to his new school. "Universally admired." (The new school never materialized, like many of Musk's ideas).
In addition, last year Musk polled his followers over whether he should change Twitter's name to "Titter."
Renaming Twitter as "Titter" and going against his landlord's wishes doesn't exactly sound like the best plan right now, though. Back in January, landlord SRI Nine Market Square LLC sued Twitter for $6.7 million in unpaid rent for its San Francisco headquarters and other damages. That same month, Twitter got sued in the U.K. by the Crown Estate, which manages the properties owned by King Charles III, for not paying rent on its London offices.
Since Musk completed his $44 billion purchase of Twitter last October, the company has become known for not paying its bills and haggling to reduce the costs of its contracts. At one point in "new" Twitter's recent history, employees were forced to bring in their own toilet paper to the company's rank offices after Musk laid off all the janitors.
While all of those incidents shocked people familiar with old Twitter, they come as no surprise to those familiar with the "new" Titter, which is unfortunately becoming known as a big joke.
Update 4/10/2023, 10:05 a.m. ET: This post has been updated to include the Merriam-Webster definition for "titter."