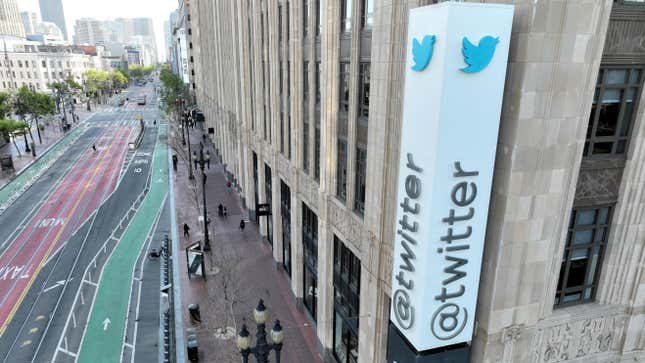 It's no secret that Twitter has fallen on hard times. And things aren't quite looking up for Elon Musk's most recent acquisition. The company is facing two fresh lawsuits from different landlords, adding onto a plethora of existing legal trouble.

Twitter Verification is a Hot Mess
The United Kingdom's Crown Estate is suing Twitter over unpaid rent at the company's London Headquarters, according to reports from multiple news outlets including the BBC, the Guardian and Bloomberg. The Crown Estate manages property owned by the British monarch (i.e. King Charles III), which apparently includes Twitter's office space in central London near Piccadilly Circus. The royal real estate corporation reportedly contacted Twitter about its rental debts, to no avail, before taking legal action last week.
It's unclear exactly how much money is tied up in the U.K. lawsuit. Gizmodo reached out to the Crown Estate via email and did not immediately receive a response.
Then, on the U.S. side of the Atlantic, very similar trouble is brewing. Twitter didn't pay rent at its San Francisco headquarters in December 2022 or January, according to a lawsuit filed by the building's landlord against the company on Friday . The summons notifying Twitter of the suit was filed Monday.
All told, the social media platform owes SF real estate company SRI Nine Market Square LLC $6,791,537.43, according to the complaint. Twitter rents space on eight floors of 1355 Market Square, totaling 463,855 square feet, the suit says. Although a December New York Times report noted that Musk had consolidated workers onto just two floors.
Already, the social media company was facing a suit from another San Francisco landlord over alleged unpaid rent at a smaller office space in the city. In that case, the landlord, Columbia REIT-650 California LLC, has said that Twitter owes $136,260 in back rent.
The lawsuits all follow earlier reports that Twitter had knowingly opted to stop paying rent as a cost cutting measure, following billionaire Musk's takeover. And whether you agree with the Chief Twit's approach or not, Twitter probably really does need to cut back on spending if it's going to stay afloat—in no small part because of Musk's questionable purchase. As part of the multi-hyphenate CEO's acquisition, Musk took on nearly $13 billion in loan debt, which will be paid back from the company's coffers to the tune of $1 billion per year.
Twitter's main source of revenue, ad sales, has also been dwindling in recent months. Musk's dubious "free speech" bent has scared off some of the company's longtime advertisers like United Airlines and General Motors. In the search for new revenue streams, Musk has pushed site subscription and floated ideas like selling off user names. It's unclear if either of those strategies have made a dent yet, and Twitter no longer has a PR department, so it's difficult to ask.
Even before the burden of Musk's debt and personality, Twitter rarely made a profit. The company entered the black for the first time in the last quarter of 2017. And 2019 was its only ever profitable year, since going public in 2013. Musk has apparently been trying to turn the trend of loss around, since paying some $44 billion for the flailing social media site in 2022.
On top of the skipped rent, other cost-saving measures include employee cuts, benefits reductions, and a literal furniture auction. Twitter has slashed its staff from about 7,000-7,500 employees to less than 2,000 through multiple rounds of broad layoffs, a source close to the matter told Gizmodo. And that's not including all of the janitors and facilities workers that the company stopped paying.
Predictably, all of those rapid-fire firings have led to...more lawsuits. There are at least three employment and discrimination cases against Twitter pending in California courts. And I'm no financial expert, but it seems like this growing pile of court proceedings could get expensive.