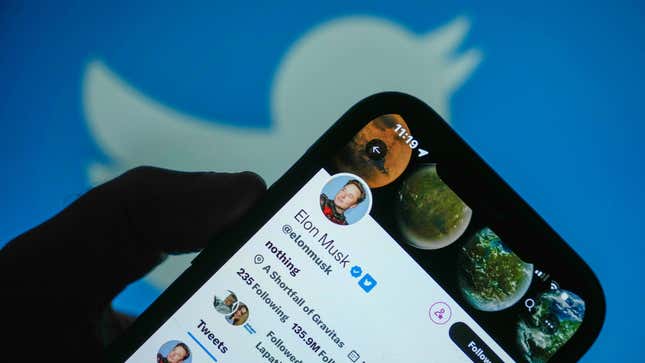 If you believe Elon Musk, Twitter is getting a suite of new capabilities, any minute now. The social media CEO said in a Tuesday night tweet that a first version of encrypted messaging would be released on his platform Wednesday. "Release of encrypted DMs V1.0 should happen tomorrow. This will grow in sophistication rapidly. The acid test is that I could not see your DMs even if there was a gun to my head," Musk posted.

Video Chat - From Sci-Fi to Sci-Fact
He further promised that voice and video chat features were "coming soon." Enabling users to "talk to people anywhere in the world without giving them your phone number."
Together, the features would be big additions for the site, which has been struggling to maintain its usership since Elon Musk's ill-fated acquisition actually went through in October 2022. And sure, it would be cool if there was another platform out there to easily and reliably send encrypted communications. Why not have yet another way to do video calls too?
Yet if you're refreshing the Twitter app on repeat, eagerly awaiting the newly secured DMs or bluebird call button to drop any second, you might want to step away from the screen.
The past several months have been chock-full of Musk making big promises on tight deadlines and then failing to deliver on time, as per usual—it's kind of his thing. Back on February 3, for instance, the billionaire posted that "starting today, Twitter will share ad revenue with creators." But more than three months later, he admitted that the software for the feature was still in progress.
Twitter's recommendation algorithm was published weeks later than Musk said it would be, and the multi-hyphenate CEO still has yet to follow through on the full open source promises. Twitter Blue and the end of unpaid blue checks were a chaotic back and forth mess wherein basically every step of the multitude of changes broke a previously set deadline. TBD if Musk will follow through on the biggest Twitter pledge of all, and step down as CEO before the end of 2023.
But back to the (maybe) new features. To Twitter's credit, the platform did actually make a couple of changes to in-app messaging this week. You can now reply to individual DMs directly—as in Slack or iMessage. Also there's a new option to react to messages with any of the available emojis. Gizmodo verified that these updates do appear in the most recent version of the iOS Twitter app. According to the company's support account, the same capabilities are soon-to-come to web too.
As of publication time, though, encrypted messages and voice/video calls have yet to materialize. The company most recently began exploring all of the promised features back in November, shortly after Musk's takeover, according to a report from The Verge. However, rumors of encrypted messaging on Twitter are actually years old.
In the pre-Elon days, the platform seemed to be testing the possibility of encrypted DMs in 2018, but the feature never came through. In fact, Signal—arguably the most popular and best encrypted messaging app—was co-founded by a Twitter employee, Moxie Marlinspike, who left the company after it didn't want his privacy project.
Presumably, the revived, to-come functions are part of the billionaire's pivot to make Twitter into his X "everything app". It's unclear if video and voice calls would be encrypted, or just test-based direct messages. Gizmodo would reach out to Twitter to ask, but we know we'd only get some bullshit back.