Uber CEO Travis Kalanick will take a leave of absence from the company he founded and the company will make changes to its culture, following a highly-anticipated investigation into sexual harassment and toxic workplace culture at the ride-hailing startup.

"The ultimate responsibility, for where we've gotten and how we've gotten here rests on my shoulders," Kalanick wrote in a company-wide email obtained by Gizmodo. "For Uber 2.0 to succeed there is nothing more important than dedicating my time to building out the leadership team. But if we are going to work on Uber 2.0, I also need to work on Travis 2.0 to become the leader that this company needs and that you deserve."
Kalanick told staffers that he needed time to grieve after losing his mother in a tragic accident last month, but his memo also acknowledged the scandals that have plagued the company and his role in them.
Although Kalanick did not say when he would return to the company—"It's hard to put a timeline on this," he wrote—he did say that his leadership team would run the day-to-day operations in his absence and he would remain available to help with strategic decisions.
G/O Media may get a commission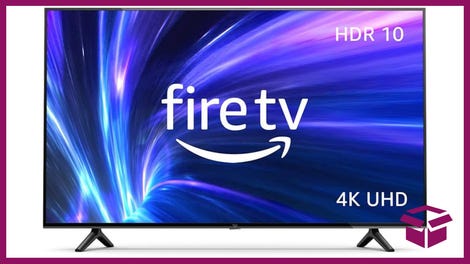 42% Off
Amazon Fire TV 50" 4K Smart TV
After a lengthy meeting on Sunday, Uber's board of directors voted unanimously to accept all the recommendations put forth in the culture investigation, a spokesperson for the board told Gizmodo. The guidance was laid out in a report created by former U.S. attorney general Eric Holder and Tammy Albarrán, both partners at the Covington & Burling law firm.
The recommendations, which were shared with Uber's employees and the public today, called for Kalanick to relinquish some of his responsibilities to other members of his management team, but stopped short of requiring Kalanick to temporarily step aside. The recommendations also included guidance for inclusion and employee training.
In compiling the report, Covington interviewed more than 200 current and former Uber employees, conducted anonymous online focus groups with employees, and searched Uber databases for relevant documents.
"Implementing these recommendations will improve our culture, promote fairness and accountability, and establish processes and systems to ensure the mistakes of the past will not be repeated. While change does not happen overnight, we're committed to rebuilding trust with our employees, riders and drivers," Uber's HR head Liane Hornsey wrote in a statement.
The board insisted on the ouster of Uber's senior vice president of business and Kalanick's close friend Emil Michael, who left the company yesterday. Kalanick and Michael have both figured prominently in Uber's recent scandals, although Michael reportedly believes he was scapegoated by the board.
Covington's report elevates Uber's head of diversity, Bernard Coleman. His title will be upgraded to chief diversity and inclusion officer, and he will report directly to Uber's CEO and chief operating officer (a role at the company that is currently unfilled).
Speaking at a TechCrunch event last week, Coleman said he was "kind of excited" for the publication of the Covington findings and explained that they would allow the company to move forward. He said the majority of managers at Uber are taking on management roles for the first time. This lack of experience may have contributed to the problems at Uber—the Covington report will require management training for mid-level managers and members of the executive team.
Uber will also be required to discard some of the company values that have been in place since its founding and have been blamed for encouraging a discriminatory culture. Maxims like "Toe-Stepping" and "Principled Confrontation" will be tossed aside in favor of "values that are more inclusive," the report says, adding that changing up the buzzwords will help incorporate "diversity and inclusiveness as a key cultural value, not just as an end in itself, but as a fundamental aspect of doing good business."
Uber called on Holder and Albarrán to investigate the company's culture one day after Susan Fowler, a former Uber engineer, published a blog post in February describing pervasive sexual harassment at the company. Holder's investigation, and a concurrent one conducted by the law firm Perkins Coie, have dragged on for several months. The Holder report contains sweeping recommendations about corporate structure, while the Perkins Coie investigation focused on specific employee complaints, and eventually led to the firing of 20 employees and the resignation of several senior executives.
Fowler said she experienced harassment shortly after joining the company and, although she raised concerns to management and HR, her harasser was not disciplined. Instead, Fowler wrote, a manager threatened to fire her if she complained again. Fowler told Uber's chief technology officer Thuan Pham about the retaliation threat, and Pham acknowledged it was illegal but took no action, Fowler said.
The Covington report hints that the problems Fowler encountered were widespread, and that Uber's HR had no consistent procedure for responding to harassment. The report tells Uber to establish a complaint process and establish protocols for escalating complaints.
"What's described here is abhorrent & against everything we believe in. Anyone who behaves this way or thinks this is OK will be fired," Kalanick tweeted in response to Fowler's revelations. "There can be absolutely no place for this kind of behavior at Uber." Kalanick added in a later statement that Fowler's blog was the first time he'd heard the allegations.
However, Kalanick's private actions belied his public statements, and as his behavior made headlines over the past several months, it became increasingly clear that Uber's brazen and toxic culture came from the top. A video surfaced of the CEO berating an Uber driver; after the video's publication, Kalanick, who is 40 years old, said it was time for him to "grow up." A story emerged about Kalanick and several other male executives, including Michael, visiting an escort bar in South Korea. An executive obtained the medical file of an Uber passenger who was raped in India, and Kalanick and Michael reportedly used the file to question the woman's account of her assault. Michael also once floated the idea of conducting opposition research on journalists who wrote unfavorably about Uber.
Stories of this misbehavior—and presumably other incidents that haven't been made public yet—were shared with Holder and Albarrán over the course of their investigation.
In his resignation letter to employees, Michael said he'd worked hard to build an inclusive culture on his team at Uber. "Beginning with my first day at Uber, I have been committed to building a diverse Business Team that would be widely recognized as the best in the technology world: one that is welcoming to people of all genders, sexual orientations, national origins and educational backgrounds," Michael wrote.
In addition to allegations of widespread harassment and discrimination, Uber is also facing a Justice Department investigation into its use of special software to hide its vehicles from law enforcement officials who used the app. And in February, just days after Fowler published her post, the self-driving car company Waymo sued Uber for trade secret theft and patent infringement, claiming that Uber knowingly hired a prominent Waymo engineer who had downloaded confidential documents in order to advance Uber's autonomous vehicle development efforts.
Despite all of Uber's problems, Kalanick has managed to hang on to his position, helped in part by Uber's share structure that gives him more voting shares than the company's other board members. Kalanick (and other tech founders like him) have used this sort of share structure to ensure they stay in control of their once-small startups even as investors and board members come aboard.
That's why the choice to take a leave of absence was ultimately up to Kalanick—his board can make suggestions, but ultimately, they don't have the power to force him out.
When Kalanick eventually returns to the company, it may not be in the role of CEO, Uber advisor and early investor Bradley Tusk told Gizmodo.
"When he comes back, what's the role? The people who are best equipped to take a totally conceptual idea and turn it into a product and service are not the people to run a Fortune 50 bureaucracy. They are two different things," Tusk said.
Kalanick's strengths are innovation and growth, Tusk explained, and he might get to focus more in those areas if he returns to Uber in the role of chairman. But now that Holder and Albarrán have made their recommendations and Uber has accepted them, it will be critical for the company to actually follow through. "You don't hire the former attorney general of the United States to give you recommendations and then not take them," Tusk said.
But even kicking off extensive change at Uber, Fowler still sees the opportunity for more reform. Responding to the Covington report, Fowler tweeted that Uber needs to acknowledge the illegality of harassment, discrimination, and retaliation.
Read the full recommendations report below: