Aside from complementary massages and gourmet lunches, another perk of working at Google appears to be an abundant supply of powerful drugs, with Chairman Eric Schmidt proclaiming his floundering Google TV will be built into most TVs next summer. Bullshit.
Schmidt's claim, that "By the summer of 2012, the majority of the televisions you see in stores will have Google TV embedded in it," couldn't be more out of touch with reality unless he was also promising to come to your home and watch the TV with you too.
To begin, Google TV itself is a questionable product that's broadly failed. Logitech, Google's champion hardware partner, dropped its rifle and ran the other way screaming after the Revue bombed. Software updates that'll beef up Google TV are on the way, but the system is starting at a huge disadvantage—most people have either been burned by Google TV, or have forgotten about it.
Next, Schmidt's ignoring the fact that pretty much every major TV manufacturer—Samsung, Panasonic, LG, Vizio, et all—have spent an enormous amount of money and effort building their own "smart TV" software. And they're very proud of them, justified or not. So what makes Schmidt think they're all going to abandon years of development for a stale Google sandwich? Hubris? Bewildering overconfidence? Some combination?
G/O Media may get a commission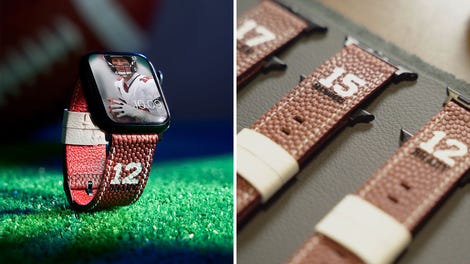 Official NFL PRODUCTS
Official NFL Apple Watch Bands
2011 is almost over, which means Google has about six months to make this television fantasy land materialize. Sony has one TV with Google baked in—hundreds of other models across many different manufacturers to go, guys! Now Eric, if you're done, I'll take a snort of that. [PaidContent]