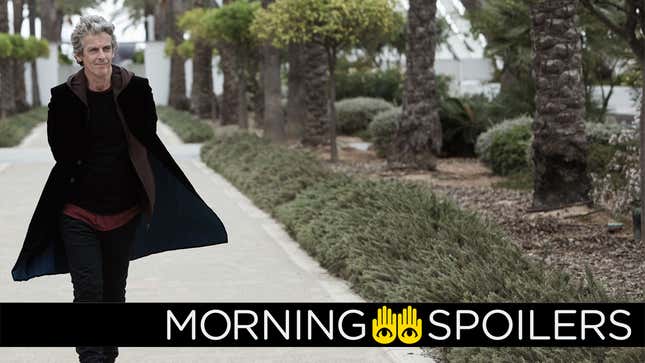 Scott Derrickson might be returning for Doctor Strange 2. Supergirl could be bringing in another infamous Superman villain. What the hell was Nathan Fillion doing on the set of Guardians of the Galaxy Vol. 2? Plus, new pictures from The Mummy and new footage from American Gods, and what's to come in the rest of Arrow's current season. Spoilers!

The Boogeyman's Sophie Thatcher Reveals What Draws Her to Dark Characters | io9 Interview

Ant-Man & The Wasp
David Dastmalchian confirmed his character, Kurt, is returning for the sequel in a conversation with ETOnline:
Peyton Reed is here and I just got a chance to speak with him the other day and it sounds like Kurt is going to be returning to Ant-Man's world and will be appearing in Ant-Man and the Wasp. And we are very very very excited.
---
Mortal Engines
Patrick Malahide, Colin Salmon, and Rege-Jean Page have all joined the cast in undisclosed roles. [THR]
---
Doctor Strange 2
According to Deadline, director Scott Derrickson is likely to return for the sequel.
---
Insidious: Chapter 4
The release date has been pushed back to January 5, 2018. Blumhouse's Half to Death will take its former October 20 slot. [Coming Soon]
---
The Mummy
The new issue of Entertainment Weekly offers a two-sentence description of Ahmanet's backstory, as well as a new image from the film:
Ahmanet's father reneged on his promise to make her pharaoh after he sired a son. That betrayal led her toward the shuffling terror first embodied by Boris Karloff in the original 1932 Mummy.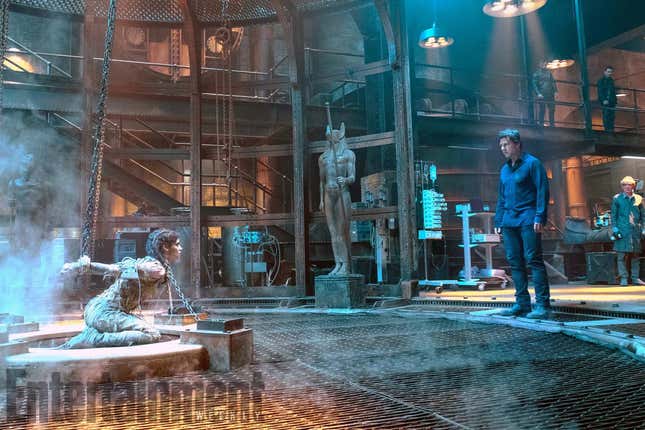 ---
Spider-Man: Homecoming
Empire has a new photo of Peter Parker leaping over the fences of his school in a way that is about as subtle and as stealthy as a brick to the face. So much for keeping that Spider-Man thing under wraps, Pete.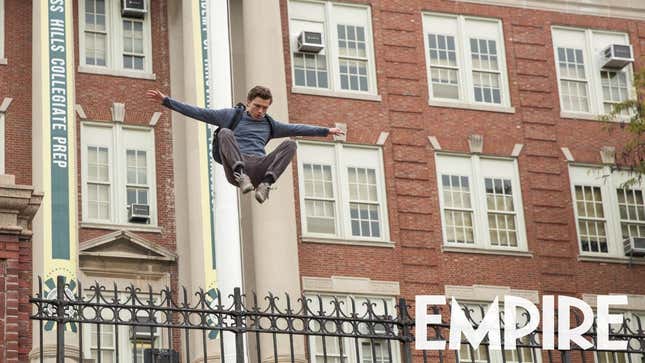 ---
Guardians of the Galaxy Vol. 2
The gang's all here in a photo from Entertainment Weekly.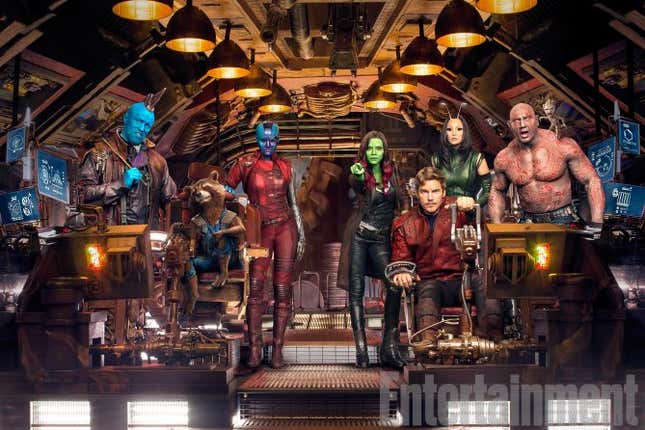 ...everyone except Nathan Fillion, apparently, who also posted the picture below to Instagram, stating it's from a deleted scene in the movie. We know he has a minor cameo as Simon Williams, a.k.a. Wonder Man, but is this just Fillion goofing around, or was it actually a cut scene? Is it a deep cut reference to Arkon that basically no one is going to get? Whatever it is, it's pretty cute.
---
Doctor Who
Another day, another rumor about the next Doctor! According to The Nerdist, actress Michaela Coel is close to being cast as the thirteenth Doctor.
Meanwhile, in a totally bizarre turn of events, fan site Doctor Who Online claims to have received a response from the BBC Complaints Office via an unnamed fan who allegedly contacted the department worried that casting a woman in the role of the Time Lord would "confuse his kids" (but not, of course, the fan who allegedly filed the complaint). The supposed response from the BBC:
We appreciate that you're a big Doctor Who fan and you have concerns that the programme would change should there be a female doctor. Be assured there are currently no plans to have a female Doctor Who.
The report itself sounds fishy enough—as odd as the BBC structure can get sometimes, I doubt the Complaints department is going to be the avenue through which the BBC reveals the casting decision for its next Doctor—but a further twist comes through the same report disseminating through tabloid newspaper The Sun, leading to the BBC press office putting out a statement (via Radio Times) with the much more vague response of "No casting decisions have yet been made on Series 11."
So, clear as mud really. Expect a lot of this over the next few months.
---
Supergirl
Pinches of salt at the ready, because Bleeding Cool reports that Canadian actor Mark Gibbon has been cast as General Zod. Perhaps for a role in the season finale, considering Tyler Hoechlin's Superman is expected to return, too.
In other Super-news, Jimmy Olsen mentors an alien "Phorian"—the Greek word for "stolen goods"—in the synopsis for "City of Lost Children."
When an alien attacks National City, Supergirl (Melissa Benoist) and the DEO learn the alien is a Phorian, an otherwise peaceful race with telekinetic powers. Guardian (Mehcad Brooks) gets a lead on the Phorian's address but instead of finding the culprit, he finds a very scared boy named Marcus (guest star Lonnie Chavis). Marcus will only trust James so it is up to Guardian to stop the attacks on the city. Rhea's (Teri Hatcher) plan escalates.
---
Riverdale
Everything comes to a head in the synopsis for Riverdale's season finale, "The Sweet Hereafter."
Archie (KJ Apa) and Veronica (Camila Mendes) continue to grow closer. Betty (Lili Reinhart) is tired of her family acting as if nothing has happened and confronts her mother. Jughead (Cole Sprouse) finds himself in an unexpected situation, leaving Archie and the gang scrambling. Hermione (Marisol Nichols) makes Fred (Luke Perry) an offer that seems too good to be true. Meanwhile, the truth about Blossom's family business is revealed leaving Cheryl (Madelain Petsch) to take matters into her own hands.
---
The Flash
Killer Frost is still alive in the synopsis for episode 21, "Cause and Effect."
Barry (Grant Gustin) takes drastic measures to stop Savitar. Meanwhile, H.R. (Tom Cavanagh) continues to push Tracy Brand (guest star Anne Dudek) to design the trap for Savitar and Killer Frost (Danielle Panabaker) returns with an interesting proposal.
---
Arrow
A sizzle reel of footage from the final few episodes of season five has been released—and yes, Slade "Deathstroke" Wilson is present.
Also, Adrian Chase continues to torment Oliver in the synopsis for "Honor Thy Fathers."
Oliver (Stephen Amell) returns to the mayor's office and faces one of his most pressing issues yet - the forced release of dozens of violent criminals prosecuted by Adrian Chase (Josh Segarra). Meanwhile, a crate is delivered to Oliver's office containing a mysterious corpse encased in concrete.
---
American Gods
Finally, here are two new snippets for the show: a promo for Technical Boy, and a new featurette focusing on Shadow.


---
Additional reporting by Gordon Jackson. Banner art by Jim Cooke.