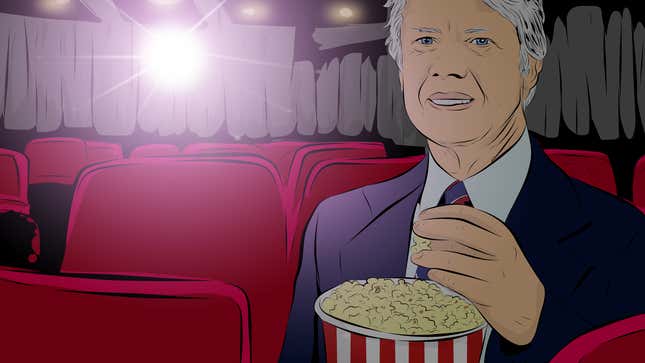 Ronald Reagan is known as the movie junkie president. He was, after all, an actor before getting into politics. But do you know who watched even more movies than Reagan while in office? Jimmy Carter. And Carter only served a single term.
After painstakingly going through the President's daily journal, which outlined his tasks for each day, I've made a list of every movie Carter watched while in office from January 20, 1977 until January 20, 1981. And man, he really did watch a lot of films.
Part of my fascination with the movies that presidents watch is just cheap voyeurism. But the other part is an earnest belief that popular culture influences things in the real world. President Nixon was obsessed with the film Patton during the Vietnam War. President Reagan urged Congress to take computer security seriously after seeing War Games in 1983.
So what can we glean from the list I've compiled of President Carter's viewing habits? Well, he certainly watched the major movies of his time that dealt with energy concerns like 1979's nuclear-phobic The China Syndrome. He was also screening plenty of war films. The former president hosted an early private White House screening of Apocalypse Now with director Francis Ford Coppola and about 75 other people on May 10, 1979. It wasn't released in theaters until August.
But it wasn't all modern gloom and doom. Jimmy and the First Lady, Rosalynn, watched plenty of Westerns like Shane and A Fistful of Dollars. And they'd watch a goofy comedy now and again. (Animal House, Airplane, Caddyshack and Meatballs are all on the list). They even watched some films that might be considered horror, like the 1978 film Magic or the 1980 movie The Changeling. And they watched plenty of Humphrey Bogart movies.
It seems like Carter would watch anything and everything, with over 400 movies screened at the White House and Camp David while he was in office. Some of the screenings were private affairs with just the President and First Lady. Other times a movie was that night's entertainment for guests at the White House. An April 30, 1979 screening of the Ingmar Bergman film Autumn Sonata notes that there were "approximately 48 members of the White House staff" on hand to watch.
In one of the most interesting screenings I came across, Carter watched Star Wars with Anwar Sadat, the President of Egypt, on February 4, 1978 at Camp David. That meeting was actually a secret strategy session for peace in the Middle East that would pave the way for the historic Camp David Accords in September of 1978 between Sadat and Israeli Prime Minister Menachem Begin.
Do I think movies had a direct impact on President Carter's decision making? Of course not. After he watched Alien in June of 1979 I doubt it had any affect on public policy. But the media we consume do matter. And the list shows that there were screenings that reflected the political and business climate of the Cold War. For instance, President Carter watched the 1979 Soviet spy thriller Avalanche Express with a large group of Congressmen. And in 1980 he watched a movie called The Formula about a conspiracy by the oil companies to keep secret a revolutionary synthetic fuel that would put them out of business.
The list below was compiled by combing through Carter's public daily agendas, and I believe I've found most of the movies he watched while in office. But if you do your own research and find more, please let me know. The movies are in the order that he watched them and include links to his full agenda for that particular day. So, for instance, if you're curious what President Carter was doing before he watched The Cat From Outer Space on November 18, 1978, you can click through and see. (He had dinner with his family and talked with his Assistant of Communications Gerald Rafshoon.)
Sometimes President Carter watched movies immediately when they hit theaters. For instance, he watched The Empire Strikes Back five days after it had been released. Other times, there didn't appear to be much urgency. The first movie Carter saw in the White House theater? All the President's Men. The night after he lost his re-election campaign to Ronald Reagan he watched the 1967 film The Bandits.
President Carter had a reputation as a bit of a prude, given his deeply religious background. He once told Playboy magazine that he had lust in his heart, and this itself was a sin. But he watched plenty of films with risque material for the time, including stuff like Hardcore and Midnight Cowboy, the first X-rated movie to be screened in the White House.
Although perhaps there was some guilt/atonement built in to some of these screenings. For instance, on January 25, 1980 Jimmy watched the sex comedy 10 starring Bo Derek with members of his staff. The following day Jimmy watched a movie called Jesus with the First Lady.
I've done my best compiling the list below but if it was unclear which version of a film that Carter may have watched, I've included all possible dates up to that point. For instance the agenda notes that Carter watched A Star is Born but doesn't specify which one. It was made three times, in 1937, 1954, and 1976. We can probably assume that he watched the most recent one, but you never know!
And yes, I have freedom of information requests out for Bill Clinton, the first Bush and George W. The last of which I got an update for recently. They said I can expect the list in 46 months. No joke. But at least you can see President Reagan's list here. [Update: Here's Nixon's list as well.]
[Update, Jan 29, 2016: Here's Bill Clinton's list.]
Looking at the movie viewing habits of a given president may not provide profound insights about their policies. But it does give us a unique lens through which to see how a president fit into, or even fought against, mainstream American culture during their time in the White House.
This post will be continually updated as I become aware of more movies and when precisely they were watched. Carter's movie list was last updated on May 15, 2016.
Carter is sworn into office January 20, 1977
All the President's Men (1976) - January 22, 1977
One Flew Over the Cuckoo's Nest (1975) - January 28, 1977
Network (1976) - February 5, 1977
Rocky (1976) - February 19, 1977
The Pink Panther Strikes Again (1976)- February 25, 1977
Bambi (1942)- February 26, 1977
The Godfather (1972) - March 3, 1977
The Magic Christian (1969) - March 5, 1977
Buffalo Bill and the Indians (1976) - March 12, 1977
Casablanca (1942) and Young Frankenstein (1974) - March 25, 1977
The Bad News Bears (1976) - March 26, 1977
The Shootist (1976) - March 27, 1977
Butch Cassidy and the Sundance Kid (1969) - April 2, 1977
Harry and Tonto (1974) - April 7, 1977
Nashville (1975) - April 22, 1977
Chinatown (1974) - April 26, 1977
Blazing Saddles (1974) - April 28, 1977
Lucky Lady (1975) - April 29, 1977
Annie Hall (1977)- May 13, 1977
African Queen (1951) - May 13, 1977
The Last Tycoon (1976) - May 14, 1977
The Island of Allah (1956) and Herbie Rides Again (1974) - May 21, 1977

Paper Moon (1973) and The Hungry Planet - June 4, 1977
Zorro (1940 or 1975?) and The Hungry Planet - June 9, 1977
The French Connection (1971) - June 12, 1977
Star Wars (1977)- June 17, 1977
Tomahawk (1951) and Right on Course? - June 17, 1977
True Grit (1979)- June 18, 1977
Silver Streak (1976) - June 24, 1977
Rocky (1976) - June 25, 1977
The Caine Mutiny (1954) - June 27, 1977
Camelot (1967) - June 30, 1977
The Cassandra Crossing (1976) - July 1, 1977
Silent Movie (1976) - July 2, 1977
The Littlest Horse Thieves (1976) The Late Show (1977) and Star Wars (1977)- July 3, 1977
MacArthur (1977) - July 6, 1977
Islands in the Stream (1977) - July 10, 1977
The Spy Who Loved Me (1977) - July 15, 1977
Logan's Run (1976) and Ecuador? - July 16, 1977
Jaws (1975) - July 22, 1977
Music Man (1962) - July 23, 1977
A Star is Born (1937, 1954, or 1976?) - July 29, 1977
The Deep (1977) - July 31, 1977
American Graffiti (1973) and Bridge On the River Kwai (1957) - August 2, 1977
Smokey and the Bandit (1977) - August 12, 1977
The Return of the Pink Panther (1975) - August 15, 1977
Orca (1977) - August 16, 1977
The Rescuers (1977) - August 17, 1977
The Sting (1973)- August 18, 1977
Harry and Walter Go To New York (1976) - August 20, 1977
High Noon (1952) - August 27, 1977
Gnome Mobile (1967) - August 30, 1977
That's Entertainment (1974) - August 31, 1977
Ode to Huck Finn? - September 2, 1977
Jonathan Livingston Seagull (1973) The Pink Panther (1963) - September 3, 1977
2001: A Space Odyssey - September 4, 1977
Tentacles (1977) - September 5, 1977
Cabaret (1972) - September 9, 1977
What's Up Doc? (1972) - September 11, 1977
W.C. Fields and Me (1977) - September 16, 1977
The Man Who Would Be King (1975) - September 17, 1977
Escape to Witch Mountain (1975) - September 18, 1977
The Longest Yard (1974) - September 21, 1977
Sinbad and the Eye of the Tiger (1977) - September 23, 1977
Sounder (1972) - September 26, 1977
One on One (1977) - September 30, 1977
The Amazing Dobermans (1976) - October 1, 1977
Citizen Kane (1941) - December 3, 1977
Treasure of the Sierra Madre (1948) and the Maltese Falcon (1941) - October 6, 1977
Rooster Cogburn (1977) - October 7, 1977
The Thomas Crown Affair (1968) - October 8, 1977
The Hustler (1961) - October 15, 1977
The Lincoln Conspiracy (1977) - October 18, 1977
Frankenstein (1931) - October 19, 1977
The Bears and I (1974) - October 20, 1977
On the Waterfront (1954) - October 23, 1977
The Wind and the Lion (1975) - October 26, 1977
Three Days of the Condor (1975) - October 28, 1977
Murder by Death (1976) - October 29, 1977
Fiddler on the Roof (1971) - November 4, 1977
The Great Waldo Pepper (1975) - November 9, 1977
Man With the Golden Gun (1974) - November 10, 1977
Island at the Top of the World (1974) - November 11, 1977
The Turning Point (1977) - November 13, 1977
Black and White in Color (1976) - November 16, 1977
Who's Afraid of Virginia Woolf? (1966) - November 19, 1977
Goodbye Columbus (1969) - November 22, 1977
Close Encounters of the Third Kind (1977) - November 23, 1977
Oh God (1977) - November 24, 1977
The Eagle Has Landed (1976) - November 25, 1977
Bound For Glory (1976) - November 26, 1977
Citizen Kane (1941) - December 3, 1977
Funny Girl (1968) - December 8, 1977
A Bridge Too Far (1977) - December 9, 1977
The Goodbye Girl (1977) - December 10, 1977
New York, New York (1977) - December 12, 1977
The Maltese Falcon (1941) - December 19, 1977
Live and Let Die (1973) - December 26, 1977
Midnight Cowboy (1969) - December 27, 1977
1978
Love in the Afternoon (1957) — January 7, 1978
The Bingo Long Traveling All-Stars and Motor Kings (1976) — January 8, 1978
Breakheart Pass (1975) — January 10, 1978
The Graduate (1967) — January 12, 1978
Roman Holiday (1953) — January 24, 1978
Best Years of Our Lives (1946) — January 25, 1978
Julia (1977) and A Town Called Plains — January 27, 1978
Semi-Tough (1977) — January 28, 1978
Sabrina (1954) — January 30, 1978
King Kong (1976) — January 31, 1978
Star Wars (1977) — February 4, 1978
It's a Wonderful Life (1946) — February 6, 1978
Papillon (1973) — February 9, 1978
Citizens Band (1977) — February 14, 1978
Jeremiah Johnson (1972) — February 15, 1978
Wait Until Dark (1967) — February 16, 1978
The Big Sleep (1946) — February 18, 1978
High Anxiety (1977) — February 20, 1978
Airport '77 (1977) — February 21, 1978
Mr. Smith Goes to Washington (1939) — February 23, 1978
The Twelve Chairs (1970) — February 25, 1978
Unconquered (1947) — February 27, 1978
The Guns of Navarone (1961) — March 1, 1978
Gray Lady Down (1978) — March 2, 1978
Kid Galahad (1962) — March 8, 1978
She Done Him Wrong (1933) — March 11, 1978
Reap the Wind Wild (1942) — March 12, 1978 (mislabeled as Keep the Wind Wild in the daily diary?)
The Roaring Twenties (1939) — March 13, 1978
South Pacific (1958) — March 22, 1978
A Touch of Class (1973) — March 26, 1978
Cactus Flower (1969) — April 4, 1978
The World's Greatest Lover (1977) — April 5, 1978
Horse Feathers (1932) — April 11, 1978
Georgy Girl (1966) — April 13, 1978
Annie Hall (1977) — April 16, 1978
Tin Star (1957) — April 19, 1978
In Harm's Way (1965) — April 20, 1978
For Pete's Sake (1974) — April 22, 1978
Come Back Little Sheba (1952) — April 24, 1978
Operation Petticoat (1959) — April 27, 1978
The Apartment (1960) — May 6, 1978
Born Yesterday (1950) — May 8, 1978
Gunfight at the OK Corral (1957) — May 10, 1978
One, Two, Three (1961)— May 15, 1978
Key Largo (1948) — May 16, 1978
Bend of the River (1952) — May 18, 1978
Dial M for Murder (1954) — May 19, 1978
Patton (1970) — May 22, 1978
To Kill a Mockingbird (1962) — May 27, 1978
Life with Father (1947) — May 28, 1978
Cool Hand Luke (1967) — May 31, 1978
Gunga Din (1939) — June 1, 1978
President's Lady (1953) — June 6, 1978
Life of Emile Zola (1937) — June 7, 1978
Red River (1948) — June 12, 1978
Cowboy (1958) — June 14, 1978
To Have and Have Not (1944) — June 17, 1978
Topkapi (1964) — June 22, 1978
To Catch a Thief (1955) — June 24, 1978
Teacher's Pet (1958) — June 25, 1978
Pete and Tillie (1972) — June 26, 1978
Cheap Detective (1978) — June 28, 1978
Arsenic and Old Lace (1944) — June 29, 1978
From Here to Eternity (1953) — July 18, 1978
Heaven Can Wait (1978) — July 20, 1978
Casey's Shadow (1978) — July 23, 1978
Marty (1955) — August 1, 1978
West Side Story (1961) — August 5, 1978
Diamonds Are Forever (1971) — August 6, 1978
Hooper (1978) — August 14, 1978
Charge of the Light Brigade (1968) — August 16, 1978
Magnificent Yankee (1950) — August 30, 1978
Hang 'Em High (1968) — September 4, 1978
Shane (1953) — September 6, 1978
Sleuth (1972) — September 8, 1978
My Darling Clementine (1946) — September 9, 1978
Save the Tiger (1973) — September 10, 1978
New Voyager (1942) — September 12, 1978
Bad Day at Black Rock (1955) — September 14, 1978
The Candidate (1972) — September 21, 1978
Mildred Pierce (1945) — September 24, 1978
Paint Your Wagon (1969) — September 28, 1978
The Mouse That Roared (1959) — September 29, 1978
Coming Home (1978) — October 3, 1978
Garden of Evil (1954) — October 6, 1978
Johnny Belinda (1948) — October 9, 1978
Boys from Brazil (1978) — October 10, 1978
A Wedding (1978) — October 11, 1978
Yankee Doodle Dandy (1942) — October 12, 1978
Days of Heaven (1978) — October 13, 1978
Tennessee Johnson (1942) — October 14, 1978
Jezebel (1938) — October 17, 1978
From Russia With Love (1963) — October 18, 1978
For Whom the Bell Tolls (1943) — October 25, 1978
Mrs. Miniver (1942) — October 27, 1978
Wilson (1944) — November 1, 1978
The Cat From Outer Space (1978) — November 8, 1978
Lawrence of Arabia (1962) — November 9, 1978
Animal House (1978) — November 10, 1978
The Last Hurrah (1958) — November 11, 1978
Lost Horizon (1937 or 1973?) — November 12, 1978
Dodge City (1939) — November 15, 1978
Children of Sanchez (1978) — November 16, 1978
Separate Tables (1958) — November 20, 1978
Dangerous (1935) — November 28, 1978
Force 10 From Navarone (1978) — November 29, 1978
Hunchback of Notre Dame (1956) — November 30, 1978
Elmer Gantry (1960) — December 1, 1978
Northwest Mounted Police (1940) — December 4, 1978
East of Eden (1955) — December 9, 1978
Superman (1978) — December 10, 1978
A Thousand Clowns (1965) — December 14, 1978
A Streetcar Named Desire (1951) — December 21, 1978
1979
Gold Rush (1925) — January 2, 1979
Lord of the Rings (1978) — January 12, 1979
California Suite (1978) — January 13, 1979
Grand Hotel (1932) — January 15, 1979
Heiress (1949) — January 16, 1979
Zorba the Greek (1964) — January 18, 1979
Sergeant York (1941) — January 24, 1979
Stalag 17 (1953) — January 25, 1979
The VIPs (1963) — January 30, 1979
The Devil's Disciple (1959) — February 23, 1979
Every Which Way But Loose (1978) — February 24, 1979
Magic (1978) — February 25, 1979
Darling (1965) — February 28, 1979
All About Eve (1950) — March 6, 1979
The Rare Breed (1966) — March 14, 1979
The Red Badge of Courage (1951) — March 20, 1979
The Bells of St. Mary (1945) — March 21, 1979
Ice Castles (1978) — March 23, 1979
Hair (1979) — March 28, 1979
Same Time Next Year (1978) — March 29, 1979
The Last Picture Show (1971) — April 4, 1979
Viva Max (1969) — April 9, 1979
Lone Star (1952) — April 10, 1979
Rebel Without a Cause (1955) — April 13, 1979
Bullitt (1968) — April 14, 1979
Enemy Below (1957) — April 26, 1979
Captains Courageous (1937) — April 27, 1979
Autumn Sonata (1978) — April 30, 1979
Manhattan (1979) — May 6, 1979
Apocalypse Now (1979) — May 10, 1979
Beau Geste (1939) — May 17, 1979
The Road to Bali (1952) — May 19, 1979
Manhattan (1979) — May 23, 1979
Phantom of the Opera (1925, 1943, or 1962?) — May 24, 1979
A Very Big Withdraw (1979) — May 25, 1979
Dixie (1943) and Prisoner of Zenda (1979) — May 26, 1979
Friendly Persuasion (1956) — May 27, 1979
Dear Inspector (1977) — June 1, 1979
Fahrenheit 451 (1966) — June 3, 1979
You Can't Cheat an Honest Man (1939) — June 4, 1979
Alien (1979) — June 13, 1979
The Kentuckian (1955) — June 19, 1979
The China Syndrome (1979) — June 20, 1979
My Little Chickadee (1940) — June 22, 1979
The In-Laws (1979) — July 14, 1979
The Robe (1953) — July 17, 1979
Rocky II (1979) — July 18, 1979
To Each His Own (1946) — July 20, 1979
The In-Laws (1979) — July 23, 1979
The Angel and the Badman (1947) — July 24, 1979
The Jazz Singer (1927 or 1980?) — July 26, 1979
Blue Skies (1946) — August 2, 1979
Meatballs (1979) — August 3, 1979
Sweet Bird of Youth (1962) — August 4, 1979
Break-Out (1975) — August 7, 1979
Escape to Athena (1979) — August 13, 1979
For A Few Dollars More (1965) — August 14, 1979
3:10 to Yuma (1957) — August 15, 1979
Don Juan (1926 or 1948?) — August 24, 1979
North Dallas Forty (1979) — August 25, 1979
Dracula (1979) — August 26, 1979
Lost and Found (1979) — August 27, 1979
Ride the High Country (1962) — August 28, 1979
The Horse Soldiers (1959) — September 4, 1979
Avalanche Express (1979) — September 5, 1979
Run Silent, Run Deep (1958) — September 6, 1979
St. Louis Blues (1958) — September 9, 1979
The Misfits (1961) — September 14, 1979
Lost Horizon (1937 or 1973?) — September 15, 1979
Bonjour Tristesse (1958) — September 16, 1979
Two Years Before the Mast (1946) — September 18, 1979
A Funny Thing Happened on the Way to the Forum (1966) — September 20, 1979
Inherit the Wind (1960) — September 21, 1979
Miracle on 34th Street (1947) — September 24, 1979
Time After Time (1979) — September 29, 1979
The King and I (1956) — October 4, 1979
Torn Curtain (1966) — October 5, 1979
10 (1979) — October 6, 1979
The Gunfighter (1950) — October 11, 1979
Gorgeous Hussy (1936) — October 16, 1979
Sheep Man (1958) — October 20, 1979
The Onion Field (1979) — October 21, 1979
Shenandoah (1965) — October 22, 1979
Legends of Frank Woods (1977) — October 27, 1979
MacKenna's Gold (1969) — October 30, 1979
Thunderball (1965) — November 2, 1979
Sahara (1943) — November 4, 1979
Running (1979) — November 9, 1979
Big Country (1958) — November 11, 1979
If I Had a Million (1932) — November 16, 1979
Captain Horatio Hornblower (1951) — November 17, 1979
An American in Paris (1951) — November 19, 1979
Bloodline (1979) — November 20, 1979
Hanover Street (1979) — November 21, 1979
Anne of a Thousand Days (1969) — November 22, 1979
Spencer's Mountain (1963) — November 23, 1979
Julius Caesar (1953) — November 24, 1979
The Picture Show Man (1977) — November 30, 1979
Bus Stop (1956) — December 1, 1979
Mary Queen of Scots (1971) — December 3, 1979
Star Trek (1979) — December 12, 1979
MASH (1970) — December 15, 1979
The Black Hole (1979) — December 18, 1979
Kramer vs Kramer (1979) — December 21, 1979
The Electric Horseman (1979) — December 22, 1979
The Rose (1979) — December 23, 1979
Chapter Two (1979) — December 24, 1979
The Black Stallion — December 25, 1979
Going in Style (1979) — December 26, 1979
Advise and Consent (1962) — December 27, 1979
The Marriage of Maria Braun (1979) — December 29, 1979
Luv (1967) — December 30, 1979
1980
The Good Earth (1937) — January 9, 1980
Being There (1979) — January 14, 1980
The Bank Dick (1940) — January 16, 1980
The European (1979) — January 18, 1980
Harper (1966) — January 19, 1980
10 (1979) — January 25, 1980
Jesus (1979) — January 26, 1980
The Prince and the Showgirl (1957) — January 29, 1980
Cat on a Hot Tin Roof (1958) — February 2, 1980
Rio Grande (1950) — February 3, 1980
A Little Romance (1979) — February 8, 1980
All That Jazz (1979) — February 10, 1980
Mutiny on the Bounty (1962) — February 12, 1980
Night of the Iguana (1964) — February 16, 1980
Coal Miner's Daughter (1980) — February 18, 1980
Broken Lance (1954) — February 19, 1980
Agatha (1979) — February 23, 1980
Fedora (1978) — February 27, 1980
The Snows of Kilimanjaro (1952) — February 29, 1980
My Brilliant Career (1979) — March 1, 1980
Barry Lyndon (1975) — March 2, 1980
Arabesque (1966) — March 7, 1980
Scalp Hunters (1968) — March 15, 1980
Hide in Plain Sight (1980) — March 22, 1980
Watch on the Rhine (1943) — March 21, 1980
The Petrified Forest (1936) — March 23, 1980
Mr. 880 (1950) — March 24, 1980
Cinderella Liberty (1973) — March 28, 1980
The Paper Chase (1973) — March 29, 1980
Simon (1980) — April 1, 1980
Oklahoma Crude (1973) — April 3, 1980
The Bugs Bunny and Roadrunner Movie — April 4, 1980
When Time Ran Out (1980) — April 5, 1980
Five Easy Pieces (1970) and They Came to Cordura (1959) — April 6, 1980
High Society (1956) — April 11, 1980
The Postman Always Rings Twice (1946) — April 12, 1980
The Human Factor (1979) — April 13, 1980
Baltimore Bullet (1980) — April 19, 1980
The Undefeated (1969) — April 20, 1980
Klute (1971) — April 25, 1980
Ffolkes (1979) — April 26, 1980
Laura (1944) — April 27, 1980
Barefoot Contessa (1954) — May 2, 1980
Kramer vs Kramer (1979) — May 3, 1980
The Black Marble (1980) — May 4, 1980
The Jerk (1979) — May 5, 1980
Bronco Billy (1980) — May 9, 1980
A Fistful of Dollars (1964) — May 10, 1980
Anastasia (1956) — May 12, 1980
Splendor in the Grass (1961) — May 13, 1980
The Devil at Four O'Clock (1961) — May 15, 1980
Strangers on a Train (1951) — May 16, 1980
The Last Married Couple in America (1980) — May 17, 1980
Silent Partner (1978) — May 20, 1980
Blue Lagoon (1980) — May 23, 1980
Fastest Gun Alive (1956) — May 24, 1980
The Man Who Loved Women (1977) — May 25, 1980
The Empire Strikes Back (1980) — May 26, 1980
Cass Timberlane (1947) — May 30, 1980
The Final Countdown (1980) — May 31, 1980
All Quiet on the Western Front (1979) — June 5, 1980
In Praise of Older Women (1978) — June 6, 1980
The Shining (1980) — June 7, 1980
The Long Riders (1980) — June 13, 1980
Brubaker (1980) — June 27, 1980
Urban Cowboy (1980) — June 28, 1980
Nothing Personal (1980) — June 29, 1980
The Searchers (1956) — July 11, 1980
A Fine Madness (1966) — July 12, 1980
Little Miss Marker (1980) — July 13, 1980
Flower Drum Song (1961) — July 18, 1980
The Big Red One (1980) - July 25, 1980
Dressed to Kill (1980) - August 8, 1980
Touch of Love (1969) - August 17, 1980
Hopscotch (1980) — August 18, 1980
The Changeling (1980) — August 21, 1980
The Lady Vanishes (1938) — August 22, 1980
The Fiendish Plot of Dr. Fu Manchu (1980) — August 26, 1980
The Hunter (1980) — August 29, 1980
Caddyshack (1980) — August 30, 1980
The Flim Flam Man (1967) — September 2, 1980
Fame (1980) — September 5, 1980
Robin and Marian (1976) — September 8, 1980
The Great Santini (1979) — September 6, 1980
Mountain Men (1980) — September 12, 1980
Diamond Head (1962) — September 24, 1980
Resurrection (1980) — September 26, 1980
Oh God Book II (1980) — September 27, 1980
Ordinary People (1980) — October 11, 1980
My Bodyguard (1980) — October 17, 1980
Gloria (1980) — October 18, 1980
The Stunt Man (1980) — October 26, 1980
The Bandits (1967) — November 5, 1980
The First Deadly Sin (1980) — November 7, 1980
Loving Couples (1980) — November 8, 1980
The Brothers Karamazov — November 9, 1980
Goldfinger (1964) — November 11, 1980
Airplane (1980) — November 12, 1980
Love is a Many Splendored Thing (1955) — November 13, 1980
A Change of Seasons (1980) — November 15, 1980
Many Rivers to Cross (1955) — November 17, 1980
It's My Turn (1980) — November 18, 1980
[Film unknown] — November 19, 1980
The Blues Brothers (1980) — November 20, 1980
Tribute (1980) — November 22, 1980
Nine to Five (1980) — November 26, 1980
Any Which Way You Can (1980) — November 27, 1980
Stir Crazy (1980) — November 28, 1980
The Island (1980) — November 29, 1980
Tribute (1980) — December 3, 1980
Irma La Douce (1963) —December 4, 1980
It Seems Like Old Times (1980) — December 5, 1980
It's Grit (True Grit?) and Raging Bull (1980) — December 6, 1980
The Duchess and the Dirtwater Fox (1976) — December 10, 1980
The Competition (1980) — December 12, 1980
Kagemusha (1980) — December 13, 1980
Private Benjamin (1980) — December 19, 1980
The Formula (1980) — December 20, 1980
Two Rode Together (1961) — December 31, 1980
1981
The Owl and the Pussycat (1970) — January 2, 1981
Popeye (1980) — January 3, 1981
Fools' Parade (1971) — January 5, 1981
Carter leaves office January 20, 1981
Top illustration by Sam Woolley