You've seen the snazzy videos where people take a picture of themselves everyday for six years and then show off their hard work in a time lapse. My look at how much facial hair I've grown! Oh look at my new double chin! Those movies take a lot of time and effort. Everyday for iPhone does the same thing—take a picture of your face everyday—without the effort.
What is it?
Everyday, $2, iPhone. Everyday (great name!) is a front facing camera app made for the sole purpose of taking a picture of yourself every single day. Once you fire up the app for the first time and take a picture, the app lets you lines your face to a customizable grid—eyes there, nose and lips here—for future reference. Even smarter, you can use an overlay of your previous picture as a guideline for your next picture. You gotta be consistent! Those time lapse videos don't work as well if your face is moving up and down and all around the screen, you know.
And Everyday makes sure you take your pictures. It'll send a push notification reminding you to fire off a snappy at a certain time so you'll never forget and miss a day. Once you get enough pictures together (however many you want) Everyday stitches them all into a video that you can download to your phone and send to Facebook, Twitter, Tumblr, or Flickr.
Who's it good for?
People who thought this video was cool. People who like taking pictures. People who like looking at themselves in the mirror. People who've always wanted to do something artsy like this but kept forgetting. People who want to make stop-motion videos as easy as possible.
G/O Media may get a commission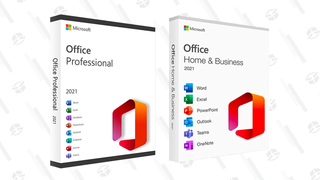 89% off
Microsoft Office Professional 2021 Lifetime License
Why's it better than alternatives?
Let's see, the alternative is to use a digital cam, a laptop to upload the pics, some light movie editing software to generate the video, and your brain for remembering to take a picture every single day. Hm, well then, it's quite obvious isn't it? Everyday handles all the work. You just have to show your mug.
How could it be even better?
If the front facing camera of the iPhone was better, the pics would be nicer. If the app could add a hip indie soundtrack to your movie it'd be more fun. If it could add support for multiple users, it'd be a party.
Everyday | iTunes
We're always looking for cool apps—for iOS, Android, Windows Phone or whatever else—to feature as App of the Day. If you come across one you think we should take a look at, please let us know.
For more apps, check out our weekly app roundups for iPhone, iPad, and Android