They keynote at Google's big developer conference is over, and in its three hours(!) we found out about AndroidTV, Android Auto, and the next big release of Android for you phone. But there was also a ton of rumored stuff that Google didn't announce. Here's what was missing, and our best guesses at why.
---
A consumer version of Google Glass
Coming into I/O, some sort of consumer Glass announcement seemed like it would make sense. After all, Google has already redesigned Glass and slowly opened its Glass beta to anyone and everyone. After two years of testing it seems like its about time for the real thing. But still, Google was completely mum, even as the livestream panned over the disproportionally large number of Glass-wearers in the I/O audience.
G/O Media may get a commission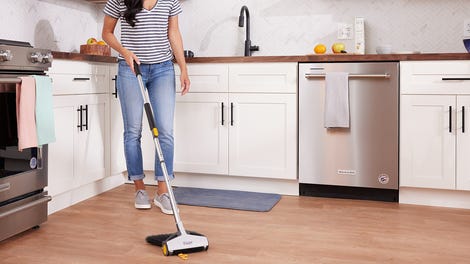 BOGO 50% Off
Flippr - BOGO 50% Off
For as much as Glass has been around, it hasn't really caught on with normals, in part due to the inherent weirdness of wearing a faceputer and in part thanks to the $1,500 pricetag. So maybe Google is just taking some extra time to make sure it comes off right?
---
YouTube Music
A YouTube-based music streaming service has been rumored for ages, and the frequency was really picking up ahead of I/O. But there wasn't so much as a passing reference to the almost definitely upcoming service on the I/O stage. Why? It could have something to do with licensing issues that stand to lock indie artists out of the service, and those are wrinkles worth taking the time to at least try and iron out. Amazon already showed us what a music service with a bunch of holes looks like, and it's not tooo exciting.
---
Android Silver
Reports repeatedly suggested that Google was getting ready to kill its Nexus program and replace it with something called "Android Silver," a program that would offer standards to hardware makers who wanted to put out Google-approved flagship devices. Google didn't wind up announcing that, but if you look hard enough you can see how the pieces are starting to be put in place.
By announcing the new "L" version of Android but not rolling it out immediately, Google is quietly taking away one of the selling points of its Nexus devices, and putting them more on a level with stock-Android Google Play Edition devices. And with the introduction of Android One—a project intended to set standards for third-party developers who want to put out low-cost, stock-Android devices—you can see the foundation of something like Android Silver beginning to form. It's only a matter of time before it moves to higher-end devices and gets a name. Maybe in the fall, when it's time for a new Nexus.
---
New Google hardware
Speaking of Nexus devices, Google didn't announce a single new tablet or phone at I/O, which traditionally has featured at least one new piece of Google-branded hardware. In fact, we didn't get any new Google hardware; new product announcements were limited to the Samsung Gear Live, an Android Wear smartwatch.
Considering Google recently sold off Motorola seemingly in a bid to back out of the first-party hardware game and ease tensions between itself and other hardware giants like Samsung, this isn't a huge surprise. Google's been stepping off its phone and tablet push for a while now, instead opting to invest in things like Nest and robotics companies, which sort of just keep operating on their own, but under Google's ever widening umbrella.
---
A name for the new version of Android
Google threw a bit of a curveball by announcing the new version of Android so far ahead of its actual release this fall, and we found out a lot about how it will look, and what it will do to unify your entire life under Google's loving gaze design philosophy. But what the hell is it going to be called?! Lollipop is the best guess, but so far there hasn't been so much as a hint, or even a version number. How long do they expect us to keep saying "L release"?
---
Anything about a smart-home
Remember Android@Home? Neither does Google! It was a liiiittle surprising not to see at least some signs of Google's total home takeover, considering that Apple brought out its home automation guns (not literally) at WWDC.
That said, there was a Nest announcement just days before I/O that kind of covers that territory, and it seems like Google is content to let most of the smart-home stuff soldier on under Nest's care. It was Nest that bought Dropcam, after all, not Google. And maybe that's for the best if you want to keep people from being skeeved out at the intrusion of the world's biggest data-mining advertiser into their abodes.
---
Anything about Project Tango
Google's room-scanning project Tango is possibly one of the coolest things its working on right now, but it didn't get so much as a second of stage-time. It did get a little announcement—Tango will someday eventually help power an augmented shoppingsperience at your local Walgreens—but the tech itself was no where to be found. It's absence kind of falls in line with this I/O's pretty strict focus on devices and services that are coming damn soon, but Tango is such a cool-looking toy that it's a bummer we didn't get to find out more about it.
---
Any modular phone magic
The modular phone project—Project Ara—is another neat future-toy that Google failed to mention at its I/O keynote. Last we heard, the first piecemeal phones were due to go on sale at the very beginning of 2015, which is slowly sneaking up. Making smartphones modular is a fun idea, but it's got its fair share of huge technical challenges, and while Google's made it pretty clear they're taking this idea seriously, it's hard to tell how far along things really are, and whether these modular devices are anything you'd actually want. We'll have to wait a bit longer to find out for sure it seems.
---
A mention of Google+
With former Google+ head Vic Gundotra hitting the road, the social monster that is/was Google+ is presumably sort of in stasis, and its lack of an appearance on the Google I/O stage just makes that seem even more likely. What will ultimately become of the thing is totally up in the air, and it seems like Google might not have any more of an idea than we do.
If there's no awesome new direction for the social future that never was, it makes sense not to mention it, but it stands in stark contrast to all the Google+ stuff we were hearing about last year at this time.
---
Anything about Hangouts or Google Voice
Google Voice and Hangouts integration is an relatively huge obsession for a relatively small amount of people (myself included), so the lack of appearance on stage is by no means a huge surprise or even a minor slight. But for those of us who were hoping that maybe just maybe Google would finally bite the bullet, merge Google Voice and Hangouts, and turn its chat service into the awesome cross-platform iMessage it deserves to be were sorely disappointed.
---
All that said, there's a big, important BUT here: Google I/O isn't over yet. No, it has only just begun! The keynote was the kickoff, but there are still dozens of developer-focused panels to be held, and any one of them could reveal some juicy fact-nuggets about the projects that didn't make it on stage.
It's not like this year's I/O keynote was short, so it seems like if Google had wanted to fit any of this stuff in, it could have. But this year's I/O keynote did seem to linger mostly on things that are coming out in the near future—smartwatches, AndroidTV, the "L release"— so maybe it's not that the moonshots are being ignored, but just tucked away elsewhere in I/O instead of being bandied about on-stage. We'll know soon enough either way.