We got a surprise announcement at Google I/O today, with Samsung unveiling its first Android Wear, the Gear Live. We slapped it onto our wrist and got to play with it for a few minutes, and while it was in its demo mode so we couldn't dive in too deeply, we were impressed.
The hardware felt really nice and solid. It was sleek, and not overly bulky. The AMOLED screen provided bright whites (though we couldn't test it in daylight) and those super deep blacks we love. Great color, too. Samsung doesn't recommend swimming with it, but it has an IP67 rating and should hold up to three meters of water for up to 30 minutes (note: they told us meters, but it's possible they meant feet. We'll find out).
Among the best news is that this thing has a built in heart-rate monitor. Currently, you can just say, "Okay Google, check my heart rate," to get a reading. It doesn't provide all day monitoring like, say, the Basis B1 band. Also, while there are already fitness and running apps for Android Wear, the developers will have to build-in heart rate functionality specifically. So, right now, it sounds like it wouldn't check your heart rate while you run, which is a shame, but hopefully that won't be too hard to integrate.
G/O Media may get a commission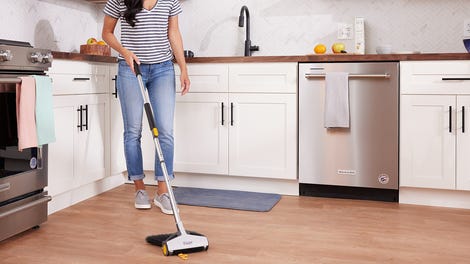 BOGO 50% Off
Flippr - BOGO 50% Off
The biggest bad news we got is that battery life is currently only "about a day." That's a whole lot of recharging. I guess Android Wear is constantly pulling a lot of data, which takes a toll. Still, it's a bummer. Hopefully, though, with further updates a lower-power mode could be added (screen off unless you tap). Right now, a bit of the screen is always illuminated so you can see what time it is at a glance. While we appreciate that, there's gotta be a way to stretch the battery out longer.
Again, this wasn't the full version of the software (though we should be getting that today or tomorrow with our review units), but it looked great. You swipe up and down to flip between the different cards on display, and you swipe to the right to go deeper into them, for example going from the current weather to a three day forecast.
We saw examples of navigation, calendar, reminders, Hangout message, and music controls. Really they all looked excellent. They were super easy to read, and working with them seemed intuitive. But again, this was a demo mode.
Again, the hardware itself was lovely. It looked classy and was not at all an eye-sore. I'm a little worried about the way it claps on your wrist, with the two prongs punching through the band. Definitely not as secure as a normal watch band, so that's something to be aware of. Speaking of bands, you'll be able to swap them out at will.
You can pre-order the Gear Live starting today in the Play Store for $200, which ain't bad, really. It's slated to start shipping July 7th and will hit some retail stores soon after. We'll have a more thorough review for you in the days to come.