Year after year they beg and plead, but kids don't realize just how expensive it is to install a pool in your backyard. Not to mention all of the constant maintenance and cleaning.
It's your summer too, and you don't want to spend it tending to a pool they'll probably get tired of in a few weeks. So if you've once again decided to spend the next few sweltering months coming up with other ways to stay cool, here's everything you'll need to disappoint your kids... once again.
The best way to soften the blow about not getting a pool is to find activities that you can pretend are loads more fun. Kids love snowballs in the winter, right? Well, water balloons are the summer equivalent.
And so you're not spending your days filling balloons and tying knots—a skill very few kids possess—this Water Bomb Factory attaches to the end of a hose with a special mechanism that makes tying balloons dead-easy. In just 10 minutes your kids can assemble a munitions stockpile 100 balloons strong. $10
G/O Media may get a commission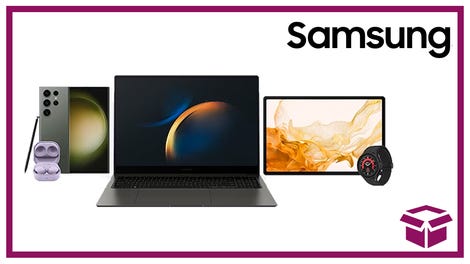 24 hour deals
Discover Samsung - Daily Deal
As far as parents are concerned, the corporate committee that invented the Slip n' Slide deserves a Nobel Prize for distracting kids from wanting a pool. Sliding across a lawn does provide certain thrills a pool just can't, and the dead swath of grass it leaves in its wake means there's less for you to mow. It's win-win.
But today's kids demand a bit more than just slipping followed by some sliding, so this version features a constantly refilled bucket of water that emtpies on their heads as they pass underneath an archway. Try that with a pool. $50
The water gun is a staple of hot and lazy summer afternoons, but video games have ensured that kids just aren't thrilled with boring old pistols any more. The solution? Super Soaker's Hydro Cannon, which is essentially a water-blasting bazooka.
It's got a range of 35 feet so kids can safely mount an assault from a distance. But if their opponent is armed with equally capable firepower, a pop-up blast shield will help keep them dry. Except, of course, if their opponent shoots anywhere other than that shield. But kids are dumb. $20
You might think they're only for carnivals and awkward corporate retreats, but anyone can rent a dunk tank. Particularly this model, which easily folds down and features a large collapsible water bladder instead of a tank.
It provides all the thrills of diving into the water off a springboard, but at the hands of someone else with excellent pitching accuracy. As an added bonus, the stress and terror of waiting for the release to get hit could help your kids develop a negative association with pools. Which means they might finally give up on that dream. $200/day
At $600 it's definitely on the expensive side as far as inflatable toys go. But if you've ever gotten a quote for installing even an above-ground pool, this blow-up log flume is an absolute bargain.
An electric blower ensures the massive structure isn't going to deflate all of a sudden, trapping your kids and their friends inside. And a connection to your hose keeps a constant deluge of water running down the side-by-side slides, which should help distract your kids from the fact there's no actual log to ride on. $600
But there's nothing quite like running through the slowly oscillating spray of a trusty sprinkler to make kids forget their pool lust. Science has yet to determine what exactly makes a sprinkler's lethargic back-and-forth motion appealing to young minds, but it might have something to do with it being a perfect match for a lazy August afternoon.
And little do your kids know that your real reason for setting it up was to water the lawn. They just think you've got a big heart... just not one big enough to install a pool. $27
Image by Jaimie Duplass/Shutterstock & BouncyPro.com