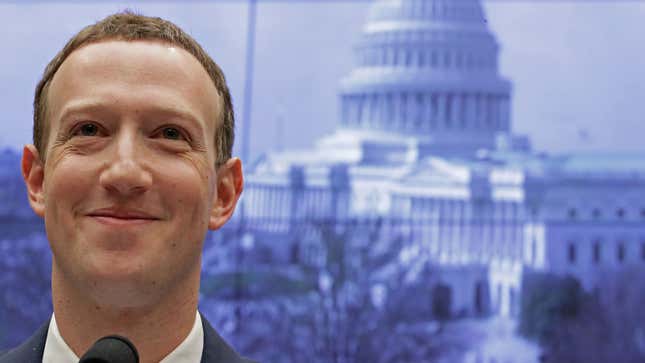 Facebook has blocked President Donald Trump from accessing his accounts "indefinitely," CEO Mark Zuckerberg announced in a post on Thursday morning, just hours after a violent mob of Trump supporters stormed the U.S. Capitol Building seemingly at the president's behest.
The swift action against the president is a stark departure for Facebook, which has allowed Trump to largely enjoy immunity from consequences on its platforms for the past four years, permitting him throughout his reelection campaign to spew blatant falsehoods about the election process to his tens of millions of followers. In his statement on Facebook, Zuckerberg said the chaos at the nation's capital had shone a light on Trump's efforts to sabotage the presidential handoff and provoke violent coup mongers into terrorizing the incoming Biden administration during its early days in office.

"Over the last several years, we have allowed President Trump to use our platform consistent with our own rules, at times removing content or labeling his posts when they violate our policies," Zuckerberg wrote. "We did this because we believe that the public has a right to the broadest possible access to political speech, even controversial speech. But the current context is now fundamentally different, involving use of our platform to incite violent insurrection against a democratically elected government."
G/O Media may get a commission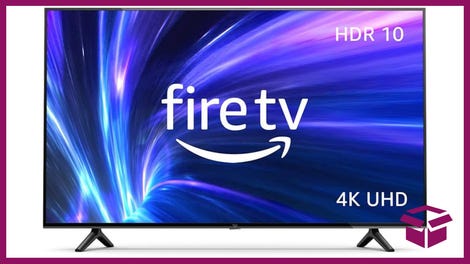 42% Off
Amazon Fire TV 50" 4K Smart TV
The company initially blocked Trump's Facebook and Instagram accounts on Wednesday after the president shared a video that furthered the false conspiracy theory of a stolen election that served as the ostensible catalyst for his supporters historically traitorous display at the Capitol. Zuckerberg says the blocks on his accounts will stay in place "indefinitely," for a minimum of two weeks—the remainder of Trump's presidency.
"We believe the risks of allowing the President to continue to use our service during this period are simply too great," Zuckerberg continued. "Therefore, we are extending the block we have placed on his Facebook and Instagram accounts indefinitely and for at least the next two weeks until the peaceful transition of power is complete."
Twitter, Trump's primary mouthpiece online, also took action against the president on Wednesday, suspending his account for 12 hours and forcing the deletion of two tweets, including the video message to his supporters following the attack on the Capitol Building. YouTube also removed the video. As of this writing, Trump's @realDonaldTrump account remains online, though it is unclear if the president is able to tweet as he has not yet posted any tweets on Thursday.
"As we shared yesterday, we're continuing to evaluate the situation in real time, including examining activity on the ground and statements made off Twitter," a Twitter spokesperson said in an email. "We will keep the public informed, including if further escalation in our enforcement approach is necessary."
For years, Zuckerberg bent to the baseless concerns of Trump and his supporters that the social network was biased against them. But Zuckerberg's action against Trump follows a shift in power in Washington, with Democrats now controlling both houses of Congress and, soon, the presidency. It's the perfect opportunity to make people believe he has a spine.

"Donald Trump has long peddled in lies and conspiracy theories, incited violence, and encouraged white supremacy, using social media platforms to amplify his ignorance, misinformation and hate, placing every American at risk," said Sarah Kate Ellis, president and CEO of GLAAD, the LGBTQ media advocacy organization. 
"He is directly responsible for the deaths, violence and terror inflicted at the Capitol on Wednesday," Ellis said.
Sen. Mark Warner, the incoming Senate Intelligence Committee chairman, also put the screws to Facebook on Thursday, saying company has long been aware of its role in propping up extremists. Its new stance toward Trump is both "too late" and "not nearly enough," he said, adding that experts in online disinformation have been calling Facebook's lax enforcement out for years.
"As I have continually said, these platforms have served as core organizing infrastructure for violent, far right groups and militia movements for several years now," said Warner, further admonishing the companies for helping dangerous actors "recruit, organize, coordinate, and in many cases generate profits from, their violent, extremist content." (Warner singled out YouTube as particularly greedy.)
Color of Change, a civil rights group that has for years urged Facebook to block services to its most openly racist patrons, likewise fingered its executives as culpable in the violence visited on Washington. Facebook, it said, has allowed misinformation around elections to flow rampantly, and has been happy to bend its rules to the benefit of dangerous demagogues.
"Yesterday our country witnessed what happens when we fail to address and reconcile a history of racial terror, white privilege and racial discrimination in our society," Rashad Robinson, president of Color of Change, said. "This brazen act of domestic terrorism further illustrates how corporate enablers and an out-of-control administration can create an incredibly dangerous climate for all Americans, and for our democracy itself."
Additional reporting by Dell Cameron.