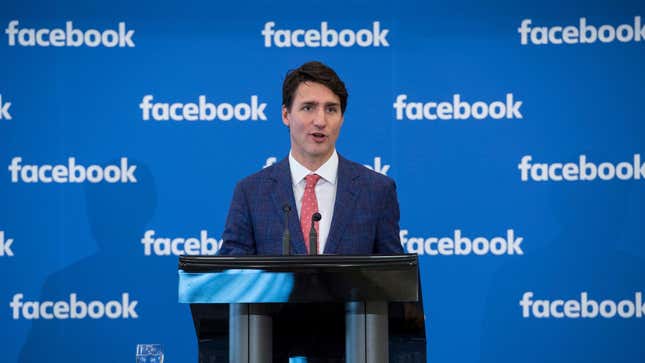 Well, they actually did it. After months of tense bickering with Canadian lawmakers over a law forcing tech companies to pay publishers for news, Meta is following through on its threat to cut off access to news on Facebook and Instagram for the country's 40 million residents.
Nobody's Really Watching Reels
According to a statement released Tuesday, Meta will begin blocking access to links and content posted by any Canadian news publisher on Instagram and Facebook. Users of those platforms based in Canada will also be unable to access news links and content published by international outlets. The drastic measures, which Meta claims it is taking in order to comply with Canada's recently passed Online News Act, amount to a near-total news blackout of Canadians who use Meta products.
"Nearly one year ago, we shared our concerns that the Online News Act would force us to consider whether to continue allowing the sharing of news content on our platforms," Meta said in a blog post. "We have been transparent and have made it clear to the Canadian government that the legislation misrepresents the value news outlets receive when choosing to use our platforms."
Canadian lawmakers, on the other hand, are showing no signs of backing down.
"Canada is standing up to Facebook for the right reasons," Canadian Heritage Minister Pascale St-Onge told Gizmodo. "Facebook is trying to send a message, not only to Canada, but to other countries like New Zealand, the United Kingdom, and the United States. We're going to keep standing our ground."
Meta's news restrictions come weeks after Google announced it would remove Canadian news links from its search results and other major products in response to the law. The Canadian federal government recently pushed back against Meta's strong-armed threats by saying it would suspend all of its advertising on Facebook and Instagram. Meta did not immediately respond to Gizmodo's request for comment.
Why is Meta cutting off news in Canada?
Canada's Online News Act forces Meta and other internet companies like Google to pay news publishers when they access and reproduce their content, as they do when a user posts a link to a news story. Supporters of the law and similar efforts in California and Australia say it's essential to repay and rebuild news outlets decimated during the transition from print to digital media.

"Google and Facebook earn 80% of all digital advertising revenue in Canada. Meanwhile, hundreds of newsrooms have closed," Minister St Onge said.
"A free and independent press is fundamental to our democracy, and Canadians expect tech giants to follow the law in our country."
That's not how Meta or Google see it. Meta has spent months speaking out against the legislation, which it claims is based on an "incorrect premise" that it unfairly benefits from news content shared on its platform. Meta says complying with Canada's demands and paying publishers would create an "unworkable" situation for the company.
The Facebook and Instagram parent company even claims its users "don't come to us for news," despite research showing more than half (53%) of Canadians saying they use social media to access the news. Canadian lawmakers have asked Meta to provide feedback on the legislation, but the company doesn't seem interested in playing ball.
"While the process of drafting regulations under the Online News Act is ongoing, that process is unfortunately not equipped to make changes to the fundamental features of the legislation that have always been unworkable," Meta said.
"This is irresponsible," Minister St Onge retorted. "Facebook knows they have no obligations under the Act right now. They have not participated in the regulatory process."
Meta's drawing a line in the sand
Digital news experts speaking with Gizmodo say Meta is taking a hardline stance in Canada in order to avoid a snowball effect of copycat legislation cropping up all around the world. Canada's Office of the Parliamentary estimates Google and Facebook combined would wind up paying around CA$329.2 million (roughly $242.99 million USD) to news publishers per year as part of the Online News Act.
That's peanuts for a company with a market cap of over $800 billion, but it could cause real trouble to Meta's business if it has to strike separate negotiations with publishers in hundreds of countries. Meta used this same tactic of briefly cutting off news access in Australia, with chaotic results, before forcing lawmakers to come to the table with more favorable terms.
"The reason the internet has grown so much is because it allows a free interaction where people can share things according to their own wants and can consume according to their own wants," Internet Society President and Chief Executive Officer Andrew Sullivan told Gizmodo. "If you are going to force everyone into a contractual relationship from end to end in that kind of environment, many people are just not going to take the agreement."
Minister St Onge, meanwhile, is well aware that this battle is bigger than Canada. Lawmakers in California, Brazil, and US senators are all considering their own copycat laws that would similarly charge platforms for accessing news content. In California, Big Tech pressure has already successfully led lawmakers to press pause on its own Journalism Preservation Act.
"The world is watching Canada." St Onge said. "Other countries are looking at introducing similar legislation to tackle the same challenges."