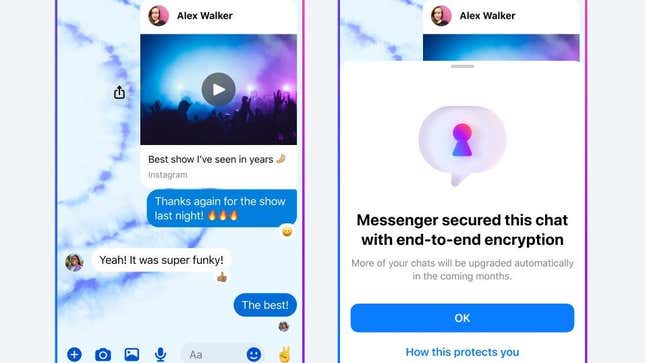 Messenger users may finally have a fully encrypted chatting service, though these folks may have to wait a few months before every single one of their group chats are finally secure.
Video Chat - From Sci-Fi to Sci-Fact
Meta announced Monday that Messenger users may soon be notified their service is being upgraded to facilitate end-to-end encryption for all messages. CEO Mark Zuckerberg first made a short post about it on his Facebook page, also mentioning there will be link previews, custom emojis, and new themes added in the near future.
In its blog post, the company said E2E will roll out over the next few months, whereby users will suddenly find more of their chats becoming updated with encryption. Individual chat threads will be notified they're receiving this change. Meta said this was a "random process" designed so there weren't any problems happening on their own app infrastructure.
The company described how this service would work last August. The change will essentially make E2E encryption default, notifying the users with a message "Messenger secured this chat with end-to-end encryption." The app's chat list will then include a little "lock" icon next to chats that are now E2E encrypted. Users don't have any option but to accept the new state of affairs, but the company promised it won't have any impact on users' ability to see message histories or report problem messages.
Messenger first started testing E2E back in 2016, the app finally received encrypted video calls back in 2021 and allowed for opt-in encrypted chats earlier this year. Meta also introduced other features to notify chatters if a user takes a screenshot. E2E is pretty well regarded if implemented correctly. It's been a long road, but we're glad to be here, though Meta's had some explaining to do over why its other end-to-end encrypted messaging app WhatsApp was allowing moderators to bypass its encryption service.
Still, the Zuckerberg-run company is much like other major tech giants that are finally opening up encryption options onto their most-used services. Late last year, Google finally integrated end-to-end encryption on Gmail and added encrypted group chats on Google Messages in December last year. Apple allowed iCloud backup encryptions at the end of 2022.
The most popular messaging apps are only now playing catchup to other encrypted messaging apps like Signal or Telegram. Some other encrypted messaging apps have found some problems. European encrypted app Theema was shown to be full of security holes that needed patches. Meanwhile Amazon recently announced its own encrypted messaging app Wickr was putting an end to its user-centric app.
The other features mentioned in the blog include: chat themes, custom emoji trays, group profile photos, and—finally—link previews specifically for newly encrypted chats.