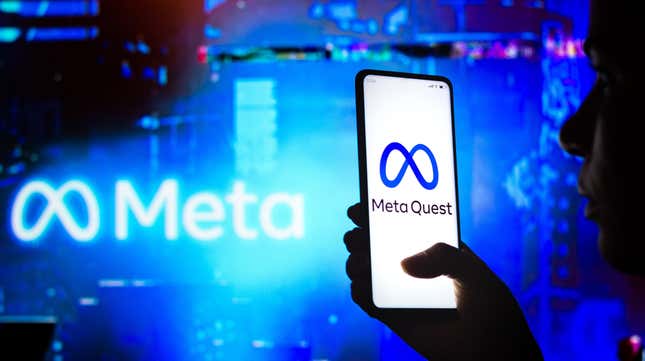 In October 2021, Mark Zuckerberg announced that his company, Facebook, owner and operator of the biggest social networks in the world, would change its focus from the business of two-dimensional social networking to "the metaverse" and spend $10 billion per year to get there. Since then, the journey has been rocky for the newly renamed Meta. The pivot to a VR-first business has proven costly. Users aren't adopting the $1500 Oculus Quest or the company's other devices at the wildfire pace they did Facebook and Instagram. They're busy making fun of Horizon Worlds, Meta's flagship metaverse game, for looking like a Second Life bootleg. Meta's stepped on its own fair share of rakes; for example, it debuted Horizon Worlds in Spain without translating the game into Spanish in late 2022.
Star Wars Brotherhood Excerpt: Dexter Jettster Returns
But a $10 billion per year investment is undeniable. The company is at the center of every conversation about the developing technology of the metaverse. In  Disruptive Technologies, Paul Armstrong, founder of the technology consultancy Here/Forth, delves into why.
The term 'metaverse' harks back to Neil Stevenson's 1982 novel, Snow Crash. Stevenson used the term to describe the virtual place characters could go to escape an authoritarian regime. Understanding metaverses isn't overly difficult; Hollywood has been pushing the virtual world narrative for decades in films like The Matrix series (1999–2021), Surrogates (2009), The Thirteenth Floor (1999), eXistenZ (1999) and the Tron series (1982– 2010), along with the newer films that mix augmented reality (New Guy, 2021) and full immersion in Steve Spielberg's blockbuster, Ready Player One (2018). The latter is where current thinking is leading, to haptic body suits and full mobility enabling people to walk around the world, fly and feel pressure when they are touched or get shot.
Rather than having one single metaverse, we have a collection of different offerings from games companies to brands and tech platforms like Meta. The term for the entire metaverse space is 'multiverse'. Multiverse is also a scientific term for a theory that infinite other worlds could exist at the same time, which has entered the public lexicon thanks to Marvel and other sci-fi films. The theory suggests we are on one Earth where humans breathe air, but there are other versions of the same Earth where we could breathe underwater, for example. This is not to be confused with 'Omniverse which NVIDIA is pushing', which is simulation technology that connects metaverses to each other.
Definitions are still being written and will change, but these are the basic elements of a/the metaverse:
A virtual environment that is fully immersive.
Each human/entity is represented by a customizable avatar that represents them in some way (either in reality or fantasy – i.e. a unicorn on roller skates wearing a hoodie).
Users experience the environments from a first-person perspective.
Users access the metaverse using goggles, headsets and other devices.
What was Facebook thinking?
When changing its name, Meta issued a documentary-style prerecorded video featuring CEO Mark Zuckerberg, which explained their thinking about metaverses and what to expect from them. A lot looked like 'Horizon Worlds', Meta's play into virtual worlds and environments, and less about the possibilities and potential. Meta's video and viewpoint were derided by the tech world for being short-sighted and unrealistic. The videos were not actual footage, heavily edited and led to inflated expectations, as most new technology launches do. The expectations are what experts had an issue with: in order to build and get funding, projects had to be a success and Meta's presentation added more pressure to deliver amazing experiences that the technology (currently) does not allow. Aside from that, the technology needed for the full metaverse experience is expensive, clunky and not fit for the realities of how we currently live.

Since then, after spending over $10 billion, the company has backtracked from its original announcement. A sign of reading the room, but also of changing economic and regulatory times ahead of the company. Nick Clegg, President of Global Affairs at Meta, clarified in a +8,000-word post on Medium:
For people to actually want to use these technologies, they will need to feel safe. Companies like Meta have a lot of work to do both to build the credibility of the metaverse as an idea, and to demonstrate to people that we are committed to building it in a responsible way. That starts by explaining as best we can what our vision for these technologies is and the challenges we believe will need to be considered as it develops. It means being open and transparent about the work we're doing and the choices and trade-offs inherent in it. It means drawing on existing work to protect marginalized communities online and listening to human and civil rights, privacy, and disabilities experts as systems and processes are developed to keep people safe. And it means being clear that our intention is not to develop these technologies on our own, but to be one part of a wider technological movement.
The early spaces that Meta has provided have had to have significant safety features added and a raft of elements explained to users (a stand-out example being why avatars had no legs). Both 'Horizon World' and 'Horizon Workrooms' showed Meta's willingness to move fast and break models again. The world responded with derision and lack of understanding.
Clegg rightly points out that it is not for Meta to define what the metaverse is, create the main space or lay down any rules and regulations for them (something the Zuckerberg presentation did not make clear at all). Perhaps the step back is because people's interest is dwindling too; search traffic for 'metaverse' is in low millions every month and dwindling or looming regulatory bodies are eyeballing the company. Either way, the early work the company has done will inspire and impact creativity in the space, but we are at such an early nascent stage that these early issues shouldn't shape what's coming too much.
This extract from Disruptive Technologies by Paul Armstrong © 2023 is reproduced with permission from Kogan Page Ltd.