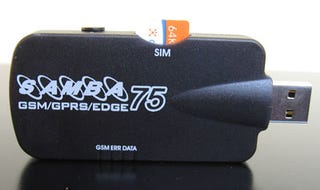 Once again, Mobility Today's Dave got his mitts on some exclusive gadgetry, this time USB EDGE cards for ultraportable devices. (Well, one EDGE card at least.) The Plug-and-play Falcom Samba 75 grants the user access to the sweet speeds of the EDGE variety, along with GSM and GPRS support. Even better, there's a SIM slot right on the module, so if you're one of those people who own dozens of cellphones (to keep all of your girlfriends in line, naturally), a simple SIM transfer will have you up and running before the wife finds out.
Also featured in the hands-on is the Falcom Samba, which supports GSM and GPRS, but not EDGE.
Both cards, of which Dave has plenty of pictures of, are available now.
EXCLUSIVE: Falcom USB Edge cards for ultraportables [Mobility Today]
Falcom Home Page [Falcom]