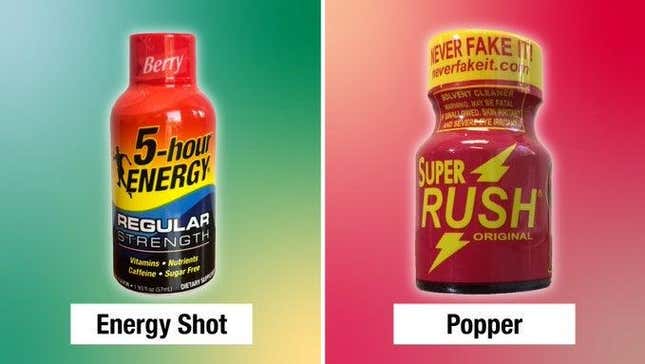 The Food and Drug Administration is warning people to stay away from recreational nitrate products, commonly known as poppers. The drugs are intended to be inhaled, but according to the FDA, people are getting seriously hurt or even dying from ingesting poppers that look like energy-shot products.
Giving Optimus Prime a Proper Back Story | io9 Interview
Poppers contain a class of drugs known as alkyl nitrites, usually amyl nitrite or butyl nitrite. These chemicals primarily affect the body by dilating blood vessels and relaxing muscles, which is one reason why they were and sometimes still are used as heart medications. But when nitrite vapors are inhaled recreationally, they're supposed to induce a lightheaded high and enhance sexual activity (its muscle relaxant effects can make anal sex easier to perform and users commonly report increased pleasure while having sex).
Compared to many other recreational drugs, poppers have a relatively low risk of severe side effects and death. But they're not necessarily harmless either. The chronic or heavy inhaling of poppers can cause a condition called methemoglobinemia, which starves our cells of oxygen and can be life-threatening. If taken with other drugs that lower blood pressure, including those that treat erectile dysfunction, it can cause heart attacks and strokes. And poppers are even more dangerous when not taken as intended. If the liquid directly touches the skin or eyes, it can cause chemical burns, and ingesting poppers can be outright deadly.
Poppers are commonly marketed as nail polish removers or cleaning products with names like Jungle Juice, Extreme Formula, and Hardware. But the small packages they come bottled in often look more like a 5-hour Energy bottle. And at least some people are being fooled by them.
In 2021, the FDA issued a public health alert, stating that doctors in the U.S. were reporting an increase in popper-related deaths and hospitalizations. This week, the agency wrote on Twitter and Instagram that it's continued to receive reports of people dying or being severely injured after "consuming poppers that resemble, and often mistaken for, popular energy shots." Earlier this March, the New York City Department of Health and Mental Hygiene issued a similar warning.
The FDA recommends that people neither ingest nor inhale poppers. But these drugs are likely to remain a popular party option. So at the very least, people wanting to take poppers should use them as safely as possible.
"If someone mistakenly ingests the liquid, it can be fatal. If someone spills the liquid on their skin or wafts too close to the bottle, they may experience skin lesions, rashes, or blisters," Rachel Clark, communications coordinator for the nightlife health and safety organization DanceSafe told Them, an online LGBT-focused magazine, in 2022.