Roland Emmerich may have stopped directing apocalyptic films after 2012 and The Day After Tomorrow, but he's still interested in the apocalypse. At least, Emmerich has produced a new film, Hell. We brought you a German-language trailer back in August, but here are two clips, plus an actual English-language trailer.
Here's another clip, and a synopsis for Hell, which is out on VOD on July 10 and DVD/Blu-ray on August 21:
From producer, Roland Emmerich (2012, The Day After Tomorrow) comes HELL, the story of a post-apocalyptic future where the sun has scorched the Earth and left it too bright to inhabit.

It was once the source of life, light and warmth but now the sun has turned the entire world into a baked and barren wasteland. Forests are scorched. Animal carcasses line the roads. Even the nights are dazzlingly bright.

Marie, her little sister Leonie and Phillip are heading for the mountains. Rumour has it that water can still be found there but it is a hazardous trip into the unknown. Despite their struggle to overcome the odds, they are lured into an ambush and then the real battle for survival begins...
And here's that English-language trailer, where the narrator says great things like, "The sun has scorched our world, leaving few survivors and fewer resources. We set out, hoping to find a way to survive. We found something far worse." Something worse than a way to survive? What could possibly be worse than that?
G/O Media may get a commission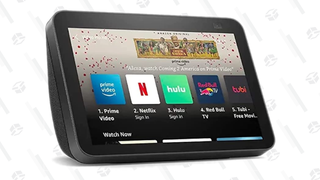 [Trailer via Giant Freakin Robot]