Behold your very first look at the CG-animated whiskers of Dr. Seuss' Lorax, the curmudgeonly creature who speaks for the trees. Plus, it turns out the Lorax will be voiced by Danny DeVito!
USA Today has the first-ever glimpse of The Lorax, which is being made by the same people who made Horton Hears a Who.
According to the article, The Lorax will be voiced by Danny DeVito and the evil Once-ler will be voiced by Ed Helms (The Hangover.) And a new baddie will be played by Rob Riggle (whose character, O'Hare, is a fresh air salesman). Also lending their voices to this film are Zac Efron, who will play the little boy in the beginning of the tale named Ted, and Betty White, who is taking on the part of his grandmother
The original story, written by Dr. Seuss, was published in 1971. Here's the official synopsis:
The now remorseful Once-ler—our faceless, bodiless narrator—tells the story himself. Long ago this enterprising villain chances upon a place filled with wondrous Truffula Trees, Swomee-Swans, Brown Bar-ba- loots, and Humming-Fishes. Bewitched by the beauty of the Truffula Tree tufts, he greedily chops them down to produce and mass-market Thneeds. ("It's a shirt. It's a sock. It's a glove. It's a hat.") As the trees swiftly disappear and the denizens leave for greener pastures, the fuzzy yellow Lorax (who speaks for the trees "for the trees have no tongues") repeatedly warns the Once-ler, but his words of wisdom are for naught...
G/O Media may get a commission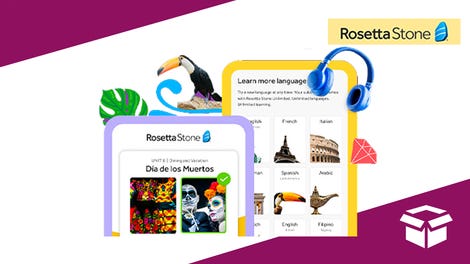 Extra 20% off
Rosetta Stone Lifetime Subscription - All Languages


The Lorax should be in theaters March 2nd, 2012.