Rosetta Stone costs $500? Thank you, no. There are too many free language-learning resources on the Internet to warrant that sort of expense. Here are just a few that will cost you nothing but time and effort.
---
LiveMocha
Languages: 37 - Arabic to Urdu
With millions of users in 190 countries, LiveMocha is one of the larger free language learning resources on the Internet. This site follows a free-to-play model wherein you can either pay for LiveMocha's site currency ("coins") with real money or you can earn them by reviewing the practice work of other users who are learning your native language. It's like a linguistic swap meet.
G/O Media may get a commission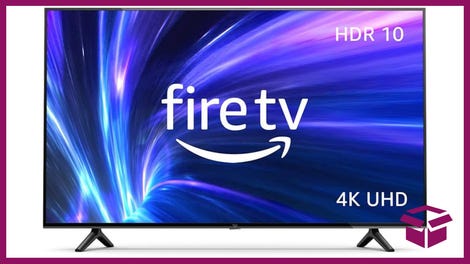 42% Off
Amazon Fire TV 50" 4K Smart TV
The basic (read: free) lesson plan is structured around the Whole-Part-Whole learning model. The student first watches a demonstration of the language and grammar of the lesson in a conversation between native speakers. Instructors then break down that conversation into its constituent grammatical parts, and explain how it's put together, before having the students practice what they've learned via a series of interactive activities. [LiveMocha]
---

FSI Language Courses
Languages: 45
The Foreign Service Institute is the branch of the State Department in charge of training would-be diplomats and foreign service officers in more than 70 languages. 45 of them are available completely free from the public domain and the non-profit fsi-language-courses.org. The site offers a wide choice of languages, from the standard French, German, Italian to more localized tongues such as Bulgarian, Romanian, and Moré. Most of its language courses include both the audio portions and the student guide texts,though a few will only contain one or the other. [Foreign Service Office]
---
Duolingo
Languages: Spanish, English, French, German, Portuguese, Italian
Taking a semester of foreign language at the local community college may seem a good idea, until you have to go through the matriculation process and all the hoops that entails. You've got to pay for the class, commute to the college, get to your classroom, and then spend 60 minutes a day, three days a week in trying to force your eyes to stay open. For many of us, once through the college experience was plenty, thank you.
Duolingo, on the other hand, confers many of the same benefits of a college-level language course without all the associated hassles. It uses a crowdsourced approach to teaching, as the intro video above explains, to both help you learn a new language and universally translate the Internet. Essentially, you translate various online texts—the sentence difficulty dependent on your ability level—and the system provides feedback and instruction on words you had difficulty with. And since you're providing translation services in the process, the entire learning experience is free. Duolingo is available on the web, as well as iOS and Android platforms. [Duolingo]
---
Internet Polyglot
Languages: 17 - Amharic to Ukrainian
While they won't teach you proper grammar and syntax, flashcards are a potent tool in memorizing vocabulary. But rather than break out the note cards and pens, head over to Internet Polyglot instead. This website features digital flashcards for more than a dozen languages in a gamified system designed to make rote memorization more enjoyable. You can also create and share custom lessons based on native and studied languages, and subject matter. IP isn't an inclusive language program as the others are but is a valuable component with which to augment them. [Internet Polyglot]
---
Lang-8
Languages: 91
Speaking a language is all well and good but if you want to really master it—especially non-romantic languages like Korean or Japanese—you'll need to learn how to read and write the language as well. The Lang-8 system does just that. You keep a running journal in the language you're learning—the service is available in 90-plus languages including numerous smaller dialects like Khmer, Breton, and Afrikaans. which is periodically reviewed and corrected by a native speaker. In order to keep the service free, you also act as editor for someone learning your native language. Everybody works, everybody learns, everybody wins.
And if none of the sites above strike your fancy or don't offer the language that you're looking for, don't worry. The Internet is chock full of language learning resources—Open Culture's language page, for example. With just a bit of time, effort, and dedication on your part, you'll be an omniglot in no time. [Lang-8 - Top art: Patryk Kosmider / Shutterstock]