Admit it: You've always wanted to ride in a private plane. Imagine stretching out your legs and listening to music without headphones. What luxury! Too bad, you probably can't afford it. But, with Flytenow, you just might.
Think of it as a Lyft for airplanes. Flytenow aims to connect pilots looking to rack up hours with passengers looking for an affordable ride. Started by two Northeastern students who happen to be pilots themselves, the new startup makes good sense. After all, there are loads of novice pilots out there who want to fly, but it's expensive to rack up hours, especially when you're doing it by yourself. So why not invite people to ride along for a fee?
Unlike other on-demand plane services, it's not very expensive, either. Flytenow lists one flight from the Hanscom Airfield near Boston to Martha's Vineyard for just about $100. Sure, you could probably find a ticket on a commercial airliner for about that much, but then you wouldn't be flying in a private plane, would you?
Understandably, you might have some reservations about flying with a novice for an affordable price. It kind of sounds like the air travel equivalent of getting a cheap haircut at the barber school downtown. Could be risky! But the pilots are licensed, and they would be taking these flights, anyway. Flytenow just helps them connect with a passenger who can help defray the costs. Due to FAA regulation, the pilots aren't actually allowed to get paid for the flight.
You should also understand that flying in a private plane does not equal flying in a private jet. Flytenow says that most of its pilots operate "single engine, propeller driven, 4 seater airplanes." So you can stretch your legs. But not much. [PSFK]
G/O Media may get a commission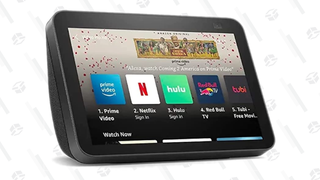 Image via Flickr