The state of Indiana is suing the former owner of a hotel over a policy to charge guests $350 for making "disparag[ing]" public comments about the business. According to the state's attorney general's office, Katrina Arthur wrote a negative online review of Abbey Inn and Suites in March 2016. The hotel room, she says, was filthy, but hotel staff never responded to requests to clean it. Days after checking out, Arthur says she received a $350 credit card charge for leaving a negative review. Indiana argues this violates the state's deceptive consumer sales act.

Is AI Moving Too Fast? | Future Tech
The lawsuit filed December 14th calls out Andrew Szakaly, who owned the hotel at the time, for an "unfair, abusive, and deceptive" policy of charging guests $350 for leaving negative reviews. The state seeks to reimburse Arthur for the $350 charge and bar the hotel from enforcing the policy.
Szakaly, however, is no longer the hotel's owner. In January, Amanda Sweet and her husband took ownership of the hotel and began renovations. But, in the past week, news of the suit has spread, leading people outraged by the former owner's behavior to flood their Yelp page with negative reviews. In response, Yelp is currently removing posts "that appear to be motivated more by the news coverage itself than the reviewer's personal consumer experience," but a number are still visible.
G/O Media may get a commission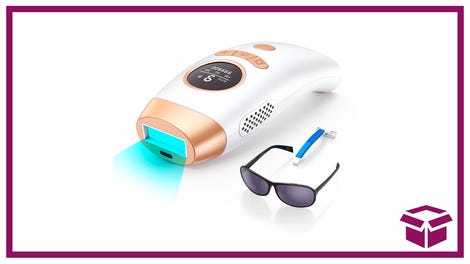 58% Off + Coupon
IPL Hair Removal Device
Speaking to the Associated Press, Sweet said the negative reviews have seriously impacted the hotel's reputation. Sweet, who is not named in the suit, has no policy charging customers for negative reviews.

"It's been a horrible 24 hours for us," Sweet told the AP. "We've been pouring ourselves into making positive renovations, bringing this beautiful building back to life. This is our livelihood and we don't want it to go away."
Online reputations can be the lifeblood of small businesses and, as you'd expect, people go all out to protect them. 28 states have enacted laws that stop business owners from employing anti-negative review policies.
"Consumers don't necessarily know that these threats are sometimes empty or meritless (and often both!), so the threat of legal action is enough to scare them into silence," wrote Yelp Sr. VP Vince Sollitto earlier this summer. "We don't think that's right."
[AP via Indiana Public Media]