A former high school principal in Kentucky was reportedly confiscating students' phones in an attempt to steal their nude photos and then submit them to a Russian-based porn trading site. The principal, Stephen Kyle Goodlett, was just sentenced to nine years in federal prison after a judge found him guilty of possessing and distributing child porn.

Goodlett still faces 60 state-level charges of child porn. His sentencing on Thursday came after a former high school student discovered that nude photos of her from when she was 15 years old were on a porn site, according to The Seattle Times. She had taken them for her boyfriend. After the former student reported the nonconsensual distribution of her explicit photos to the authorities, they were able to trace the photos back to Goodlett's account.
Authorities say they found 436 images and 11 videos of child pornography on Goodlett's devices, according to Time, and the National Center for Missing and Exploited Children found a photo of a naked girl between the ages of 10 and 14 in his Dropbox account. Goodlett would reportedly save the images he obtained through the confiscated phones on a thumb drive to later look at and upload online.
"Parents must be able to place their trust in educators to provide a safe learning environment for our kids," United States Attorney Russell Coleman said, Time reported. "Mr. Goodlett not only violated this trust but exploited students for his own foul gratification. His significant punishment is well-earned."
Attorney Joseph Mattingly, who represents some of the former students, told The Seattle Times that this isn't simply a school official's violation of trust, "but it's something that will not likely end just because the perpetrator is convicted and is sentenced to prison. These images unfortunately persist and they've got to deal with that."
G/O Media may get a commission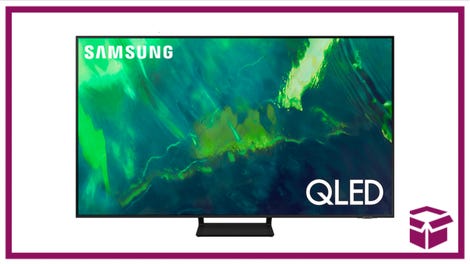 35% off
Samsung Q70A QLED 4K TV
Save big with this Samsung sale
If you're ready to drop some cash on a TV, now's a great time to do it. You can score the 75-inch Samsung Q70A QLED 4K TV for a whopping $800 off. That knocks the price down to $1,500 from $2,300, which is 35% off. This is a lot of TV for the money, and it also happens to be one of the best 4K TVs you can buy right now, according to Gizmodo.
Mattingly makes an important point—while justice is being served for the horrific invasion of privacy, these young students still have to grapple with the aftermath of their intimate photos and videos disseminated without their consent online. "Revenge pornography can result in lifelong mental health consequences for victims, damaged relationships, and social isolation," according to a study on the mental implications of revenge porn published in The Journal of the American Academy of Psychiatry and the Law online. While this particular sentencing was for charges of child pornography, it also undoubtedly falls into the classification of revenge porn by sexually exploiting someone online without their consent.