The myth of a treasure hoard hidden somewhere in the Rocky Mountains has lured a fourth person to their death, the BBC reported.

53-year-old Illinois resident Jeff Murphy died in Yellowstone National Park on June 9th, 2017 while seeking a $2 million treasure chest supposedly buried by New Mexico art dealer and aged millionaire Forrest Fenn, who claimed in the self-published 2010 memoir The Thrill of the Chase that he had buried the treasure "somewhere in the Rocky Mountains between Santa Fe, New Mexico and the Canadian border," per the BBC.
Reporters at KULR 8 filed a Freedom of Information Act request and discovered that Yellowstone officials were aware that Murphy had emailed Fenn in the days before his death, confirming a link to the seven-year treasure hunt that has allegedly drawn many thousands of people.
In the book, Fenn included a 24-line poem he later told ABC News was the key to finding "hundreds of gold nuggets, some as large as chicken eggs, ancient Chinese carved jade figures, Pre-Columbian gold animal artifacts, lots of rubies, emeralds, sapphires, and diamonds and other things." Fueling some of the sensation may be Fenn's reputation as an individual allegedly willing to skirt the boundaries of antiquities laws. Numerous people have questioned whether the chest is just a hoax, though Fenn clarified after it became clear the hunt was getting dangerous that the chest was hidden in a location accessible to an 80-year-old man traveling solo, per the New York Times.
Fenn specified the treasure was buried at least 5,000 feet above sea level in the mountains; Murphy died after falling at least 500 feet off a cliff on Turkey Pen Peak, per the Washington Post.
G/O Media may get a commission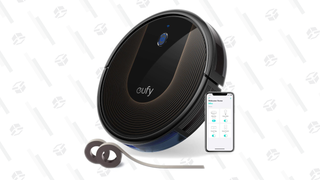 48% Off
Eufy BoostIQ RoboVac
Fenn allegedly offered to pay for the cost of a helicopter in the search for Murphy, though the Times noted that after the second death was logged in 2017, he had brushed off criticism by saying, "It is always tragic when someone dies, and this latest loss hit me very hard ... Life is too short to wear both a belt and suspenders. If someone drowns in the swimming pool we shouldn't drain the pool, we should teach people to swim."
According to the Post, other deaths have included 54-year-old Randy Bilyeu, 52-year-old Paris Wallace, and 31-year-old Eric Ashby, all since 2016.
National parks receive hundreds of millions of visits a year, so statistically they remain very safe despite the roughly 120-140 deaths (excluding suicides) that tend to occur in them annually, mostly from drowning, vehicular accidents and falls. But police have previously urged Fenn to call off the hunt, with New Mexico State Police chief Pete Kassetas advising that "when you have $2 million or so, as it's rumored to be, at stake, people make poor decisions."