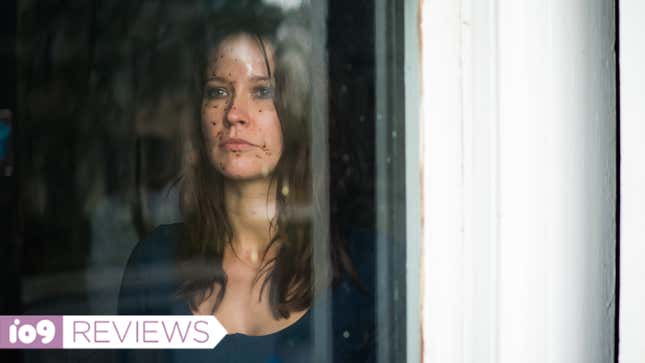 A consistent theme in horror is that—no matter how desperate you may be—it's almost never a good idea to summon a demon to fix your problems. Still, characters keep giving it a try, including the protagonist of From Black, who decides to put herself through hell as a way to escape the hell she's already in.
Working With The Original Jurassic Park Cast
From Black, directed and co-written by Thomas Marchese in his narrative feature debut, stars Anna Camp (True Blood, Pitch Perfect) as Cora, a recovering addict haunted by her young son's disappearance several years prior. Her grief is exacerbated by the fact that the boy scampered off while she was passed out in her then-boyfriend's needle-strewn trailer. As From Black opens, it's clear that Cora has just endured another incredibly awful event—her house is full of blood splatters and evidence of witchy mayhem—that she's reluctant to explain. Her sister Allison (Nope's Jennifer Lafleur) happens to be the local cop in charge, which means she at least has a sympathetic ally in law enforcement. But the siblings' relationship is strained; Allison has been nursing her own regrets over her still-missing nephew, feeling like she's failed not just Cora but the community. She's also well familiar with Cora's troubled past, and weary of her fondness for starting and attracting drama.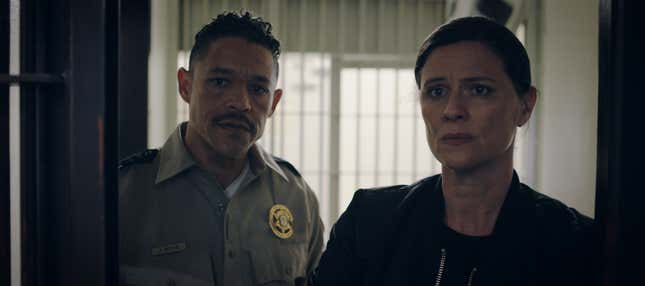 From Black's flashback structure means we have an idea where things are heading when Cora tentatively befriends Abel (Euphoria's John Ales), who leads a support group and is mourning the loss of his own child. Cora gives off vibrations of sadness, but Abel is even worse; he's drenched in agony even when he shares happy memories of his daughter. "What if you could see him again?" he asks Cora, before explaining there's a certain ancient ritual that can bring people back from the dead. It sounds too good to be true, but Abel insists he knows what he's talking about.
Cora is not the audience—she clearly hasn't watched dozens of horror movies that warn against monkeying around with dark forces to subvert the laws of nature—and she's willing to try anything to un-fuck her life, even if she doesn't take it seriously at first. It's not long before the intricate steps of Abel's ritual, which he guides her in performing, yield spooky experiences that make her realize there might actually be something to its fantastic claims. But at what cost?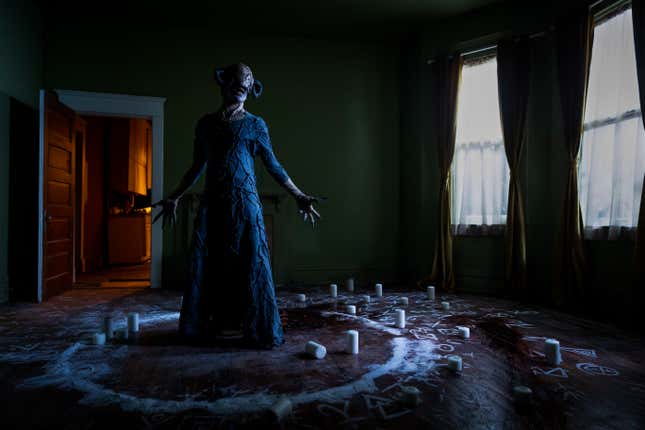 Despite a last-act reveal that's been heavily foreshadowed, there are no big twists in From Black's plotting, which indeed adheres to the "don't invite demons into your life" idea that so many stories have also explored. While the supernatural antagonist has a slippery, Hellraiser-ish quality, the main villain here is really Cora's guilt and the power it has over her, something Camp conveys with believably raw emotion. She's not really a sympathetic character, but you can understand why she makes certain choices after her negligence cost her the only good thing she had going in her life. Not for nothing does the scariest scene in From Black—a movie that's otherwise full of dark rooms and demonic whispers—take place in broad daylight, as Cora is allowed a vision of what really happened the day her son dropped off the face of the earth.
From Black is streaming on Shudder starting today.
---
Want more io9 news? Check out when to expect the latest Marvel, Star Wars, and Star Trek releases, what's next for the DC Universe on film and TV, and everything you need to know about the future of Doctor Who.