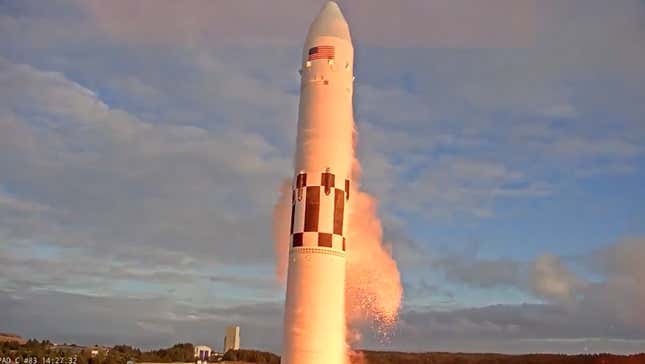 When ABL Space System's RS1 rocket exploded shortly after liftoff from the Pacific Spaceport Complex—Alaska on January 10, the resulting black mushroom cloud was visible from at least about 25 miles away. In a phone call with Gizmodo, one Kodiak Island resident, who requested anonymity for employment reasons, described the sight of the dark smoke pillar rising and expanding where they'd expected to watch a rocket shoot into the sky.

Could NASA's Electric Airplane Make Aviation More Sustainable?
Nobody was injured in the incident, but the explosion and subsequent crash back to Earth destroyed ABL's rocket and damaged the launch pad and other facilities, according to the company. It also spilled an estimated 5,200 gallons of Jet Fuel A into the surrounding environment—along with hydraulic, mineral, and lubricating oils, ash, burned batteries, and scraps of charred debris, according to Alaska's Department of Environmental Conservation and a report from Alaska Aerospace Corporation, the private company that runs the launch site.
Cleanup efforts and assessments of the damage have begun, mostly in the form of soil collection and testing, according to DEC documents obtained by Gizmodo via a public records request. Jennifer Benda, a DEC specialist, said a work plan has been developed by the state, ABL, and Alaska Aerospace, as she explained over email. Once all the data on potential contaminants is clear, then the companies will submit a cleanup plan to the state for approval.
So far, lab results of samples aren't exhibiting exotic compounds "beyond the known Jet A fuel, hydraulic oil, lube oil, batteries, and PB-free transformer oil," Benda wrote. She added that, according to initial tests, metal contaminants in the soil aren't at thresholds that would require groundwater remediation, and that the impacted soil will likely be landfilled somewhere in the lower 48, if it's removed as part of cleanup.
On the remote and mountain-covered Kodiak Island, commercial fishing is the largest industry. Thousands of the island's approximately 13,000 residents rely on the fishing and seafood industry for employment. Tourism and outdoor recreation, too, are big for the island—both as realms of economic opportunity and avenues of enjoyment for locals.
The local resident Gizmodo spoke to described their home as beautiful—particularly in the summer months when the mountains are deep green. It's a place where the people and the environment are intricately connected and where most everyone values their natural surroundings.
For some, last month's rocket explosion stoked worries about disruption, road closures cutting off beach access, and the possibility of ecosystem harms from the Spaceport. The complex has been present since 1998, but has incurred multiple commercial launch failures and fuel spills in recent years.

"There's a lot of concern on things detonating in the atmosphere, and potential pollution," local official David Conrad, told Kodiak news outlet KMXT.
In 2020, an Astra Space rocket failed and exploded at the Spaceport—as shown in the video above. In 2019, another set of Astra failures led to the contamination of more than 200 metric tons of soil near the launch site. Between 2017 and present, Alaska Aerospace has been responsible for at least 11 spills of hazardous material, oil, or fuel, according to state DEC records. In 2014, a military test launch failure caused extensive damage to Kodiak's Spaceport, and shut the facility down for about two years.
Will the new spill have long-term consequences?
Though likely unsettling for locals, the 5,200 gallons of spilled Jet-A is unlikely to cause significant long-term ecosystem or marine harm, Christopher Reddy, an environmental chemist at Woods Hole Oceanographic Institution told Gizmodo in a phone call.
For one, 5,200 gallons is orders of magnitude smaller than the spills people typically associate with Alaskan environmental disaster. Further, Jet-A, a kerosene grade fuel, is a much lighter material than crude oil. It evaporates and dilutes quickly, is less toxic than diesel, and rarely results in fish kills—even when spilled directly into water, according to the National Oceanic and Atmospheric Administration.
"These [jet fuel] compounds are extremely short-lived in the environment," Reddy explained. ABL told KMXT that nearby beaches weren't affected by the spill. But even if some of the fuel did manage to make it into the coastal ocean that surrounds the Spaceport Complex on all sides, the negative impacts "both in the short and long term would be very low, or none at all," the environmental chemist added. In the soil, the spilled fuel could stick around a little bit longer, but would still likely be quick to evaporate, Reddy said.
However, he also noted he can't entirely rule out all local ecosystem harm without more information. "Data drives the bus." In addition to spill size, and fuel type, factors like the exact location of the spilled fuel relative to ground and surface water, and even seasonal timing all matter. And, with repeated spills, problems could eventually arise. "Nature is resilient, but it can't handle the same every time, in the same place," Reddy said. "It may not always have a chance to recover."
Gizmodo reached out to Alaska Aerospace and ABL with questions about the most recent launch failure, spill, and ongoing clean up, but did not receive a response. On Twitter, however, ABL wrote, "This is not the outcome we were hoping for, but one that we prepared for" on the day of the incident. In a separate post, the company added, "We are chomping at the bit for Flight 2. More to come."
About a week later, ABL released an update explaining the order of events, and that the failure was caused by a sudden loss of power and engine shutdown in Stage 1 of the launch.
To KMXT, Alaska Aerospace's CEO Milton Keeter said that cleanup process is progressing rapidly, and that "safety is paramount for us."

More: Rocket Launches Could Be Polluting Our Atmosphere in New and Unexpected Ways